How do the MG ZS EV, Tata Nexon EV and Hyundai Kona Electric stack up, and which is the one that best meets your electric mobility needs? We plug you in.
The future might be electric but at present it's the Hyundai Kona Electric, MG ZS EV and Tata Nexon EV that represent your most realistic EV options in India. They aren't the most affordable of the kind but also don't feel like experimental projects like the lower priced models of the variety tend to. Quite to the contrary, these three electric cars are absolutely contemporary and entice with ample range, new-age tech and long warranties.
The Tata Nexon EV (Rs 13.99-16.4 lakh, ex-showroom) might be the smallest SUV here but it also has price on its side, undercutting the other two by a good few lakhs. At the other end of the price chart, we have the Hyundai Kona Electric (Rs 23.75 -23.94 lakh) that's a cool and quirky take on the electric SUV. And then there's the ZS EV (Rs 20.88-23.58 lakh) that's the largest model in this trio and in true MG style, packs in loads of content too. Concessions and rebates on purchase costs, discounted rates on charging and low maintenance make this as good a time as ever to think of going electric.
How well do these EVs fit into everyday life and what are they like as family cars is what we're keen to know.
Nuts and Volts
Let's talk numbers first, starting with the one of most interest to EV buyers – range. On paper, it's the Kona that's the long-distance champion, with an official ARAI-certified figure of 452km. The MG ZS EV is rated with 340km while the Tata Nexon EV has a 312km official range. However, in our real-world range tests that comprise city and highway cycles (conducted with one person onboard and air-con on), we found the MG ZS EV to go the farthest, which is reflective of its sizeable 44.5kWh battery pack.
We derived a real-world range of 317km for the MG, 250km for the Kona Electric that uses a 39.2kWh lithium-ion battery, and 208km for the Nexon EV that draws power from a relatively small 30.2kWh Li-ion battery.
Keep graph linear to eke the best range from Nexon.
Do note, as with combustion engine cars, driving style, elevation changes, passenger load and the likes have a bearing on how rapidly EVs 'drain their tanks'. A peculiarity of EVs, though, is that they deliver their best range in city driving and not on steady speed highway cruises. That's because the constant stop-start driving in town maximises the effect of regenerative braking, which converts kinetic energy on deceleration to top up the batteries.
Portable chargers that work with 15 amp three-pin sockets are standard on all three cars. This method of charging will be the go-to option for most owners but it is slow (a full charge takes 20 hours on an MG, for instance) so it's best to plug in after parking, as a matter of habit. Hyundai and MG do offer owners the option to install 7kW AC wall box chargers that bring down charge time to 6 hours and 8 hours, respectively. DC fast charging is the quickest option to juice up the EVs' batteries and it's encouraging that the charging network is slowly growing, if still only in urban clusters.
EV Does It
Each of these EVs comes powered by a permanent magnet synchronous motor that drives the front wheels via a single-speed gearbox. The Nexon EV's motor might make the least power, with 129hp and 245Nm on call, but the Tata is no slowcoach. Like all EVs, the Nexon feels light on its feet and the build of speed is appreciably linear in standard 'D' drive mode. On tap throttle responses are instant and overtakings don't require prior planning. 'S' mode, which unlocks full power, adds even more energy to the proceedings and it's almost disorienting to be in such a brisk (and quiet) Nexon. In Sport mode, the Nexon EV will do the 0-100kph dash in 9.3sec, though the build of speed eases thereafter, before the car runs into its 120kph top-speed limiter. Yes, 120kph is all the Nexon will do. The Nexon is also the only one that doesn't let you adjust the level of regen braking. While the regen feels natural in D, the car coasts a bit too freely in S.
Road noise breaks the calm in the zippy Kona Electric's cabin.
With four drive modes and four levels of regen braking, the Kona Electric allows the most adjustability to the driving experience. Also unique to the Kona are steering-mounted paddles that let you toggle between the various levels of regen intensity. A long pull on the left paddle will bring your Kona Electric to a complete halt using regen braking alone, allowing one pedal operation, though the feature is not to be used as an alternative to the friction braking system in a panic scenario. The Hyundai's motor puts out 136hp and a whopping 395Nm, and expectedly performance is strong. The Hyundai is zippy enough in Eco mode while Sport mode dials up the urgency to max; 0-100kph comes up in 9.09sec, though the Kona opens up a large gap to the Nexon by 120kph.
You can make easy progress in these EVs. MG is the quickest, though.
There's no beating the MG ZS EV in terms of performance, however. It's the quickest to 100kph, with a time of 8.53sec, and delivers the strongest push back on to your seat under hard acceleration. Part of the package are toggles for powertrain characteristics and regen that help personalise the experience. In everyday driving, the MG's 143hp and 353Nm powertrain feels alert but actually not all too different from the Kona or even the Nexon. In fact, with their instant torque, linear delivery and near-silent performance, the electric motors are the great levelers here.
Powertrain and Performance
Tata Nexon EV Lux
MG ZS EV Exclusive
Hyundai Kona Electric Premium
Motor
Permanent magnet synchronous
Permanent magnet synchronous
Permanent magnet synchronous
Power
129hp
143hp
136hp
Torque
245Nm
353Nm
395Nm
Battery
30.2kWh lithium-ion
44.5kWh lithium-ion
39.2kWh lithium-ion
PERFORMANCE
Acceleration (from rest)
Acceleration (from rest)
Acceleration (from rest)
20kph
1.51s
1.18s
1.21
40kph
2.87s
2.39s
2.44
60kph
4.36s
3.79s
4.00
80kph
6.47s
5.82s
6.16
100kph
9.30s
8.53s
9.09
120kph
16.12s
12.38s
12.92
RANGE
ARAI
312km
340km
452km
As tested
208km
317km
250km
CHARGING TIME
Portable charger (0-100%)
10 hr (3.3kW)
20 hr
19 hr (2.8kW)
AC wall box
-
6-8 hr (7kW; 0-80%)
6 hr 10 min (7.2kW; 0-100%)
DC fast charger (0-80%)
1 hr (25kW)
50 min (50kW)
1 hr (50kW)
The Ride Stuff
Like the standard Tata Nexon, the Nexon EV scores well on ride and handling. It feels solid, rounds off the bumps best and the slick steering is also nice to use. The Nexon's relatively small size makes it the easiest to park too. You'll also like how confidently the Nexon EV changes direction. However, you need to be measured with your throttle inputs out of corners, especially in Sport mode. There's no ESC or traction control to rein in the power and hard acceleration tends to overwhelm the Nexon's front tyres.
You'll hear a chirp from the Kona's tyres every now and then, but the electronics are quick to kick in to keep things under control. The Kona feels the most dynamic, if only just, and it's got a likeable steering too. However, the Kona has the most road noise and tends to feel clunky over bad roads too.
The MG ZS EV distinguishes itself with the most hushed cabin. You hear minimal road noise and even the motor whine sounds the most distant. On occasion, it's a thwack from the MG's suspension that will break the calm inside. Ride comfort is good even if there is an underlying firmness to the setup.
Space, The Final Frontier
Tata Motors has jazzed up the Nexon's smart cabin with new colours and lighter trim but it's the new leatherette upholstered seats that do the most to help the look of things inside. The seats are also superbly padded and it's not overstating things to say that the rear bench offers sofa-like comfort. Also, while the Nexon EV is the smallest model here, there's ample legroom and headroom at the back, and enough space for a fifth passenger to squeeze in as well.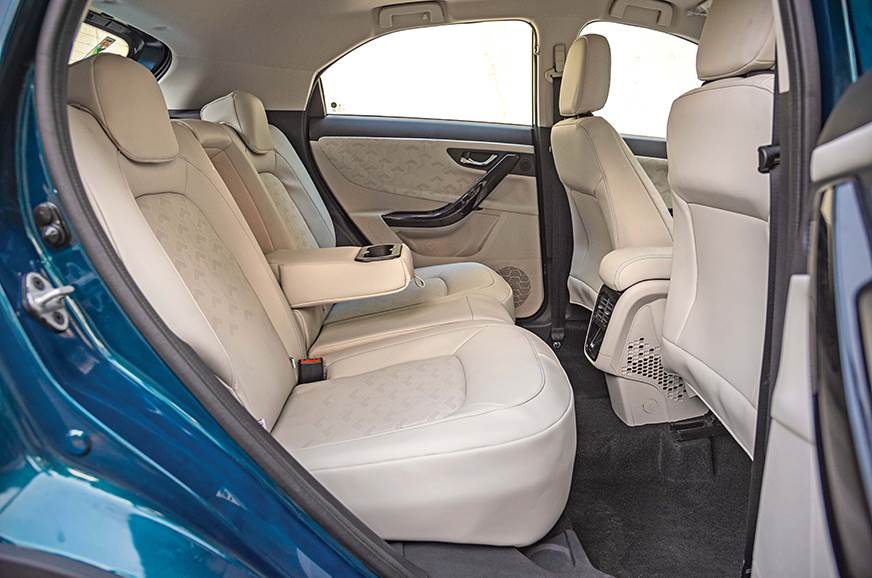 The MG ZS is the most convincing 5-seater here, offering the most in terms of shoulder room and legroom at the back. The massive panoramic sunroof only adds to the sense of space inside. But for all its space, the MG does have some negatives. Rear seat occupants are sat in a knees up position and there's no rear centre armrest. The MG is the most generous in terms of soft touch materials inside and this does give the cabin a premium air.
The Kona Electric carries its funky exterior theme on the inside, with a distinctive dashboard that's characterised by a wide centre console and free-standing touchscreen. Sadly, there are a few too many hard plastics in the cabin. You also sit relatively low in the Kona Electric and don't get that elevated driving position SUVs are known for. The Hyundai also cedes ground when talking rear-seat space and comfort. Despite the longest wheelbase, the Kona is tight on kneeroom. Headroom is in short supply too and the knee-up seating position isn't ideal either.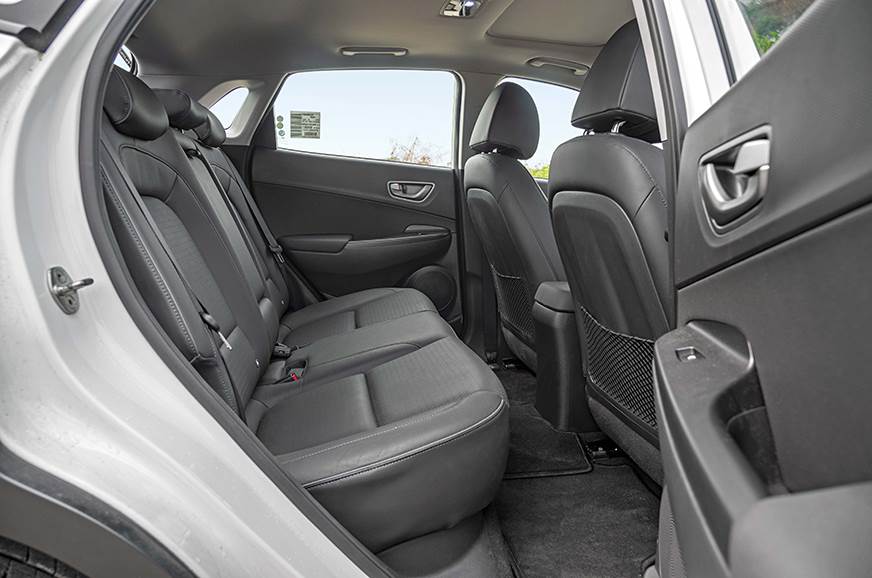 Dimensions
Tata Nexon EV Lux
MG ZS EV Exclusive
Hyundai Kona Electric Premium
Length (mm)
3993
4314
4180
Width (mm)
1811
1809
1800
Height (mm)
1606
1620
1570
Wheelbase (mm)
2498
2585
2600
Ground Clearance (mm)
205
161
172
Kerb Weight
1400kg
1518kg
1535kg
Feature Story
It'd be asking for too much to expect the Nexon EV that's the most affordable car here to match its pricier rivals on kit. For its part, the Tata gets you the comfort essentials and then some more. Still, a better infotainment screen, higher-res rear view camera and more detailed EV data display would be on our wish list. And while at it, Tata could also redo the rotary gear selector, which isn't the most intuitive to use.
The MG ZS EV's feature set is long and is headlined by the panoramic sunroof and 8.0-inch touchscreen with connected tech. However, items like auto climate control, an auto-dimming rear-view mirror and a rear-centre armrest are curious omissions. The Kona Electric is the only car without connected tech and the screen isn't great either. That being said, LED headlights, heated and cooled front seats and wireless phone charging are features exclusive to the Kona.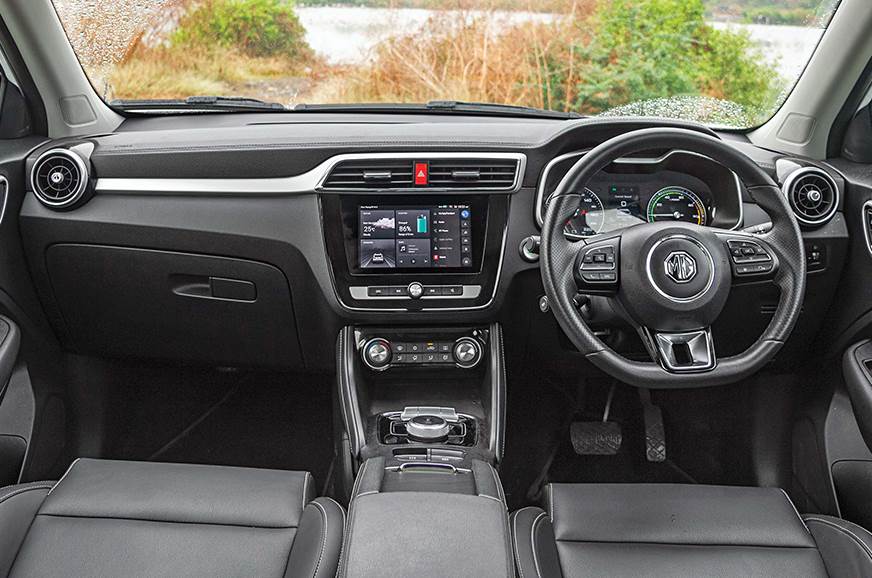 In terms of safety kit, the Nexon EV misses out on the side and curtain airbags, ESC and rear disc brakes that the Kona Electric and ZS EV get. All three cars do boast of a high level of protection for their battery packs.
Equipment and warranty
Tata Nexon EV Lux
MG ZS EV Exclusive
Hyundai Kona Electric Premium
Airbags
2
6
6
ESC
NA
Available
Available
LED headlights
NA
NA
Available
Cruise control
NA
Available
Available
Touchscreen
7.0-inch
8.0-inch
7.0-inch
Connected tech
Available
Available
NA
Wireless phone charger
NA
NA
Available
Sunroof
Available
Panoramic
Available
Ventilated front seats
NA
NA
Available
Powered driver's seat
NA
Available
Available
Electric parking brake
NA
Available
Available
Warranty
Vehicle
3 year/ 1,25,000km
5 year/ unlimited km
3 year/ unlimited km
Battery
8 year/ 1,60,000km
8 year/ 1,50,000km
8 year/ 1,60,000km
Shock Verdict
It was the Hyundai Kona Electric that introduced Indian buyers to a truly sophisticated electric vehicle not too long ago and it still appeals for the right reasons. It's zippy, has ample range and it's also quite well equipped. Where the Kona Electric loses out is in rear seat space and cabin quality, which is not quite in keeping with the car's price. It looks the least SUV-like too. At Rs 23.94 lakh, it's the most expensive of the lot and hard to justify.
The MG ZS EV isn't a hardcore SUV either, but it has the upright stance most buyers like, and the relatively large size also makes you feel your money's been well spent. It betters its EV rivals on space and is also deeply impressive when judged as an electric car. It's fast and quiet and the ability to go long on a single charge makes the MG the most versatile of the three EVs. The thing is, as good as the ZS EV is on range, it still doesn't grant the freedom of movement that you get with a combustion engine car. Short jaunts out of town are easy but you can't go exploring the countryside without exploring the relatively short list of fast-charging stations on the way beforehand. Fact is, long road trips in the best of EVs require advance planning, and an adventurous streak always helps.
Given the reality of the situation, electric cars are best thought of and bought as urban vehicles. And seen in this light, it's the Tata Nexon EV that makes a great deal of sense. Yes, it's got the least range but the ability to go 200-odd kilometres on a full charge is more than sufficient for typical use case scenarios. And restrictive as the 120kph speed limiter might seem, it's a non-issue in town. What's more, the Nexon EV doesn't feel like a compromise in other areas. Sure, the Nexon is down on gizmos and a slicker infotainment system would be nice but the basics are solid. The powertrain runs quiet, performance is pleasant and overall comfort and practicality are really good too. In a manner of speaking, the Nexon EV addresses the standard Nexon's chinks (loud engine, clunky gearbox and imperfect clutch) while retaining the very best of the compact SUV. Spend time with a Nexon EV and you'll question the need to pay so much more for the alternatives. The Nexon EV, then, might not be all the car you need but, given the current limitations of infrastructure which keeps EVs city bound, it could be all the EV you need.
Verdict and price
Tata Nexon EV Lux
MG ZS EV Exclusive
Hyundai Kona Electric Premium
Verdict
Has its limitations but fits the bill as a competent urban EV.
The EV with the least compromises but for a price.
Good as an EV. Loses on value, significantly down on space too.
Rating
8/10 [OUR CHOICE]
8/10
7/10
Price (ex-showroom, Delhi)
Rs 16.4 lakh
Rs 23.58 lakh
Rs 23.94 lakh