Tata's newest compact SUV, Punch, is off to a great start witnessing a strong demand in the month of October. With hatchback as well as first time car buyers in its crosshairs, the Punch even wears an aggressive starting price of Rs 5.49 lakh, ex-showroom. In this price-sensitive segment, fuel efficiency is a deciding factor which could make or break the deal, hence we put the Punch through our tests to find out its real-world fuel efficiency.
1.2-litre non-turbo petrol is the only engine option
Top-spec Tata Punch weighs 1,035kg
Only MT features engine start-stop technology
What is the real-world fuel efficiency of the Tata Punch?
Tata has deployed an 86hp 1.2-litre 3-cylinder petrol engine to perform duties in the Punch. This is the same tried and tested that also powers the Tata Tiago hatchback, Tigor compact sedan and Altroz premium hatchback, and in its BS6 guise, Tata has updated its air intake system to enhance efficiency. Like in the case of the hatchback and compact sedan, the Punch is offered with either a 5-speed manual or an automated manual transmission.
In our city test cycle, the Punch manual achieved 10.3kpl, while the AMT managed 10.7kpl. On the highway, the manual achieved 16.1kpl and the AMT achieved 16.9kpl.
Analysis of Tata Punch's fuel efficiency
Our tests were conducted in Eco mode during both city and highway runs. What's interesting is that only the manual gets an engine start-stop feature. It switches off the motor when the car comes to a complete halt in order to save fuel. It will restart automatically when the clutch pedal is depressed, or when the climate control senses the cabin temperatures rising. An insider at Tata Motors reveals that this system is included so that the company can meet its CO2 and fuel efficiency targets in the manual; the AMT achieves these targets due to its inherent ability to operate in higher efficiency zones, as a result it doesn't get this feature.
Because of the engine's lazy power delivery and sluggish performance, you will often need to be in the lower gears to get a move on at city speeds and, as a result, fuel efficiency isn't anything to write home about. The AMT's early-upshifting nature and its reluctance to downshift aids fuel efficiency to a small extent, but it comes at the cost of brisk performance.
On the highway, the 1.2-litre motor needs to be worked more often to make quick overtakes and while cruising at 100kph in fifth gear, the engine is spinning at 3,000rpm. Despite that, fuel efficiency is rather respectable for the manual, however, it is the AMT's tendency to be in the highest possible gear at most times which makes it more efficient than the manual.
Autocar India's fuel efficiency testing
Before our real-world fuel efficiency test, we fill the tanks of our test cars till the brim and maintain tyre pressures based on the manufacturer's recommendation. These cars are driven in fixed city and highway loops and we maintain certain average speeds. To keep a check on any untoward variation, we always have a reference car driving along, one that we've already tested in the past; periodic driver swaps further neutralise variations in driver patterns. At the end of each cycle, we calculate efficiency by tanking them up till the brim. Throughout our test, there is only one person in each car, running the air-con and other electricals, like the audio system, indicators and wipers when required, just like how a regular user would. We take pride in our testing data, which isn't merely consistent, but also gives users an accurate indication of what they can expect in the real world.
Also read:
Nissan Magnite real world fuel efficiency
Hyundai Grand i10 Nios real world fuel efficiency
Hyundai Exter vs Tata Punch comparison video
31377 Views|1 month ago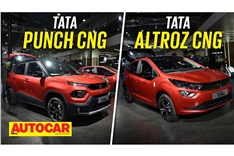 Auto Expo 2023: Tata Punch, Altroz iCNG walkaround video
10710 Views|8 months ago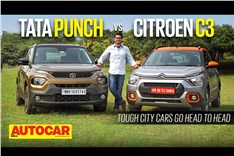 Citroen C3 vs Tata Punch video comparison
21773 Views|10 months ago