Ever since it was previewed as the 45X concept at Auto Expo 2018 and in close-to-production form at the 2019 Geneva motor show, the Tata Altroz has been on the radar of potential premium hatchback buyers. However, they've had to endure a long wait as Tata – which was set to usher the model in by August – decided to delay the launch so it could introduce the hatchback with BS6-compliant engines right from day 1. We can now confirm the production-spec Tata Altroz will be unveiled in the first week of December 2019 ahead of its early 2020 launch.
Sporting Tata's new Impact 2.0 design language, the Altroz that debuted at the 2019 Geneva motor show didn't stray too far away from the stunning 45X concept, and the production-spec model is expected to stay largely identical to that car, save for changes to the alloy wheel design and other smaller details. The Altroz is the first Tata car based on the company's new ALFA (Agile, Light, Flexible and Advanced) platform, one of two platforms all future Tata Motors products will be based on.
Compared to its exterior design, the Tata Altroz's interior – at least as previewed in Geneva – isn't as radical. Built around a prominent and protruding central console, the Altroz's dashboard features a free-standing 7.0-inch touchscreen infotainment system that takes pride of place. Adding some visual spice to the all-black dashboard are body-coloured surrounds for the AC vents. The steering wheel is new, and the Altroz will also come with a segment-first part-digital instrument cluster. A leaked promotional clip had also revealed the presence of ambient lighting and a Google Assistant logo, which seemingly points to app-based and Google-powered voice-activated functions.
While the Altroz is set to be the widest hatchback in its class, it also has the shortest wheelbase, resulting in lesser legroom at the rear. However, the boot, at 341 litres,is reasonably sized and on par with the competition.
We'd reported earlier that the Tata Altroz is expected to get three engine options – the 85hp, 1.2-litre, naturally aspirated three-cylinder petrol from the Tiago; a 102hp, 1.2-litre three-cylinder turbo-petrol shared with the Nexon, and a 90hp version of the Nexon's 1.5-litre four-cylinder turbo-diesel engine. A 5-speed manual gearbox is expected to be the only gearbox on offer at launch, with an automatic option set to be introduced later.
Expect Tata Altroz prices to be in the range of Rs 5-8 lakh (ex-showroom), which will help it undercut its rivals – the Hyundai i20, Maruti Suzuki Baleno, Toyota Glanza and Honda Jazz – when it is launched early next year.
Think the Tata Altroz has what it takes to shake up the premium hatchback space? Let us know in the comments.
Tata Altroz CNG video review
37727 Views|6 months ago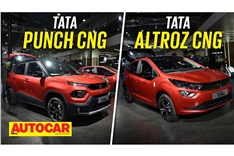 Auto Expo 2023: Tata Punch, Altroz iCNG walkaround video
11538 Views|11 months ago
Auto Expo 2023: Tata Altroz Racer walkaround video
5646 Views|11 months ago