The India-made, Africa-spec Honda Amaze has received a four-star crash test rating from the Global NCAP. The Amaze was one of three Africa market models to be crash tested by Global NCAP as part of its Safer Cars for Africa campaign. The India-made Suzuki Ignis was rated with three stars while the Toyota Avanza was rated a four-star car.
As per Global NCAP protocol, the cars are crashed into a deformable barrier with a 40 percent offset at a speed of 64kph. While Indian authorities conduct the same test for crash certification, the impact speed is a lower 56kph. What's heartening to know is that the Honda Amaze was rated four stars for adult occupant protection, with the vehicle structure and footwell area being rated as stable. Global NCAP considers the base-spec version for testing; the Amaze for Africa comes with dual airbags, front seatbelt pre-tensioners and a driver seatbelt reminder as standard. The India-spec Amaze goes one up with a speed warning system and seatbelt reminders for both front occupants, requirements mandated by India's latest safety norms.
The Honda Amaze was rated a low one star for child occupant protection. The tests were conducted with Honda-recommended child seats. Global NCAP's team noted evidence of head exposure and probability of injury for the test dummies representing an 18-month old and a three-year old.
Global NCAP uses the same protocol for its Safer Cars for India and Safer Cars for Africa campaigns, so the Amaze's result is representative for the India model as well. The second-gen Amaze went on sale in India in 2018 and complies with India's latest crash test norms.
Also see:
Breaking down the Global NCAP crash test
Click here for Honda Amaze prices, reviews, images, videos and more
Click here for Honda India models prices, reviews, images, videos and more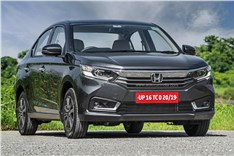 2021 Honda Amaze facelift image gallery
6790 Views|1 year ago
New Honda Amaze image gallery
90564 Views|4 years ago