With 37,568 cars and SUVs sold in the first eight months of 2022, Skoda India has recorded its best-ever sales performance. This has also made India the Czech brand's third largest market globally, after Germany and the Czech Republic. It's also more vehicles than what the brand sold in the entirety of 2021 in India, and its highest since 2012, when it sold 34,678 vehicles. Of these, the brand sold 4,222 cars in the month of August, a 10 percent year-on-year increase.
Skoda Enyaq iV currently being tested in India
Could look at localising MEB platform components
New-gen Superb and Kodiaq to debut in 2023
In a conversation with the media at the Skoda Explore More event in Prague, the brand's newly appointed global CEO, Klaus Zellmer, expressed his pride at the milestone. "A big contribution to fulfilling our global ambitions is coming from India," Zellmer said. "We are well on track to more than double our sales in 2022 over last year. Our success gives us tremendous confidence for a long-term, sustainable journey in India, which is an integral part of all future strategy planning."
Skoda EVs for India in the near future
Much like sister brand Volkswagen has begun testing its ID4 crossover EV in India, Skoda has also sent over a few units of its Czech counterpart, the Enyaq iV, for testing in the country. While the brand hasn't outright confirmed the launch of the Enyaq, or precisely which of its variants it will bring, it has confirmed EVs will inevitably be a part of the India line-up.
"The way forward for Skoda in India will be a balance between ICE and EVs," Zellmer said. "In the immediate future, our portfolio will be ICE oriented, but we have already brought in some Skoda Enyaqs to India, which are being tested across the country."
The brand will start by bringing in EVs as CBU imports, but as market acceptance and charging infrastructure improves, it's likely Skoda will move to assembly, and perhaps eventually full local production at a later stage.
"Localising core MEB components in India is pivotal for scale. This is something that is being facilitated by the agreement for VW Group with Mahindra for them using MEB components," Zellmer said.
Thus far, the plan for the e-mobility partnership between the Volkswagen Group and Mahindra was for the latter to import batteries and other components from the former for use in its EVs. However, localisation of these components further down the line could mean huge cost benefits for both companies.
New Superb and Kodiaq to debut next year
There can be no doubt that this huge surge in sales has been a direct result of Skoda's India 2.0 offerings, the Kushaq and Slavia, which have proven hugely successful. In fact, the two got a special mention at the Skoda Explore More global conference, where the brand's future direction was announced.
That said, there are big plans for the models higher up in the range, all of which will likely make it to India further down the line. As revealed at the Explore More event, in 2023, new generations of the Kodiaq 7-seat SUV and Superb flagship sedan will make their global debuts. These are likely to be the first models to feature the brand's new wordmark logo and corporate identity. The popular Octavia, meanwhile, will receive its mid-life update in 2024, and that too will likely make it to India eventually.
Zellmer says Skoda's current India line-up caters to only about 20 percent of the market, but also that he "aims to more than double that" in the mid-term. While EVs could no doubt contribute to fulfilling part of that need, it's safe to assume more mass-market products would better help meet that target.
Skoda India Brand Director Petr Solc on the return of the...
3408 Views|4 months ago
Hyundai Verna vs Skoda Slavia vs Volkswagen Virtus video ...
18814 Views|4 months ago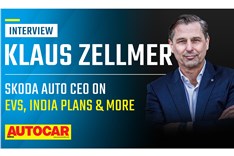 Skoda Auto CEO Klaus Zellmer on EV strategy, future India...
2500 Views|5 months ago