With the launch of the facelifted Ford Figo, we thought it would be a good idea to revisit one of its old rivalries. And maybe create a new one too.
Fun, of course! That's the word in question. But it's also a word that's been synonymous with Fords for as long as most of us can remember; yes, even in India. The Endeavour may be a bit of a pachyderm, but pretty much every other Ford on sale, right from the days of the Escort, has been tremendous fun to drive. Of the current crop, the Figo has the potential to be the most fun – it's the most compact, it's not raised off the ground like the Freestyle or the EcoSport, and it isn't burdened with a boot like the Aspire. Plus, Ford tells us a little magic from the much-loved, and now-defunct, Sports Edition has been sprinkled onto this facelifted Figo's chassis, and then, of course, there's the new 1.2-litre 'Dragon' petrol engine with a meaty 96hp.
Figo facelift brings better perceived quality, but some parts feel quite dated.
Historically, the Figo has always had one main sparring partner when the question of fun driving arose. The Maruti Swift, of course – another hatchback gifted with inherently great driving dynamics. However, while the first two generations flew that flag proudly, this third one has grown in stature and gotten a bit soft. Still, we couldn't imagine not having it here with us. More of a debate was whether or not to include the Tata Tiago; it is from a whole segment lower, after all. This, though, is the JTP – a hotter, fettled version of what is already quite a fun-to-drive hatchback. Its turbo-petrol engine, borrowed from the Nexon, makes it the most powerful here, and that racy body kit makes sure everyone knows it, too.
So the stage is set, and hopefully, we'll be able to answer the question: Which fun new hatchback for less than Rs 9 lakh would you be best off buying?
Smart design and nice red accents in Tiago, but quality not as good as on the other two.
Show-offs
It doesn't take long to see that the Tiago JTP is the one that shouts about its sporty credentials the loudest – it is, after all, the only purpose-built performance variant here. It's got bigger, 15-inch wheels and wider tyres than the standard car, sporty bumpers and skirts all around, blackened wing mirrors and roof, a faux diffuser, twin chrome exhaust tips, a spoiler and, my personal favourite – a hood scoop!
The Figo we're testing might not be a special performance variant, but it sure looks the part. That's because the top-spec trim (for now) is called the Titanium Blu, and it comes with a couple of cosmetic updates. The wheels here too are an inch up on the lesser models and they're painted black. And, like the JTP, the wing mirror caps, roof, grille and headlamp shrouds are also painted black. The Figo even has some 'go faster' decals on the sides and at the rear, not to mention the nice blue accents in the front bumper.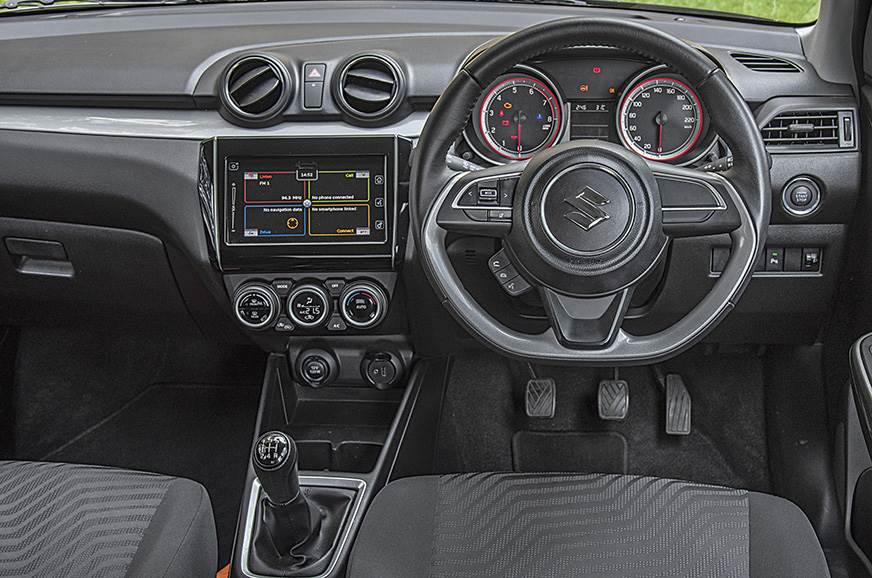 Swift's cabin feels the most upmarket and has the largest and most storage spaces.
The Swift has none of these things, and really, any sportiness it has comes from its distinct, two-box silhouette and floating roof, which harks back to its predecessors but is now a bit more rounded (there is a theme forming here). Sure, the two-tone 15-inch wheels have a bit of sportiness to them, the LED headlamps and their DRLs give a piercing look, the grille is unique, as is the C-pillar-mounted rear door handle, but overall, this third-generation car seems to have gotten a bit podgy.
Inside too, the Tiago JTP and Figo Blu have been tarted up with contrast coloured trim bits – red for the Tata, blue for the Ford. And while in the Figo it's restricted to the door handles and some stitching on the seats, the JTP even has red surrounds for the AC vents and floor mats, and it also gets you bare-metal pedals. The Swift isn't too bad in this department either. Sure, there are no wild contrast colours, but it does have a flat-bottom steering wheel and a generally sporty look to the dashboard.
No storage in the back seat of the Figo.
Dimensions
Ford Figo
Tata Tiago JTP
Maruti Suzuki Swift
Length
3941mm
3746mm
3840mm
Width
1704mm
1647mm
1735mm
Height
1525mm
1531mm
1530mm
Wheelbase
2490mm
2400mm
2450mm
Kerb Weight
1026kg
1016kg
885kg
Boot Space
257 litres
242 litres
268 litres
On the plus side
What it does have is a long equipment list, which makes sense given it's now moved almost into 'premium' hatchback territory, and has a price to match. This ZXi+ gets you auto climate control, auto LED headlamps, a 7.0-inch touchscreen with Apple CarPlay and Android Auto and quite a bit more. The Figo, disappointingly, doesn't offer those essential smartphone connectivity options (its Aspire and Freestyle siblings do) but matches the swift on most other counts. It even goes a step ahead by being the only one to offer auto wipers, an auto-dimming inside mirror and six airbags! This is an area where you're reminded the Tiago is from a segment lower because though the engine has been turbocharged, the equipment list has not. For instance, the AC is manual, there's no keyless entry or go, power-fold wing mirrors or adjustable rear headrests. The small, 5.0-inch touchscreen is clunky and tricky to operate and doesn't have smartphone connectivity, although interestingly, the regular Tiago has been updated with a 7.0-inch screen and Apple CarPlay at the time of writing this, so this one should follow suit in due course. Worth a mention is the Tiago's eight-speaker Harman audio system, which sounds great, but then so does the system in the Figo.
The JTP's space impresses for its size.
Practicality makes perfect
The other thing about cars like this is that they can't be one-trick ponies – it cannot be all fun and games. They also have to serve as family hatchbacks, so practicality plays a big role. On the boot front, the Swift, Figo and JTP have 268, 257 and 242 litres of space, respectively. They might not seem too far apart, but in real-world use, the Figo and the Swift have a big advantage. Of course, the two higher-segment (and bigger) cars have an advantage. In the back seat, the Suzuki and Ford are clearly more spacious, particularly in width and headroom, but on legroom, the Tata isn't all that far behind and feels spacious enough in its own right. As for comfort, the Swift feels the widest and best for three, so just edges a victory here, but the Figo is close on its heels and its larger windows give you a better sense of space than the Suzuki. The Tiago is best for two, and its (nicely supportive) seat contours keep it that way too.
Swift most spacious, but windows small.
Where the Tiago really starts to remind you of its lesser segment again, however, is in smaller
details around the cabin. Interior quality, though it set new standards for Tata Motors' small cars, just can't match up to the other two; switches and stalks don't function with the same fluidity or precision, and some of the plastics feel decidedly scratchy in comparison. Then there's the stowage spaces – the Swift and Figo have large, well-thought-out spaces for bottles, cups, mobile phones and other knick-knacks, and while the Tiago does have decent storage, it simply isn't as much or as large as what you get in the other two. One exception, though – the Figo doesn't have rear door pockets at all.
Going places
Here's where things start to turn in the JTP's favour. With 114hp and 150Nm, the little Tata towers over the other two on the output charts, thanks to its turbocharged 1.2-litre, three-cylinder engine. In comparison, the Figo's new 1.2-litre, three-cylinder naturally aspirated motor does a decent 96hp and 120Nm, while the Swift trails behind, with the venerable four-cylinder 1.2 K12 engine making 83hp and 113Nm. However, the Swift, despite being the largest car, is also the lightest by miles, at just 885kg (the Figo and Tiago weigh 1,026 and 1,016kg, respectively).
Figo doesn't get Aspire's superior Sync 3 system
That weight advantage, combined with the way the K12 is tuned, make the Swift the swiftest from a standstill, which makes it ideal in stop-and-go traffic. At low to medium speeds, that low-down pep also means you could feasibly get most of your driving done without getting out of third gear.
The new Ford engine, sadly, has a very weak bottom end, and you find yourself shifting gears a lot, and trying to keep the revs above 1,500. But the biggest offender is the Tiago – it simply feels dead before the turbocharger spools up, and that's only exacerbated by an unsettling jerkiness at low revs, which is likely down to the engine's calibration. You can learn to drive around the Figo's weak bottom end, but pottering around town in the Tiago JTP is plain frustrating. And yes, this is irrespective of whether you have Sport mode activated or not.
JTP's screen is small, interface clunky.
There's also a bit of looseness in the Tiago's gear lever, but once you've gotten used to that and learnt your way around the gate, shifts do feel positive. Shifts on the Figo's new 5-speed manual feel good too, with a little bit of heft and a positive throw – great fun when you're driving aggressively. The Swift, in comparison, has lighter and easier shifts, but their short throws can make you feel quite involved.
Features
Ford Figo
Tata Tiago JTP
Maruti Suzuki Swift
Automatic headlamps
Available
NA
Available
Projector headlamps
NA
Available (Halogen)
Available (LED)
Automatic wipers
Available
NA
NA
Keyless entry and go
Available
NA
Available
Touchscreen infotainment system
7.0-inch
5.0-inch
7.0-inch
Apple CarPlay/Android Auto
NA
NA
Available
Auto climate control
Available
NA
Available
Rear-view camera
Available
NA
Available
Power-folding wing mirrors
Available
NA
Available
Auto-dimming inside mirror
Available
NA
NA
Voice commands
NA
Available
Available
Adjustable rear neck restraints
Available
NA
Available
Airbags
6
2
2
Kicking it up a notch
The Tiago JTP is the quickest car here, as testified by our trusty Vbox. The Swift may have the edge off the line, but the Tata soon catches up, and at 60kph, it's a tenth of a second ahead of the Maruti, while the Figo is a whole second behind both. The gaps only widen at the 100kph mark, the JTP doing it in 10.76sec, the Swift in 11.96sec and the Figo trailing behind at 13.80sec. But where the Tata's mammoth turbocharged mid-range really comes into play is in in-gear acceleration. Since the turbo is already spooled up, it'll do 20-80kph in third in 9.86sec and 40-100kph in fourth in 12.99sec, both numbers several seconds ahead of the other two!
Swift the only one with Apple CarPlay, Android Auto.
The best part is that the JTP's performance is rather enjoyable too; inversely proportional to how annoying it is at low speeds. Keeping the engine on the boil is a fun game in itself on a nice, empty road and you'll enjoy tearing through this short but meaty powerband. Of course, you'll have to teach yourself when to shift up, because the rev counter doesn't have a conventional redline (the needle, instead, lights up red when you're near it; very distracting). A big downside, though, is the sound from this three-cylinder motor, which goes from a low-frequency bray to a loud mechanical thrash as the revs rise; it's never really pleasant to the ears.
The Figo, on the other hand, makes a good three-cylinder sound – a nice thrum that sounds better and better as you go higher up the rev range. And it's a rev range you'll want to explore, given this engine's weak bottom end. The truth is, once past that dead zone low down, the 1.2 Dragon wakes up quite nicely and has a pretty meaty mid-range. Well, by normally aspirated standards anyway. The power feels more lumped together than in the Swift, which feels freer-revving but with its power spread thinner. Speaking of the Swift, its 1.2 K12 engine is by far the most refined here, and though you can hear it once you rev it out, it probably isn't as effective at goading you on as the Figo's.
With 6 airbags, Figo goes further on safety.
Engine and Performance
Ford Figo
Tata Tiago JTP
Maruti Suzuki Swift
Engine
3-cyl, 1194cc, petrol
3-cyl, 1199cc, turbo-petrol
4-cyl, 1197cc, petrol
Power
96hp at 6500rpm
114hp at 5000rpm
83hp at 6000rpm
Torque
120Nm at 4250rpm
150Nm at 2000-4000rpm
113Nm at 4200rpm
Gearbox
5-speed manual
5-speed manual
5-speed manual
0-20kph
1.28s
1.10s
0.77s
0-40kph
3.26s
2.54s
2.36s
0-60kph
5.74s
4.74s
4.85s
0-80kph
8.96s
7.61s
7.60s
0-100kph
13.80s
10.76s
11.96s
0-120kph
19.80s
17.03s
17.03s
20-80kph (in third gear)
14.93s
9.86s
13.48s
40-100kph (in fourth gear)
23.36s
12.99s
19.91s
Love handling
And it's not just the Figo's sound that goads you on. As with most Fords, it's the dynamics that really win you over. The pre-facelift Figo had the fettled Sports Edition (with stiffer anti-roll bar), and lessons from there went into the taller, softer Freestyle, and then filtered back down into this car. The result is just tremendous. There's an uncanny eagerness with which it tucks into a corner, and it behaves so predictably, it lets you push your limits with the confidence that the car can handle it. The steering is the best here, with pin-sharp accuracy, lots of delicious feel and very little off-centre slack. Body control is good, and frankly, I think it's safe to say this is the best handling hatch for the money.
Which makes it all the more impressive that the Tiago JTP is only a few small points behind the Figo in the handling department. They've really nailed it with this one – taking an already sound-handling hatchback and making it even better. In just about every area, it only marginally trails behind the Ford – not quite as sharp on turn-in, a smidge more body roll, a touch less grip – but that's it.
JTP's turbo engine the most powerful here.
On its own, the Swift has its dynamics pretty well sorted out, but compared to these two, it feels a bit soft in the springs. It also feels its size, and its expanded dimensions really show in the corners, with the most body roll of the bunch. More than that, however, is the steering that just doesn't give you enough information from the front wheels and doesn't weigh up as much as you'd like; fine for everyday use, but not great for an enthusiast's car.
Similarly, the softer suspension gives the Swift an impeccable low-speed ride quality, but there's just too much vertical movement once you pick up speed and it doesn't give you a lot of confidence on the highway at three-digit speeds. The other two, with their slightly tighter and firmer setups, feel far more secure, and it hasn't come at the cost of everyday comfort either, so it's a far better compromise.
Swift steering a fly in the handling ointment.
Fun-damental rights
If you were yearning for the fun, chuckable Swift of old, you'll come away a little disappointed. It's traded a lot of the original's playfulness for space, comfort and maturity. So, what it's lost in fun dynamics, it's made up for by being a better-rounded hatchback. In fact, as a family car, it's the best one here – the best equipped, the most spacious, the most practical, and though we haven't taken the other two on a fuel economy run yet, the Swift is likely to be the most fuel efficient too. But then it's the most expensive by quite a margin, and if what you want is a premium hatchback, why not stretch a bit further and get a proper one, like a Baleno, Jazz or i20? In the fun stakes, it's not quite what it used to be, and not as good as the others.
The Tiago JTP is an absolute firecracker. Hats off to Tata Motors for doing a special performance model and putting so much effort into souping it up. The performance is one thing, the looks are another, but it's the handling that really impresses – and it's also the cheapest. It's a thoroughly ambitious car that delivers on the performance promise, but it's the execution of more everyday things where Tata still hasn't quite caught up. It's not as practical, low-speed drivability is heavily compromised and the interior quality can't quite match up to the other two. It's great for a fun blast, but it's not the easiest to live with as your daily driver. It's almost there; Tata Motors simply has to fine tune it and work out the niggles to get it right.
The Ford, true to form, is the most fun handling, but that's not the only thing that wins it this test. Its engine has its flaws, especially in low-speed driving, and it is missing some key equipment for
a car of its class. But it's the car that best does both roles – the premium family hatchback for
the school run, plus the go-kart you'll want to take to the hill station on the weekend by yourself. It won't even stretch your budget as much as the Swift will either, and the best part is, if you want economy as well, the diesel engine is just as much fun.
Price and Verdict
Ford Figo
Tata Tiago JTP
Maruti Suzuki Swift
Price (ex-showroom, Delhi)
Rs 6.65 lakh
Rs 6.39 lakh
Rs 7.41 lakh
Verdict
The best mix of practicality, premium feel and fun.
Quick and great to drive but a bit rough around the edges.
A mature, premium hatchback, but not as thrilling to drive.
Rating
8/10
8/10
8/10
Click here for Maruti Suzuki Swift prices, reviews, images, videos and more
Click here for Tata Tiago JTP prices, reviews, images, videos and more
Click here for Ford Figo prices, reviews, images, videos and more