The news is not good for the two-wheeler industry. In October 2021, as per sales data accumulated from six major OEMs, a total of 14,77,313 units were sold, down a substantial 26 percent year on year (October 2020: 19,85,690). Month-on-month growth was a marginal uptick of just one percent.
Much of the blame for the poor show can be attributed to the continuously soaring prices of petrol, which has crossed the Rs 100-a-litre mark across the country. The commuter motorcycle market, which typically delivers the goods to OEMs in a good month, has felt the heat of soaring fuel prices which have kept buyers away. And a fair portion of these buyers would be from rural India. Here's looking at how the six OEMs fared.
Hero MotoCorp: 5,27,779 units / -33 percent
Hero MotoCorp, which currently has a 35 percent share of the overall two-wheeler market, sold 5,27,779 units in the domestic market last month, marking 33 percent sales declines on a YoY basis (October 2020: 7,91,137). Nonetheless, there was month-on-month growth with 22,317 units sold last month, marking a four percent increase (September 2021: 5,05,462).
With the festive season underway, Hero MotoCorp will be putting its shoulder to the retail wheel to ensure sales are up this month. The company launched the new Pleasure Plus 110 scooter at Rs 61,900 in early October and followed it up with the Xtreme 160R Stealth Edition and XPulse 200 4 Valve.
With the economy gradually opening up, along with other positive growth indicators such as encouraging farm activity and surge in preference for personal mobility, a swift revival in sales is expected in the coming months.
Honda Motorcycle & Scooter India: 3,94,623 units / -20 percent
Honda Motorcycle & Scooter India (HMSI), with total sales of 3,94,623 units, saw numbers decline 20 percent last month (October 2020: 4,94,459). Things were no better on a month-on-month basis – down 15 percent – given that it had sold 4,63,379 units in September 2021.
Commenting on the sales performance, Yadvinder Singh Guleria, director, Sales & Marketing, HMSI, said: "With the much-awaited festival season in progress, we are witnessing a gradual rise in engagement registering more enquiries from prospective customers with each passing day. We expect this auspicious period to amplify the positivity in terms of conversions."
October 2021 was a milestone month in terms of achieving 5 crore cumulative domestic sales in India since the start of its sales operations in 2001. HMSI, which has a 26 percent overall two-wheeler market share, is gradually enhancing its focus on its midsize bikes. The company inaugurated new Honda BigWing outlets in Aluva in Kerala, Mangalore,Karnataka and Worli, Mumbai last month.
TVS Motor Company: 2,58,777 units / -14 percent
TVS Motor Co, the No. 3 player with a 14.24 percent market share, sold a total of 2,58,777 units last month, down 14 percent YoY (October 2020: 3,01,380). However, compared to both Hero MotoCorp and HMSI, TVS fared better month on month – up six percent versus September 2021's sales of 2,44,084 units.
It is learnt that two of its recently launched products – the Raider 125 and Jupiter 125 – are witnessing strong traction, which could be put down to the gradual market shift from 100cc commuters to those with more power.
Bajaj Auto: 198,738 units / -26 percent
With the domestic two-wheeler market continuing to show iffy sales trends, the Pune-based motorcycle manufacturer sold a total of 198,738 bikes in October 2021, down a substantial 26 percent year on year (October 2020: 2,68,631).
Also, continually rising and wallet-burning prices of petrol are also proving to be a spoilsport for the company and its rivals. October 2021 saw the price of petrol rise by Rs 7.55 a litre in Mumbai, or by 6.99 percent in just 31 days. The price-sensitive entry-level commuter market is the first to be affected by fuel price rises and like other OEMs, Bajaj Auto too is feeling the heat. The executive motorcycle segment though remains relatively unaffected.
Exports numbers, at 1,92,565 units and just 6,173 units less than the domestic market total, constituted a five percent YoY decline for the company (October 2020: 2,01,659). Combine domestic and export sales and what you get is a total of 391,303 units for October 2021, down 17 percent YoY (October 2020: 4,70,290).
In terms of sales for the first seven months of the ongoing fiscal year (April-October 2021), Bajaj Auto has sold a total of 10,29,438 units in the domestic market, up two percent (April-October 2020: 10,04,806). On the export front, the numbers are robust: 12,91,085, up 56 percent YoY (April-October 2020: 8,29,878). Cumulative domestic and export sales are 23,20,523 units, up 26 percent YoY ((April-October 2020: 18,34,684).
Royal Enfield: 40,611 units / -35 percent
Royal Enfield sold 40,611 motorcycles last month as against 62,858 units in October 2020, marking a sharp 35 percent year-on-year decline. Month on month, the Chennai-based manufacturer posted robust 49 percent growth with 13,378 more units sold in October (September 2021: 27,233). The new Classic 350, launched on September 1 with upgraded engine, chassis and a host of new features, is apparently finding much favour among midsized motorcycle enthusiasts across India.
Suzuki Motorcycle India: 56,785 units / -16 percent
Suzuki Motorcycle India, which sold 56,785 units last month, registered a YoY sales decline of 16 percent (October 2020: 67,225). In terms of month-on-month growth, Suzuki posted a two percent increase, selling an additional 1,177 units in October 2021 (September 2021: 55,608).
Growth outlook a tad worrying
Unless and until fuel prices are reduced, overall sales numbers in the two-wheeler segment will continue to remain under pressure. The high double-digit sales decline in October is worrying. According to Rohan Kanwar Gupta, VP & Sector Head, Corporate Ratings, ICRA, this reflects the continuing impact of increasing cost of vehicle ownership and rampant fuel price hikes on consumer sentiments.
"The volumes also reflect some impact of extended supply chain disruptions (semiconductor chip shortages) on the production of high end (>150cc) two-wheelers," Gupta says. "Nonetheless, a sequential growth in domestic wholesale volumes indicates some revival attributable to the festive season. This is in line with the retail registration data, which also saw a nine percent sequential growth in October 2021, with volumes touching 9,90,000 units. A healthy pace of vaccination leading to abatement of fear regarding further waves of infection, decent farm cash-flows and preference for personal mobility are expected to support volume recovery in the near-term even as elevated cost of ownership continue to pose a risk."
With the pent-up demand in the two-wheeler market done and dusted, OEMs are cautiously optimistic that the gradual opening up of town and country will bring positive news in the form of sales. We will keep you updated on that score.
Sricharan R
Also see:
Two-wheeler exports make a strong comeback in last six months
Hero Karizma XMR video review
7382 Views|22 days ago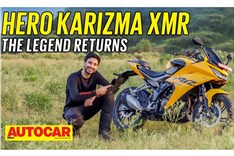 Hero Karizma XMR walkaround video
4085 Views|23 days ago
Quick News video: July 30, 2023
3050 Views|1 month ago