Can the all-electric Nexon be considered a proper substitute to the petrol or diesel-powered compact SUV? Our review has the answers.
Electric cars may be wildly popular and much sought after currently, but the reality is that they are still both expensive and impractical. The cost of the battery is still prohibitive, our charging infrastructure in India is non-existent, and, as a result, if you don't have a charger installed in your home, using an EV becomes near impossible. Carmakers, as a result, need every advantage they can get. So when Tata decided to enter the electric car fray with a car squarely aimed at the Indian car buyer, it decided to go with one of its most attractive products – the Nexon compact SUV.
The Nexon has already established itself as a practical, value-for-money offering, and is a steady seller for the brand. And that it scored a 5-star rating in Global NCAP crash tests – with an internal combustion engine under the hood – also emits a positive and reassuring vibe. So just how good is the Nexon EV? Is it smooth and effortless to drive in traffic? Can it thrill you when you want a strong burst of acceleration, and is it comfortable to ride in?
What is it?
Tata may have launched the Tigor EV earlier, but this is the company's first real EV targeted at car buyers and not taxi operators. To make it more appealing, it gets a liquid-cooled battery pack, and a 312km range according to ARAI's optimistic driving cycle. Engineered on the same platform as the standard Nexon, the EV uses a permanent magnet motor that puts out a maximum of 129hp and 245Nm of torque. This motor draws power from a 30.2kWh 'T'-shaped battery pack that's placed beneath the cabin floor. To accommodate the additional weight of the battery, the suspension has been retuned, but components like the dampers, springs, and brakes are shared with the standard Nexon. Interestingly, Tata has managed to achieve a 50:50 weight distribution at each axle, and the overall kerb weight is 1,400kg – 150kg heavier than the top-spec diesel Nexon. And because of the battery pack's placement, the Nexon EV's overall centre of gravity is much lower than either of the IC engine cars. For those concerned about the battery's durability and longevity, the pack conforms with the IP 67 standard, which means that it is water-resistant up to one metre (up to 30 minutes). It also has an AIS 48 rating – currently the most stringent safety test in India – which includes nail-penetration up to the cell level, crush test, fire test, and more. In summary, this EV is likely to easily sail through flooded roads, switch off automatically if trapped underwater for more than 30min, and even take the regular abuse of our road conditions throughout its life, without any issues. Tata is also offering an 8-year or 1,60,000km warranty on the battery pack as well as on the electric motor to further boost buyer confidence.
The overall dimensions of the Nexon EV haven't changed compared to the standard car, however, the ground clearance is 4mm lower than the standard Nexon at 205mm, due partly to the position of the battery pack.
The Nexon EV, with the facelift, look more butch. It gets a new pair of projector headlamps with LED DRLs that double as turn indicators. The front grille is also new, and Mercedes-like tri-arrow design elements are scattered across the exteriors. Up front, the flatter bonnet is designed to meet the pedestrian crash standards likely to be implemented in October 2020. It gets 16-inch alloy wheels, and what's interesting is that these are lighter by almost a kilo at each corner. Moving to the rear, the new Union Jack-like, clear tail-lamps feature new LED elements, and the bumper also gets some styling tweaks.
What is it like inside?
Blue highlights, similar to the ones outside, lend freshness to the dashboard design, which remains largely unchanged from the pre-facelift Nexon. The instrument cluster now is part-digital, with a coloured display that gives out information like state of charge, projected battery range, as well as a moving graph displaying power usage versus regeneration. The steering is new, and so is the rotary 'gear' selector. The latter, however, isn't the most convenient to use as it is slow to respond and illegible in direct sunlight. This means you have to look up into the instrument panel to see which mode you are in; not nice. The new placement of the gear selector knob allows for a large storage cavity in front of it.
Like the basic design of the Nexon EV dash, the seats and space at the front and rear remain unchanged; so the seat is comfortable with a good amount of support, and well-judged cushioning.And boot space at 350 litresis practical too. The top-spec XZ+ Lux variant now gets additional features like a sunroof, beige leatherette upholstery, and auto headlamps and wipers. All variants also get 35 new app-based connectivity features for vehicle security, location-based services, remote commands, alerts, and more. The AUX-input and rear air-con blower controls have been omitted, however almost everyone will appreciate the 8-speaker Harman sound system, which sounds very good.
What is it like to drive?
Initial impressions are very good. A tap on the accelerator delivers a strong surge of power and what's nice is that torque doesn't come in a big, unregulated rush. Initial responses are wonderfully linear, a slight increase in pedal position is metered, and thenprogression in traffic is smooth and jerk-free. This means the Nexon EV darts into traffic gaps effortlessly and there's more than enough urge for everyday driving.
As soon as the road opens up and you go harder on the throttle, responses, however, flatten out. This is a bit disappointing and causes you to push the pedal down harder, leading to more disappointment. To unlock more performance, you need to rotate the selector dial clockwise, and select 'Sport'. Here acceleration is stronger by almost 30-40 percent, and responses feel a lot more aggressive too. Stomp the accelerator and the burst of power is so strong, the front wheels often struggle for traction, and howl in protest, especially on winding sections of road; so in the absence of ESP and even traction control, there is a bit of a learning curve to putting power down smoothly. What's worse is that in 'Sport', the car continues to 'run on' or accelerate for a second or so even after you've lifted off the throttle, which, at times, makes driving the Nexon EV unnecessarily exciting.
Performance, however, is strong. We strapped on our testing equipment and the difference in the 0-100kph acceleration timing is evident – it does the sprint in just 9.64sec in 'S', whereas, in 'D', it takes 13.75sec. The Nexon EV will max out at 120kph, which, when you get on to a wide-open highway could be restrictive.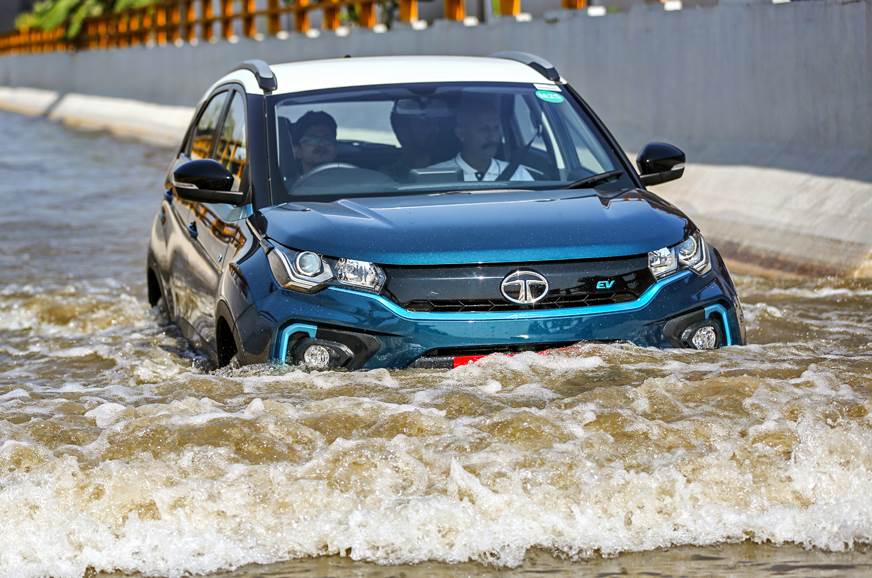 What also takes a bit of getting used, especially in traffic, is regeneration – especially as it isn't adjustable by the driver on the Nexon. Lift off the throttle and the Nexon EV decelerates pretty quickly, as the slowing car transfers its energy and momentum to the battery. This behaviour – where the car is never coasting – will be unusual for those used to internal combustion cars, and take some getting used to. Initially, you tend to lift off the accelerator too soon. Master the art of anticipatory driving, and the regeneration rewards you by recharging the battery pack, thus extending that all-important range.
The Nexon EV also gets hill-start assist and hill-descent control. The former, however, takes a bit too long to respond, as the car rolls back quite disconcertingly for a foot or more at times, more before going up the incline. And do this on an incline off-road – with loose earth under the tyre, no traction control, the weight of the car off the driven front wheels, and the electric car's instant delivery of torque – and getting up is a real task. The hill-descent control holds the car's speed at around 20kph while driving down a slope, but this isn't the configurable crawl function seen in standard SUVs linked to their ESP.
ARAI has certified the Tata Nexon EV's range to be 312km, however, use a lot of 'S' or 'Sport' and plenty of right foot, and the range drops rather rapidly. The good news is that it can charge to 80 percent of its battery capacity in just 60 minutes through a fast DC charger; and can also be fully charged from 20 percent in just eight hours using a standard 15 ampere AC plug and charger, the latter provided with the car.
With the heavy battery placed underneath, and stiffer springs and dampers, ride quality is also a bit stiffer. It isn't uncomfortable but there's clearly a layer of firmness now at lower speeds. The ride is also busier over broken sections and large potholes register with a harder thump. Up the speed, however, and it comfortably rounds off the bumps and road imperfections, and, what's nice is that its handling is sharp, well balanced and confidence-inspiring. It also helps that the weight of the battery is held down low, the steering is accurate and turn-in is sharp, so direction changes are quick and fun. Backing up that strong turn-in is the tight body control and the superbly calibrated brakes only load you up on confidence. Pedal feel, in fact, is so well-judged, the brakes feel very progressive even when blended with regen-braking at low speeds; and very strong when you need to brake hard into corners.
Should I buy one?
The Nexon EV works superbly as a city car. It is quick off the mark, effortless to drive and feels so familiar, most drivers will be happy to swap. Those interested in bursts of strong performance won't be disappointed either. The strong brakes and tidy handling make it fun to drive, and then there's the comfortable cabin and connected car tech. To up the EV's appeal, Tata even has given it kit like leatherette seats, a sunroof and auto lights and wipers; so there's plenty to get excited about.
A lot, however, depends on driving range in the real world. Despite the ARAI figure of 312km, real-world range is likely to be around 180-220km, depending on the driving style; only just about enough.
Tata has priced the Nexon EV at Rs 13.99 lakh for the entry-level XM variant and at Rs 15.99 lakh for the top-spec Nexon EV XZ+ LUX. This means that the base EV costs Rs 1.29 lakh more than the most expensive diesel-automatic version of the Nexon facelift.
Also, don't forget the Rs 4-6 per kilometre or so you are likely to save on running costs, and the warranty on the electric motor and battery pack. So early adopters, who don't mind paying a bit more are likely to be interested.
Those of you looking for a more definitive verdict will have to wait for some more for a detailed road test, where real-world range isn't an unknown factor. One thing's for sure, the Nexon EV is clearly one of the most promising electric vehicles to go on sale yet.
Photography: Gaurav Thombre