We didn't find the Hector turbo-petrol DCT to be fuel efficient when we last drove it. Now, we put the CVT version to the test to see how it fares.
Back in 2019, the sole automatic option in the MG Hector's line-up was a 6-speed dual-clutch transmission (DCT) mated to a 1.5-litre turbo-petrol engine. Although smooth, neither was the performance impressive nor was the turbo-petrol-DCT fuel efficient. With the 2021 facelift, the Hector got an all-new continuously variable transmission (CVT) as the second automatic gearbox option mated to the same engine. While the CVT sold alongside the DCT initially, it later replaced the latter. Priced between Rs 16.40 lakh and Rs 19.68 lakh (ex-showroom India), the turbo-petrol-CVT is available in three trims – Shine, Smart and Sharp (as tested).
MG Hector CVT automatic: How does it drive?
The CVT makes a positive first impression with its responsiveness. It feels much sprightlier off the bat than the lazy DCT and keeping up with the flow of traffic is an effortless affair. Sedate drivers will be rewarded with smooth, step-free performance, as the CVT does well to keep the engine spinning optimally for the most part.
CVT gets Eco and Sport mode, although the difference between these when driven flat-out is negligible.
It doesn't mask this engine's turbo lag completely, and when you lose momentum, you will notice some delay before it builds speed. But on the whole, the 143hp turbo-petrol engine feels adequate for urban commutes. However, to make quicker progress, you will need to wring its neck, and overtaking fast-moving traffic warrants some effort. And when you drive with a heavy right foot, the CVT will exhibit the typical rubber band effect, where engine revs and the vehicle's speed are not in synergy.
The new transmission has eight predefined steps that simulate gearshifts when you take manual control over the transmission via the gear lever; paddle shifters are missing from the package. There are Eco and Sport modes, alongside the standard mode, to alter the drive experience, and it is only at part-throttle that you notice some difference between the modes; however, when driving flat-out, the difference is negligible. Whether it is a sprint from 0-100kph or in rolling acceleration races from 20-80kph or 40-100kph, the CVT will out-drag the DCT, thus making it better suited to this turbo-petrol engine.
MG Hector Performance
Acceleration (kph)
Sport Mode
City Mode
Eco Mode
1.5 Turbo DCT
0-20
1.42 sec
1.48 sec
1.37 sec
1.34 sec
0-40
2.93 sec
3.02 sec
3.21 sec
3.03 sec
0-60
5.06 sec
5.13 sec
5.43 sec
5.18 sec
0-80
7.96 sec
8.07 sec
8.34 sec
9.29 sec
0-100
11.90 sec
11.94 sec
12.28 sec
14.21 sec
Kickdown acceleration (kph)
20-80
6.70 sec
7.00 sec
7.47 sec
8.04 sec
40-100
8.94 sec
8.90 sec
9.23 sec
10.24 sec
With the facelift in 2021, MG replaced the older 17-inch wheels with larger 18-inchers, which look far more proportionate to its tall stature. The larger wheels, however, come at the cost of low-speed ride comfort, and the Hector now crashes over sharp potholes, which wasn't the case earlier. Like before, the Hector doesn't offer an engaging drive experience.
There are too many body movements when you up the pace, due to its soft suspension, and it also rolls a fair bit around corners, so it feels best when driven in an unhurried manner.
MG Hector CVT automatic: What is the real-world fuel efficiency?
Driven in Eco mode throughout our fuel efficiency test cycles, the MG Hector CVT returned 8.3kpl in the city, and 9.6kpl on the highway, an improvement of 1.8kpl and 1.3kpl, respectively, over the outgoing dual-clutch automatic version. The Hector CVT's sprightlier nature in city conditions doesn't warrant heavy accelerator inputs to keep up with the flow of traffic, and the CVT nicely balances performance and fuel consumption. At highway speeds, however, the small engine takes some effort to lug this heavy 1,655 kg SUV, especially while overtaking fast-moving traffic, hence fuel efficiency takes a beating.
MG Hector CVT automatic: What features does it get?
The top-spec Sharp trim packs in kit like auto LED headlamps, 18-inch alloys, panoramic sunroof, ventilated front seats, electric driver's seat, wireless charging, 10.4-inch touchscreen, Infinity speakers, 360-degree camera, 6 airbags, all-wheel disc brakes, ESP and an electric tailgate.
Ventilated front seats are a welcome addition; curiously, its button is hidden away beside the centre console.
MG Hector CVT automatic: Buy now or wait?
The MG Hector makes a great first impression; it is a plus-sized vehicle for the price of a midsize SUV; and the bright and airy cabin, panoramic sunroof and massive touchscreen scream luxury the moment you step inside.
Spacious cabin; backrest recline feature enhances comfort.
Even the turbo-petrol engine and CVT offer adequate performance, and the drive is far more pleasant than the DCT it replaces. Fuel efficiency is better than the DCT too, however, that wasn't a great baseline to begin with, as the CVT's figures are still quite low, standing in single digits, especially compared to similarly priced, smaller midsize SUVs.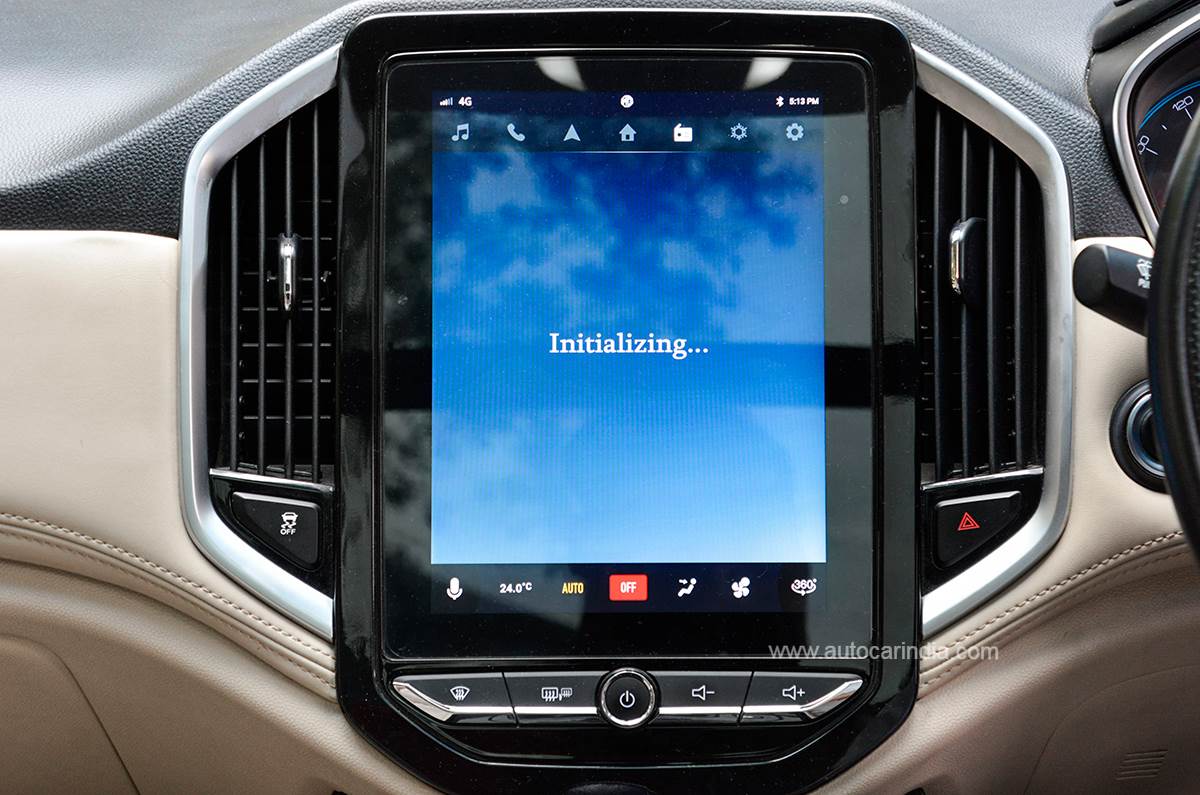 Feature-packed touchscreen infotainment system is slow to respond.
The Hector isn't engaging to drive, but the outgoing version offered excellent low-speed ride comfort, however now with larger wheels, it isn't as cushy as before. And finally, while it might seem like an irritant, its touchscreen, is slow to respond, and even operating simple functions like the embedded climate control can get annoying.
18-inch wheels look more proportionate, however low speed ride quality isn't as cushy as before.
The Rs 15 lakh-20 lakh segment is a lot fiercer now than it was in 2019 when the Hector was introduced, and rivals today have upped the ante in areas such as performance, features and the overall user experience. MG will be launching an updated iteration of the Hector in the weeks to come to strengthen its game. Will it rekindle the market's love for this feature-packed SUV? Only time will tell.
Also read:
Mahindra Scorpio N real-world fuel efficiency
MG Hector facelift video review
14929 Views|9 months ago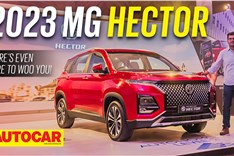 MG Hector facelift walkaound video
11380 Views|10 months ago