Tata Motors and Lithium Urban enter a long-term partnership spanning development and supply of both commercial and passenger electric vehicles (EVs). They have signed a contract for 400 newly launched Tigor EVs to be supplied by FY2020 and deployed across India. The partnership also plans to induct an additional 100 electric vehicles – including cars to be launched in the near future, like the Nexon EV – for corporate leadership transport services.
This order will significantly expand Lithium's current fleet of 1,000 EVs to further consolidate its leadership position as the largest EV-based mobility service provider. Speaking on the occasion, Shailesh Chandra, President – Electric Mobility Business & Corporate Strategy, Tata Motors said, "This is not just the most significant milestone for Tata Motors' E-Mobility Business, but also a big turning point in the EV market, which is now likely to see fleets electrify faster than ever before. We are delighted to enter this partnership with Lithium, who are on their pragmatic journey of expanding their zero-emission transport service rapidly."
Lithium Urban Technologies founder, Sanjay Krishnan said, "The induction of new extended range Tigor EVs and future EVs into our portfolio will add further differentiation to our service offerings for the passenger services. This partnership with Tata Motors will ensure availability of new form factors and enable viability of new market segments across passenger, mass transit and freight."
Also see:
Tata Power to operate EVs as part of its maintenance fleet in Delhi
Tata Nexon EV likely to be unveiled on December 16, 2019
Tata Tigor EV now available to private buyers from Rs 12.59 lakh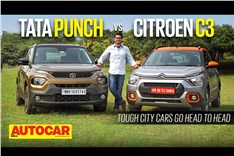 Citroen C3 vs Tata Punch video comparison
6251 Views|12 days ago
Shailesh Chandra on Tiago EV, Tata's future EV plans and ...
2010 Views|2 months ago