With regulations set to tighten in the coming months, Indian automakers are working on methods to reduce tailpipe emissions. "The regulatory situations in India are changing. Going forward, we will soon see CAFE norms, BS6 phase 2 (RDE) and many more. And, lightweighting plays a pivotal role in reducing emissions," said CV Raman, chief technology officer, Maruti Suzuki India, at our sister publication Autocar Professional's 2021 Vehicle Lightweighting Conference. "A 10 percent weight reduction can improve fuel efficiency by three-four percent, and reduce emissions by three-four grams [per km]."
10 percent weight reduction can improve mileage by three-four percent
Latest Swift, Celerio lighter due to modern underpinnings
Composites can reduce CNG cylinder weight by 50-60 percent
Methods to reduce vehicle weight
Maruti Suzuki is using higher tensile steel for its vehicle's structures, Raman pointed out. The company's Heartect platform is helping it improve structural and torsional rigidity, increase strength, but also reduce weight and, in turn, emissions. "Maruti Suzuki is switching over to the fifth-generation Heartect platform," he said.
For reference, the current Swift is 125kg lighter than the first-gen model of 2005. The latest Celerio, which makes the transition to the fifth-gen Heartect A architecture (same as the current WagonR), is also 15-25kg lighter than the outgoing car, despite an increase in footprint and addition of new features. This, along with the new K10C engine, has allowed Maruti to tout the second-gen Celerio as the country's most fuel-efficient petrol offering.
Giving other examples, Raman mentioned that fuel boxes, which were metal earlier, are now made of plastic, thus reducing their weight by 30 percent. This has also reduced rust-related issues and it has become a lot easier to package them in the platform. "Even in the powertrain, there has been a significant increase in plastic components replacing metals, reducing weight by 30 percent and cost by 47 percent," he stated.
Pointing out other areas of weight saving, he said, "Moving forward, there is much potential to reduce CNG cylinder weight by 50-60 percent using composites. This will help reduce overall vehicle weight, increase efficiency and also enable the use of hydrogen-CNG mix, which can have wide ramifications."
He continued, "In EVs, additional battery weight is a challenge. We all need to look at the battery platform, substitute materials and use advanced high-tensile steel. A ground-up platform needs to be built to develop lightweight EVs."
Contribution of cars, SUVs to air pollution
Commenting on climate change, Maruti's CTO said that the transport sector in India contributes to 13 percent of greenhouse gas (GHG) emissions, though this is lower than GHG emission by the auto industry in the European Union. Cars and SUVs in India contribute to 40-45 percent of vehicular emissions, with two-wheelers responsible for a similar share. The remaining is contributed by commercial vehicles.
He continued, "In order to achieve the target set by our PM at COP 26, we will face many challenges. When you look at the per capita income of India, it is lower when compared to China. We have a passenger vehicle penetration of 13 per 1,000 and have 13 million two-wheelers. These challenges are unique to India. But one thing which is clear is our need to reduce emissions."
Also see:
Maruti Suzuki confirms five new SUVs, expected in the next three years
Carmakers call for a long-term emissions road map
Maruti Suzuki pursuing ethanol-powered vehicles
Automakers must mandatorily build ethanol vehicles: Transport minister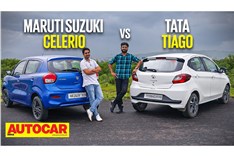 2022 Maruti Celerio vs Tata Tiago comparison video
8895 Views|2 months ago
2021 Maruti Suzuki Celerio video review
12520 Views|1 year ago