The new Targa gets all the design updates that came with the new 992 generation of the 911.
It uses a 3.0-litre, flat-six, twin-turbocharged engine that comes in two states of tune – 385hp (Targa 4) and 450hp (Targa 4S).
The model retains the automatic folding hardtop, which can now be opened or closed in 19sec.
Porsche is continuing its five-decade love affair with the Targa roof design, revealing the eighth generation of the semi-convertible 911 variant.
The new 911 Targa takes up where the last generation model left off – with a fully automatic system that stows the hardtop roof panel behind the rear seats. When operated, the entire rear deck and screen lift up to allow the roof section to fold into the space. This leaves the car's characteristic central roll-over bar in place of the B-pillar behind the door.
The mechanism is able to open and close the Targa roof in 19sec – 7sec slower than the fabric-roofed 911 Cabriolet that was revealed last year.
It retains the familiar silhouette and carries over the styling updates for the 992 generation of the 911, including an integrated LED rear light bar and variably extending rear spoiler. It also keeps the occasional rear seats of the standard coupé and cabriolet.
With its complex folding metal roof and standard-fit four-wheel drive, the Targa is the heaviest 992-gen 911 yet. With a kerb weight of 1,640kg in 4S manual form, it's 60kg heavier than the equivalent 991-generation 911 Targa, but only 5kg heavier than the equivalent 992-gen cabriolet.
Using the same twin-turbocharged 3.0-litre flat six as its siblings, the base 911 Targa 4 puts out 385hp and 450Nm of torque. Fitted with the optional Sport Chrono package, its 0-100kph time is 4.2sec – one-tenth quicker than the outgoing Targa – and its top speed is 290kph.
Also available at launch is the Targa 4S, which puts out 450hp and 530Nm of torque. This translates to a 0-100kph time of 3.6sec, four-tenths faster than its immediate predecessor, and a top speed of 304kph.
Both models have an 8-speed dual-clutch gearbox as standard. As a no-cost option, the 4S can be ordered with the 7-speed manual gearbox in combination with the Sport Chrono package.
PASM (Porsche Active Suspension Management) is standard on the Targa, too, bringing adaptive damping, and so is Torque Vectoring Plus. Options include an enhanced 'Smartlift' function to raise the car's nose over obstacles as well as ceramic-composite brakes.
Although Porsche has not yet made an announcement regarding when the 992-gen Targa will launch in India, the carmaker did recently announce prices of the new 650hp, 911 Turbo S with its launch and deliveries slated for later this year.
Also see:
2021 Porsche 911 Targa image gallery
New 650hp Porsche 911 Turbo S revealed
Porsche extends warranty timeframes worldwide
Porsche introduces modern infotainment upgrades for classic 911s
2022 Porsche 911 GT3 RS video review
6482 Views|6 months ago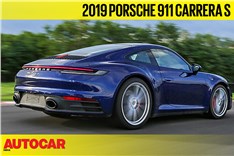 2019 Porsche 911 Carrera S video review
13099 Views|3 years ago