The new Porsche 911 GT3 Touring is a "more understated" package which brings toned-down styling and the option of a 6-speed manual gearbox.
The Porsche 911 GT3 Touring gets updated styling
It uses a 510hp, 4.0-litre, flat-six petrol engine
Its available with a 6-speed manual and 7-speed PDK automatic gearbox
2021 Porsche 911 GT3 Touring: what is it?
As with the previous-generation 911 GT3 Touring, the new addition to the line-up is mechanically identical to the standard 911 GT3, revealed earlier this year, but with a number of key revisions aimed at increasing its 'driving pleasure'.
The Touring moniker was first used for a variant of the 1973 911 Carrera RS. Similarly conceived versions of the 718 Cayman and 718 Boxster went on sale in 2019, badged 'T'.
2021 Porsche 911 GT3 Touring: design
In typical Touring style, the huge fixed rear wing has been removed in favour of a concealed, automatically extending item, while bespoke styling cues include aluminium window trims, a colour-coded front splitter, a 'Touring' rear badge and tinted headlights.
Inside, it's marked out by a unique leather finish for the seats, steering wheel, gearstick, centre console and armrests, as well as black aluminium tread plates and dashboard.
2021 Porsche 911 GT3 Touring: engine and gearbox
The GT3 Touring retains the 4.0-litre naturally aspirated flat six engine that puts out 510hp (10hp more than the 991.2-gen GT3). While the exact performance figures have yet to be disclosed, they will likely be similar to the standard car with a 0-100kph time of 3.2sec and a top speed of 320kph. The engine, as with the old GT3's, is capable of revving to a dizzying 9,000rpm.
Equipped with the 6-speed manual gearbox, the 911 GT3 Touring weighs 1,418kg, or 1,435kg with the optional 7-speed PDK automatic - the same as the standard GT3.
2021 Porsche 911 GT3 India launch
While the previous-gen 911 GT3 was on sale in India and the new-gen GT3 is expected to be launched in our market as well, there has been no announcement regarding Porsche's plans to bring the Touring variant. Porsche did, however, launch the latest 992 generation of the 911 in India, priced from Rs 1.82 crore, back in 2019.
Also see:
2021 Porsche 911 GT3 image gallery
Porsche looking to expand line up with new fastback style sedan
Porsche Cayenne Coupe to get new 640hp performance variant
Manolito Vujicic on Porsche's brand expansion, sales performance and more
2022 Porsche 911 Dakar image gallery
4406 Views|10 months ago
2023 Porsche 911 GT3 RS image gallery
5645 Views|1 year ago
Porsche Taycan Turbo S vs Panamera Turbo S vs 911 Turbo S...
2171 Views|1 month ago
2022 Porsche 911 GT3 RS video review
9452 Views|10 months ago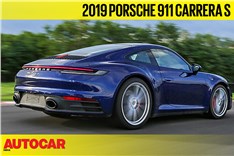 2019 Porsche 911 Carrera S video review
13602 Views|4 years ago