The Kia Carens recently premiered in India ahead of its market launch slated for sometime in February-March. Following the Seltos and Sonet, the Carens is the third mass-market product from Kia in our country. The company has confirmed that though the Carens is also destined for markets abroad, India will serve as the mother plant for the model.
20 percent of Carens manufactured will be exported
Kia to ramp up plant production with an additional third shift
Kia to expand plant capacity from 3,00,000 to 4,00,000 units
Kia Carens to be exclusively manufactured in India
During a media round table post the unveiling, Tae-Jin Park, managing director and CEO, Kia India, told Autocar India, "Twenty percent of the production of Carens from the India plant will be exported." The model will be shipped to both right-hand drive and left-hand drive markets, like Indonesia and Latin America.
Answering a media query, he added that the Carens will be produced "only in India" at the carmaker's facility in Anantapur, Andhra Pradesh. Though Kia has high hopes for the Carens in our market, exports will help it achieve greater economies of scale.
Kia India to ramp up production
Kia has so far been operating in two shifts at its Anantapur plant, which currently has a production capacity of 3,00,000 units annually. Speaking on this year's volumes, Hardeep Singh Brar, VP and head of sales and marketing, Kia India, said, "We are likely to close the year at around 2,25,000 units for both domestic sales and exports combined."
With the introduction of the Carens, however, Kia has plans to finally realise the full capacity of its plant. Commenting on ramping up production, Tae-Jin Park said, "With the launch of the Kia Carens, we'll increase our production capacity to three shift operations early next year."
"Next year, we plan to do about 3,00,000 units, both domestic and exports put together," added Brar. This, however, is not withstanding the global semiconductor crisis as like every other manufacturer, Kia too has been impacted.
"But again, it will depend on how quickly we are able to ramp up supply. The situation is expected to remain tight for the next couple of months, so it's more of a wait and watch at this point in time," Brar continued.
Notably, Park confirmed to Autocar India that the third shift will also help Kia bring down the long waiting periods for the Seltos and Sonet, which should come as a relief to owners who have put down their money for Kia's SUVs.
Kia India plant to be expanded
After Kia starts operating at full capacity, it will have to chart out plans for future production. Though the automaker has been reported to be exploring investment in a second plant, the company's MD commented that it will first expand the capacity of the current Anantapur factory.
"While our initial production capacity is 3,00,000 units [annually], it will be increased to 4,00,000 units. That is basically the plan," said Park.
What are your thoughts on Kia's production plans for the Carens? Let us know in the comments below.
Also See:
Maruti Suzuki XL6 vs Kia Carens comparison video
9362 Views|1 month ago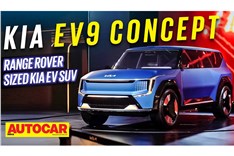 Auto Expo 2023: Kia EV9 concept walkaround video
1392 Views|2 months ago