Hyundai India has announced the launch of a car leasing service, christened 'Hyundai Leasing'. The service is in association with ALD Automotive India, a leasing and fleet management company. During its first phase, the service will be available across five cities comprising Delhi NCR, Mumbai, Chennai, Hyderabad and Bengaluru.
Positioned as a convenient alternative to car ownership, the programme is aimed at salaried individuals, working professionals, small and medium enterprises, corporate entities and the public sector. It provides benefits like a zero down-payment and efficient tax management, along with the promise of alleviating maintenance and insurance hassles. It also offers customers the option to upgrade within the Hyundai model range. Lease vehicles are available at a monthly rental fee for a period of two-five years, depending on the city and model selected. The leasing scheme is applicable across the entire Hyundai India product line-up.
At the announcement of the service, Suvajit Karmakar, CEO and Director, ALD Automotive India, said, "I am confident that this association (with Hyundai) will make us explore newer products and service offerings and take car leasing to the next level in the Indian market."
According to Hyundai, the car rental business has a penetration of less than 1 percent in India, whereas it is as high as 45 percent in developed nations. SJ Ha, executive director, sales and marketing, Hyundai Motor India said, "Indian automotive industry is at the cusp of transformation. As a smart mobility solutions provider, we at Hyundai understand the needs of our evolving customers and are committed to making 'Shared Mobility' accessible." He added, "The vehicle-leasing business is rapidly picking pace in India and offers great prospects."
At the beginning of the year, Hyundai India launched a subscription-based ownership programme with Revv. Of late, the car leasing concept seems to have been gathering steam, with other automakers having introduced their own services within this space.
Also see:
Skoda India ties up with Orix for new car leasing
Toyota may offer subscription-based ownership in India
MG Hector to be available on subscription through Myles
Click here for all Hyundai models, prices, reviews, images, videos and more
Maruti Suzuki Grand Vitara vs Hyundai Creta vs Kia Selto...
16624 Views|1 month ago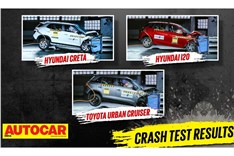 Hyundai Creta, i20 & Toyota Urban Cruiser Global NCAP cra...
8386 Views|7 months ago