Earlier this month, Japanese car major Toyota formed a new company called Kinto to manage and operate its car subscription service in Japan. The objective is to propose a new relationship between the user and the car. With the shared mobility trend catching up in India, especially among the younger generation, Toyota may offer it in India too.
"It's slowly going to come, because what I see is that on adaptation on the technology front and this type of out-of-the-box thinking, we get a lot of interest," says N Raja, deputy managing director, Toyota Kirloskar Motor.
Toyota's fellow Japanese carmaker Nissan has announced a subscription-based ownership plan for its recently launched Kicks SUV while MG Motor India has tied up with self-drive rental service provider Myles to offer a similar service for its first two models.
After shared mobility, self-drive rentals and subscription-based ownership are the new trends in the Indian market that could redefine the car ownership pattern in the country. For example, Zoomcar, a self-drive rental service provider, looks to tap the potentially big trend by expanding its fleet size from 7,000 vehicles currently to around 1,00,000 vehicles in over three years. Its subscription-based car ownership service has seen over 8,000 subscribers in 11 months. These could be an indication of the potential change in car ownership in India.
Even so, a car is still generally seen as a status symbol in India. The new trends will be prominent in metropolitan markets mainly as they have a fairly significant population of early adopters. "We as manufacturers and people like Greg Moran (Zoomcar's co-founder) will be the catalysts to move it fast," says Raja. For him, the new options also offer an opportunity to showcase his company's product to a customer should he/she picks a Toyota car on rent. "I look at it something like a two-day test drive for them," says Raja.
On the relatively mature trend of shared mobility, Raja says that while it contributed to the car industry's sales growth during the initial years, this year onwards it may not be so. "2019 will slow down as some fleets reach maturity level and utilisation levels have peaked. They (service providers) have clearly stopped burning cash," says Raja.
Ready with hybrids, electric
As mobility in India also witnesses the onset of propulsion technologies like hybrid and full electric, Toyota says it is prepared for both, provided the government's support towards a conducive environment. Toyota has already introduced a few hybrid models in India, but doesn't seem to be convinced to introduce a full-electric car here yet. Toyota developed a full-electric car in 2012. Raja says, "When it becomes viable, products will come. Today the challenge is range, price and infrastructure."
It is estimated that 30 percent of the passenger vehicle market in India will be electric by 2030. While there's acceptance that electric is the future, Toyota also urges policy makers to not mandate any technology but instead set stringent targets for emission, energy consumption.
Also see:
New Toyota mid-size SUV in the works
Toyota Yaris long term review, first report
N Raja Interview at Toyota Driving School, Mumbai video
Next-gen Toyota Corolla India launch confirmed for 2020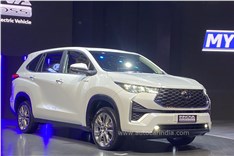 Toyota Innova Hycross image gallery
63738 Views|7 days ago
New Toyota Prius image gallery
7899 Views|16 days ago