With the relative success of the Nexon EV, and the push to have more electric cars in the range in the coming months (coronavirus delays permitting), Tata is all set to launch its second mass-market EV. Targeted at regular car buyers and based on the Altroz hatchback, this will be the first EV off the carmaker's new ALFA platform. Unlike on the Nexon SUV, which has plenty of ground clearance, packaging the Altroz EV's battery under the floor was a challenge.
A design model was put together by the engineering team, but head of design Pratap Bose wasn't happy with the increase in ride height. "The first time I saw it, the stance was more crossover than hatchback; it was almost an SUV." This meant there would have to be some repackaging done. To liberate extra space, the Altroz's floor was a raised a bit and the ride height was jacked up too, to wiggle in the battery pack without compromising on ground clearance or cabin space. Bose says. "The floor you see now is what you will get in the final car." Come launch time, though, the model may get larger wheels and tyres to give it even more of a lift. When you go from the back seat of an Altroz to an Altroz EV, you notice the floor has been raised. You sit a bit lower in the EV's back seat because the 'h' (or hip point) is lower.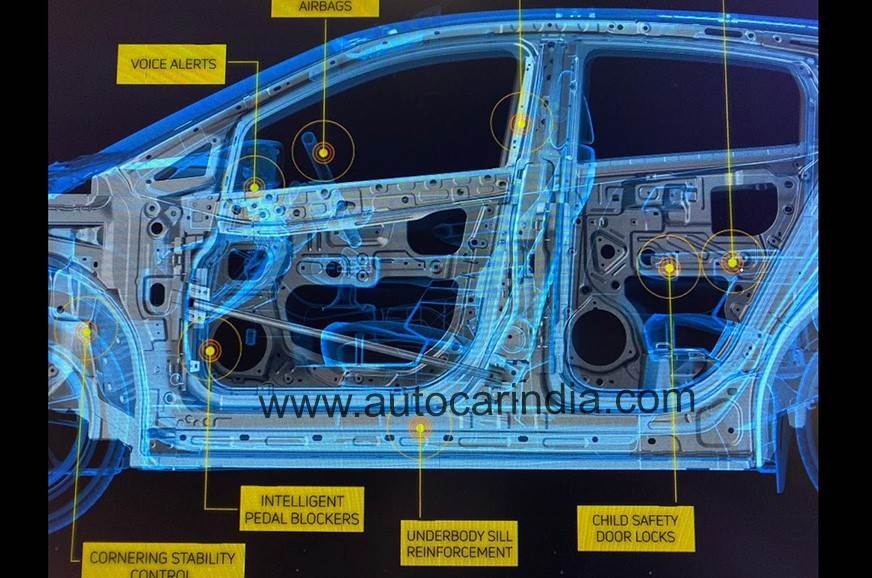 Floor raised to accommodate battery and some battery protection too.
The increased ride height hasn't compromised the Altroz's stance and Tata engineers have cleverly avoided making it look like a hatchback on stilts. There's also enough clearance between the low-slung battery pack and road, to protect it from our nasty speed breakers. Of course, bigger wheels and tyres would certainly give the Altroz a sportier and more planted look and would round off what could be a very compelling EV hatch. The question is, how much will the extra weight and suspension changes impact ride and handling? We will have to wait until the car's launch to find out. The coronavirus crisis, which has played havoc with timelines in the auto industry, has also delayed the Altroz's launch, but when it does arrive, Tata Motors second pure EV is expected to fetch a price tag between Rs 10 lakh and Rs 12 lakh.
Also see:
Tata Motors rolls out benefits for frontline workers
Pratap Bose talks about how to become a car designer
BS6 Tata Nexon AMT's fuel efficiency revealed
India's most fuel-efficient BS6 diesel cars