The petrol automatic Brezza turns out to be a great companion for a family vacation at a relaxed pace.
Given my predilection for vehicles that lean into corners rather than out, there's no surprise that it's been a long time since I last drove a Maruti Suzuki Vitara Brezza – about four years, come to think of it. When my partner and I recently decided to take a much-needed break from life in general, the new Brezza AT was the car available in the Autocar long-term garage. After about ten days of living with it, I have some thoughts.
First, this car is similar but different to what I remember, and the sense of premiumness has definitely grown. I always thought the old Brezza was a great handler and have fun memories of pulling big four-wheel slides at the race track. The recollection of the ride quality isn't so positive, but it was a trade-off younger me was happy to make. What I want in a car today is different, and comfort, practicality and convenience take precedence over ride and handling – I have access to plenty of fast bikes that hit the spot in a way no sensibly priced car can.
Happily, the Brezza seems to have evolved just as I have. The ride quality has been rounded off and there's noticeably more pliancy in the dampers while still retaining good control at high speeds. My car-testing colleagues tell me the steering is no longer as direct, but I find it still has some reassuring weight and feel, unlike the light and disconnected Playstation-esque steering feel from most Hyundais.
The new petrol engine is a peach as well, with nice flexibility at low speeds and with enough mid-range that it never begs to be revved to the redline. I do miss that aggressive mid-range hit from the diesel, but the petrol's refinement is on another planet. Compared to the old Multijet, the relative silence in the cabin is almost eerie, and it really makes for a calmer driving experience.
SLOW AND STEADY: Four-speed transmission performs acceptably, but feels old.
The same goes for the four-speed torque converter. Younger me would've been aghast, but today I find no problem with it, given the way I drive. It's smooth in the city and performs just fine as long as you don't get aggressive with your inputs. The same goes for the engine stop-start feature and I found no reason to turn it off. But if you're the type who loves their downshifts aggressive, constant and instant, this gearbox will be a deal breaker, especially since there's no paddles and no way to manually shift.
FUMBLING IN THE DARK: This cluster of buttons isn't illuminated, making it hard to use at night.
One thing that mildly annoys me, not just with this car, but all Marutis, is that unlocking the car only unlocks the driver's door and not all four – you have to press the button twice to do that. The same goes for unlocking them after a drive, and I wish the car would do that when the ignition is fully turned off. If I've completely turned the ignition off, doesn't it mean I'm done and would now like to get out? There may be some way to change these settings but I hunted a fair amount through the MID screen as well as the infotainment display and found nothing.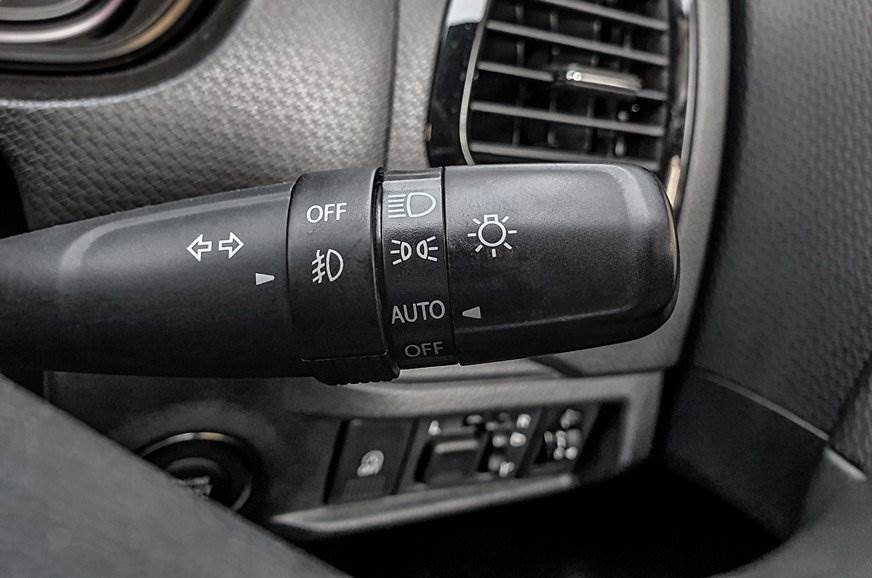 LET THERE BE LIGHT: Auto feature for the powerful LED headlamps is a nice convenience.
For 10 days of city commuting within both Mumbai and Pune, as well as some brisk pace between the two cities, the powertrain was perfectly acceptable, and that includes the 11.8kpl it returned. The cabin seems much nicer as well, with a more intuitive touch screen interface. The new automatic LED headlamps are great, and in stark contrast to the awful LED headlamps we see on most affordable motorcycles. Even the quality of the music coming out of the door-mounted speakers seems nicer. All these improvements only highlighted that the dashboard plastics still seem quite scratchy and my right elbow craved for some padding on the door's hard plastic panel.
SMARTER PLAY: The new SmartPlay Studio operating system is very intuitive to use.
As before, the Brezza is just the right size to find a parking spot in a big city, but also to accommodate a small family and their bags in comfort. In this case, the two of us and our cat found plenty of room for our luggage as well as a visit to a nursery to pick up some house plants – like many, the lockdown has brought us just a bit closer to nature!
The boot isn't huge, but it can swallow up a fair amount of luggage, including house plants from a nursery!
Whether the Brezza is the best compact SUV in the segment is something my colleagues and their reviews will reveal far more definitively. What I can tell you now is that it's a nice car to live with and quite pleasant to drive if you're not the pedal-to-the-metal type. And from an ownership point of view, nothing beats the peace of mind that comes with buying, maintaining and getting good resale value from the undisputed king of the car business in India.
Personally, I'd be happy to borrow it again for when the next opportunity to escape for a holiday arises.
Also see:
Suzuki Jimny India assembly begins
Maruti Suzuki S-Presso long term review, final report
Toyota and Maruti to jointly produce Creta challenger from 2022