Thanks to the lockdown, the Venue's had an unusual start to its long-term tenure.
Of the 8,190km on our Hyundai Venue's odometer, a grand total of 15km have been added over the past month. Two outings for groceries and supplies and a few loops around my apartment complex is all the action the Venue has seen of late. This report is more a flashback reel to the Venue's initial days with us.
SCREEN GUILD AWARD: 8.0-inch screen is easy to read on the go. Touch responses are good too.
The Venue started life in the Autocar India fleet as my choice of wheels for a quick weekend trip out of town. Back then, it had been a few months since I'd last driven a Venue, so I expected it would take me some time to get reacquainted with the cabin. Surprisingly, the re-familiarisation session didn't take all too long. One scan of the dashboard was enough to get my bearings, and even hooking up my phone to the touchscreen system was a non-affair. No idiosyncratic button positions to remember. No laggy screens to struggle through. Seat, steering and mirrors adjusted, I was good to go. Ease of use is something the Venue scores big on, I can tell you that.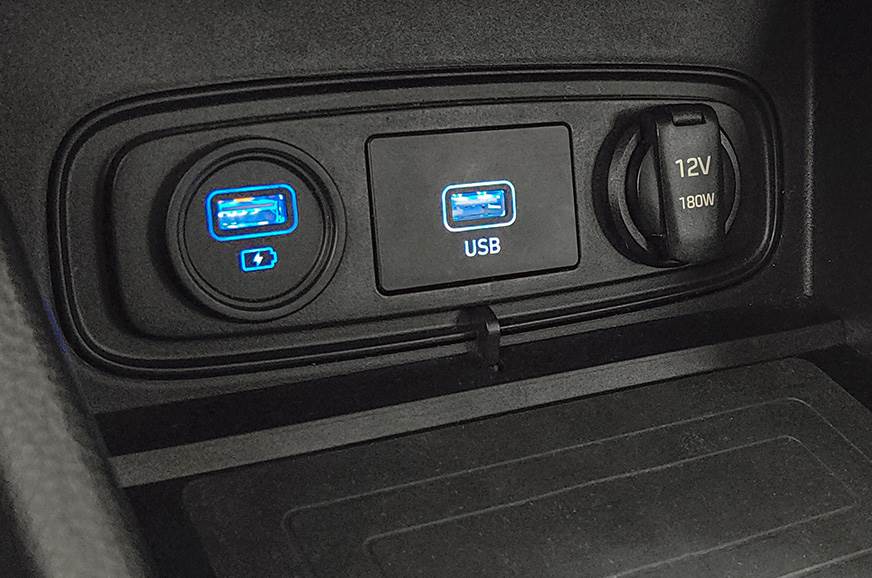 THEN THERE WAS LIGHT: Illuminated USB ports are one among many nice features of the well-thought-out interior.
Our Venue is a 1.0-litre turbo-petrol with a 6-speed manual gearbox, and on that early morning drive out of Mumbai, it sure made for interesting company. The engine, as I learn, doesn't deliver the sudden rush of power turbo-petrols are known for. Rather, what you get is a more genteel experience. Another point of note is that the unit is at its happiest above 2,000rpm. Cruising in sixth at 80kph is comfortable, but to overtake it's almost imperative to shift down. Steady cruising does have its benefits though, with the instant economy screen reading out 16.1kpl.
It's when I turn off the expressway on to winding country roads that make up the latter part of the route that the Venue starts to make an impression. There's fun to be had rowing through the gears to keep the engine on the boil, and as an added plus, it's also reasonably nice around corners. The steering is light and isn't the last word in feel but there's enough connect to keep you engaged. The Venue isn't an EcoSport but it's miles ahead of older Hyundais in this department. Also, while that firmness to the suspension setup can be felt over broken patches, if it brings in a degree of dynamism, so be it.
UPHILL STRUGGLE: 1.0 engine's limited bottom end pulling power becomes apparent on long inclines.
The journey back is uneventful, but the last half-kilometre proves to be quite revealing. The long climb to the entrance of my complex catches out engines with weak bottom ends and, suffice to say, it took the wind out of the Venue. To be fair, few cars with small-capacity petrol engines make the trek without warranting a downshift.
The Venue has taken to city life fairly well. Yes, I've learned to be mindful of the gear I'm in, especially when things slow down, but, on the whole, performance is satisfactory. What primarily gets my vote is that from behind the wheel, the Venue feels smaller than it is. The elevated driving position, the good visibility (the high-res reverse camera also plays a role here), and the light steering make the Venue easy to park and manoeuvre in tight confines. I don't think I've ever found prime parking in Mumbai's crowded Bandra suburb as many times as I have in the Venue.
HELLO! HELLO?: The mic has stopped working. Resultantly, I can't use Android Auto's voice functions.
Things haven't been perfect though. The audio system's mic has malfunctioned and it's a big irritant because I can't take calls on the go or use any of Android Auto's voice-activated features. It's something I'll have looked into once the lockdown ends. I just hope it's not a long-drawn job because a lot of driving time has been lost to coronavirus already. I can't wait to make amends soon.
Also see:
BS6 Hyundai Venue 1.0 petrol MT delivers 18.1kpl
Autocar Drag Day: Mahindra XUV300 vs Hyundai Venue Drag race video
Hyundai Grand i10 Nios turbo-petrol fuel efficiency revealed
Hyundai India introduces 5 new financing schemes
Hyundai Venue N Line vs Mahindra XUV300 TurboSport drag race
4356 Views|2 months ago
2022 Hyundai Venue N Line video review
29689 Views|1 year ago
2022 Hyundai Venue facelift video review
29424 Views|1 year ago