To grab market share in the midsize SUV space, the all-new Taigun will have to compete with its own cousin, Skoda Kushaq. So, which is better, the German or the Czech? We have the answer.
After a successful badge-engineering innings with the Vento and Rapid sedans, for their 'India 2.0' plan, Volkswagen and Skoda have adopted a more differentiated strategy with their all-new midsize SUVs, Volkswagen Taigun and Skoda Kushaq. Though these are fundamentally identical cars that share the same underpinnings and have a high degree of commonality, both these Hyundai Creta-rivalling SUVs get unique traits that set them apart. We pit the Volkswagen Taigun 1.0 TSI MT Topline variant, priced at Rs 14.61 lakh, against the Skoda Kushaq 1.0 TSI MT Style variant, priced at Rs 14.60 lakh, to find out which of the two deserves your money.
1.0 On 1.0
The Taigun and Kushaq are based on the same MQB A0 IN platform, and both are near-identical in terms of dimension, boasting the longest wheelbase in their segment. Volkswagen and Skoda have gone to great lengths to ensure that the Taigun and Kushaq reflect their respective design philosophies.
Alloys aren't diamond-cut like Skoda's.
The Taigun's flattish bonnet and three-slated horizontal grille flanked by the rectangular LED headlamps link its family ties with the more premium and very handsome Tiguan SUV. Typical to Volkswagens, its side profile features clean and unfussy body lines, and even the 17-inch silver alloys look smart. The highlight of the Taigun's design, however, is its rear styling, which features futuristic-looking LED tail-lamps nestled in a unique smoked bezel running the width of the car.
What's nice is that the Taigun's design is youthful but still very elegant, as we've come to expect a Volkswagen to be. To appease Indian car buyers, the company has garnished its bumpers with dollops of chrome, which could divide opinions.
The Kushaq looks unmistakably Skoda, sporting a sculpted bonnet and Skoda's signature butterfly-shaped grille lined in chrome. And similar to the brand's 'Scout' variants, its bumpers are half-clad in black plastic, coupled with silver skid plates. What's interesting is that the Kushaq and Taigun share their doors, mirrors, rear fender, and even the body cladding, and hence look identical when viewed from the side. However, the Kushaq's diamond-cut alloys and plaques on the front fenders with Skoda branding set it apart. At the rear, the Kushaq gets familiar L-shaped LED tail-lamps that, like its stablemates, incorporate crystalline detailing. Which one looks better? That's a very subjective question which will surely get multiple answers, but what there's no doubt about is that both these SUVs stick to their respective brand's design language to the tee.
Dimensions
Volkswagen Taigun 1.0
Skoda Kushaq 1.0
Length
4221mm
4225mm
Width
1760mm
1760mm
Height
1612mm
1612mm
Wheelbase
2651mm
2651mm
Kerb weight
1240kg
1235kg
Boot space
385 litres
385 litres
1.0 Within
With shared body structures, the cabins of the Taigun and Kushaq are near-identical in terms of space, practicality and layout. The two cars share the lower half of their dashboards, seats, door pads, switchgear and some other bits. The overall build quality is solid and the interiors are nicely put together and even though plastics aren't soft-touch, they feel long lasting. Probe further and you will find signs of cost cutting like the exposed sunroof railings, which is an eye-sore. Based on customer feedback, the current low-quality woolen roof liner will be replaced with a more premium unit in the weeks to come.
A cleaner dash design and brighter seat colours look appealing.
What's nice is that its cabin looks airier of the two due to the brighter two-tone colour theme. Like its exteriors, the Taigun's dashboard reflects a clean, uncluttered design. The 10.1-inch touchscreen seamlessly fuses into the dashboard fascia, and ceramic-like plastic panels on the dash add some flair to its styling. Its digital instrument cluster stands out, adding a touch of modernity. In the 1.0 TSI iteration, this cluster dons a blue theme (vs the red theme in the GT variant) which is very easy on the eyes. Its execution could have been better with more display options, and the dummy screens flanking the central display could have been put to better use.
Two-spoke steering and tablet-like touchscreen look unique.
The Skoda's cabin on the other hand is a mix of old-school and modern elements. It uses the same 10.1-inch touchscreen, but it appears like a tablet slapped onto the dashboard. The 3D elements on the fascia look unique, as does the two-spoke steering wheel. Unlike the Volkswagen, the Kushaq gets analogue dials, but it is the monochrome MID that makes this entire cluster look very dated. The yellow stitching and piping on the seats add colour to the otherwise all-grey interior, which look duller in comparison.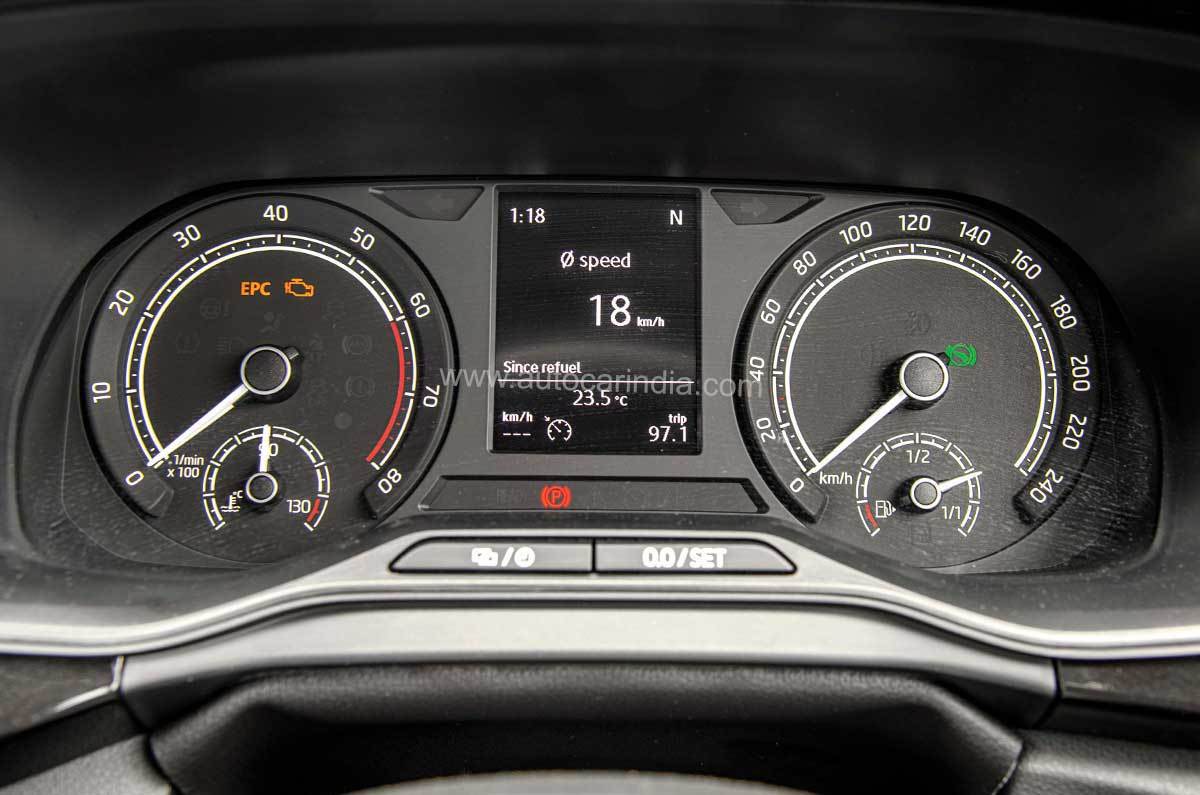 Monochrome MID looks really dated.
While on the topic of seats, these feel comfy in both cars, and space at the rear is pretty generous due to their segment-best wheelbase. Skoda and Volkswagen have flattened the central hump to accommodate a third passenger, but the cars' narrow width and protruding rear AC console hampers comfort. Both cars get a 385-litre boot and the option of 60:40 split rear seats to haul more cargo. Curiously, Volkswagen uses a 195/65 R16 spare tyre, whereas the Skoda gets a 205/60 R16, which also houses a removable subwoofer unit. Speaking of which, the latter adds an extra bit of thump to the audio, thus enhancing the sound experience in the Kushaq.
Removable subwoofer housed in spare wheel.
Coming to the kit, the fully loaded Taigun Topline and Kushaq Style variants get auto LED headlamps, sunroof, ventilated front seats, 10.1-inch touchscreens with wireless Android Auto/Apple CarPlay, wireless smartphone charging, six airbags, ESP and a reversing camera, among the notable features. As mentioned before, unique to the Taigun is a digital instrument cluster, whereas unique to the Kushaq is a subwoofer and an anti-theft alarm.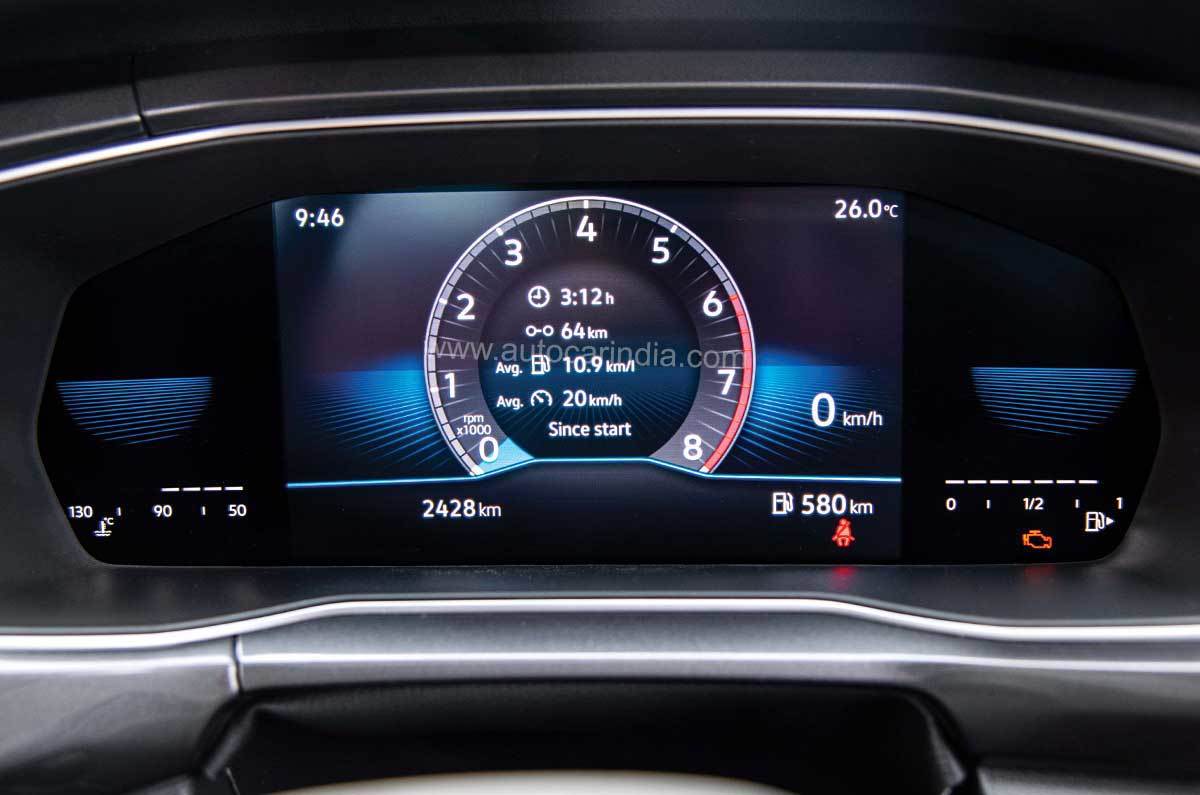 Digital dials look modern and are easy to read.
1.0 Direction
The 115hp, 1.0-litre TSI turbo-petrol powering these cars is a gem of an engine that delivers strong performance, punching well above what its displacement capacity suggests. The clean, uninterrupted supply of torque from 1,800rpm, till over 6,000rpm, will keep most buyers happy, and it does city and highway duties with equal competence. Being a three-cylinder unit, it isn't overtly vocal or thrummy, but you can feel vibrations on the seats at idle in both cars.
Sharing the same power and torque figures, having identical gear ratios, and using similar ancillaries, its performance is deemed to be identical. However, that isn't the case. In our GPS-based acceleration tests, we discovered that the Taigun 1.0 TSI sprinted from 0-100kph in 11sec, nearly half a second quicker than the Kushaq 1.0 TSI, and this gap further widens to 1.5 seconds by the time they hit 140kph. Rolling accelerations from 20-80kph in third and 40-100kph in fourth gear reveal a delta of nearly 1 and 1.5 seconds, respectively, with the Taigun being quicker. We've learnt that Volkswagen and Skoda have unique final software maps, which could be the reason behind this variance; it also explains why the Vento 1.0 TSI and Rapid 1.0 TSI clocked different times in our tests.
Both offer a drive experience far superior to their rivals.
The Taigun and Kushaq match pretty evenly on other parameters, as they share their suspension, steering, brakes and other ancillaries. At low speeds, both feel stiff-kneed with a busy ride, but up the pace and they drive flat and composed. Body control is good, grip levels are high and having a chassis that's 30 percent stiffer than the outgoing Polo's means both these midsize SUVs infuse great confidence in the driver while attacking corners, despite sitting higher above the ground (than the hatchback). Among other things, their clutch is on the heavier side and the 6-speed manual's gearshifts aren't as buttery smooth as their Korean rivals.
Engine and performance
Volkswagen Taigun 1.0
Skoda Kushaq 1.0
Engine
3 cyls, 999cc turbo-petrol
3 cyls, 999cc turbo-petrol
Power
115hp at 5000-5500rpm
115hp at 5000-5500rpm
Torque
178Nm at 1750-4500rpm
178Nm at 1750-4500rpm
Gearbox
6-speed manual
6-speed manual
PERFORMANCE
20kph
1.43sec
1.67sec
40kph
2.84sec
3.07sec
60kph
5.08sec
5.29sec
80kph
7.61sec
7.83sec
100kph
11.00sec
11.47sec
120kph
15.26sec
15.93sec
140kph
21.52sec
23.06sec
160kph
30.42sec
33.15sec
ACCELERATION IN GEAR
20-80 (in 3rd gear)
11.57sec
12.46sec
40-100 (in 4th gear)
13.18sec
14.65sec
Chosen 1.0
As mentioned at the start of this comparison, the Volkswagen Taigun and Skoda Kushaq are like two peas in a pod, matching each other on most parameters. For similar money, both offer near-identical levels of comfort, practicality and equipment. The buying decision, as a result, narrows down purely based on personal preferences. On the basis of looks, both are handsome midsize SUVs – the Skoda is more mature whereas the Taigun looks a bit more striking. In terms of features, exclusive to the Kushaq are a subwoofer and an anti-theft alarm, which are great to have, but the Taigun's more modern digital instrument cluster could just be a dealmaker for some. Also playing a key role in the decision-making process will be the proximity of service centres, as well as an individual's comfort and equation with brand Volkswagen or brand Skoda. Autocar India test team's vote just about tips in favour of the Volkswagen Taigun for its styling and its digital dials, but whichever of the two you pick, you're guaranteed of a drive experience that's far superior than their segment rivals.
Verdict
Volkswagen Taigun 1.0
Skoda Kushaq 1.0
Price (ex-showroom, India)
Rs 14.61 lakh
Rs 14.60 lakh
Rating
8/10 [OUR CHOICE]
8/10
Verdict
Youthful outside, nicer inside, it's a bit quicker too.
Is almost as good, but feels a bit duller inside.