The new X5 blurs the lines between mid-size and full-size luxury SUVs and we reckon that means the Audi Q7 might finally have its strongest rival yet.
Just what is going on with the upper end of the luxury SUV class these days? It's a bit confusing. Does a full-size SUV need to have seven seats? How close to a Rolls-Royce do you have to get to be considered 'full luxury'? Does your SUV have enough road presence to part traffic? If you don't have at least six cylinders, are you even in the game?
The answer is... there is no definite answer. But one thing did become clear in 2015 – the Audi Q7 did the best job of delivering the most of those desirable attributes. Its blocky appearance and signature grille do well to herald its arrival, it has a torquey V6 diesel engine, it has a quality cabin, and, though not the most spacious, it has a third row of seats. And the best part is it isn't wildly overpriced either.
But as we found out last month, the new BMW X5 has come along and reset our expectations in its
own way. It's upped the luxury quotient, it hasn't held back on the tech, it's still good to drive and through all this, its breadth of abilities is wider than any X5 before it. The price you pay for all this is not insignificant, but crucially, it's within striking distance of the Q7.
Impact
The Audi Q7 is not a small car, but when you park the new X5 alongside it, it doesn't look as massive anymore. The Q7 is marginally longer with a slightly longer wheelbase, but in every other dimension the BMW is actually larger! The bling-laden X5, arguably, also has better road presence than the Q7, which – despite its big grille – looks a bit understated in comparison. This, however, will be greatly improved once the recently revealed facelifted version goes on sale in India in 2020. Also not helping here are the 19-inch wheels; the X5's chromed 20-inchers look a lot bolder.
Q7 cabin well built and logically laid out but a bit too business like.
The Q7's interior, like its exterior, was borne from an awkward interim chapter in Audi's design handbook (see also: the A4), between the previous generation of cars and the screen-heavy, futuristic new ones like the upcoming A8 and Q8, and the facelifted Q7 will also fall into line with this template. Oh, it's very well built with superb materials and impeccable construction, but it makes no attempt to blow your mind. It's like a boardroom, while the BMW is more like a trendy rooftop lounge bar.
Rich materials and dramatic design give X5 interior a lot of panache.
BMW has spared almost no expense on this high-spec X5 xLine, with thickly bolstered, widely adjustable seats, wrapped in soft, perforated Vernasca leather, huge slabs of open-pore wood and brushed aluminium all over. The party trick is the customisable dual-colour ambient lighting that extends even to the panoramic sunroof! I personally don't like the cut-glass gear lever, but there's no doubt it adds an extra layer of class. And for once, the BMW slightly edges the Audi on perceived quality.
Dimensions
BMW X5 xDrive30d xLine
Audi Q7 45 TDI Technology
Length
4922mm
5052mm
Width
2004mm
1968mm
Height
1745mm
1740mm
Wheelbase
2975mm
2994mm
Kerb weight
2185kg
2330kg
Tech tonic
Given its four-year vintage, it's forgivable that the Q7 lags slightly in the equipment department, but the good news is it has the essentials, and even trumps the X5 in a couple of crucial areas. For one, its MMI infotainment system offers both Android Auto and Apple CarPlay, while the BMW only offers the latter. And though both cars have digital dials, the Q7's 'Virtual Cockpit' system is far brighter, more colourful and more informative than the at-times-unintelligible new BMW digital dials.
8.3in screen has Apple Carplay and Android Auto.
Just about everywhere else, the BMW has the advantage. The new iDrive infotainment system looks entirely different now but is still the best out there, with sharper graphics from the large 12.3-inch touchscreen, and the option of additional control via gestures and the traditional click-wheel. This version of Audi MMI isn't the latest one that you'll find overseas and its smaller screen isn't touch-sensitive, but it's still a clean and easy-to-use interface, hot on the heels of iDrive. Both cars get high-end audio systems, 360-degree surround cameras, adaptive LED headlamps (the BMW has laser-aided high beams), adaptive air suspension with variable ride height, four-zone climate control and big panoramic sunroofs. One feature, however, that we feel both could have had, but don't, is ventilated seats.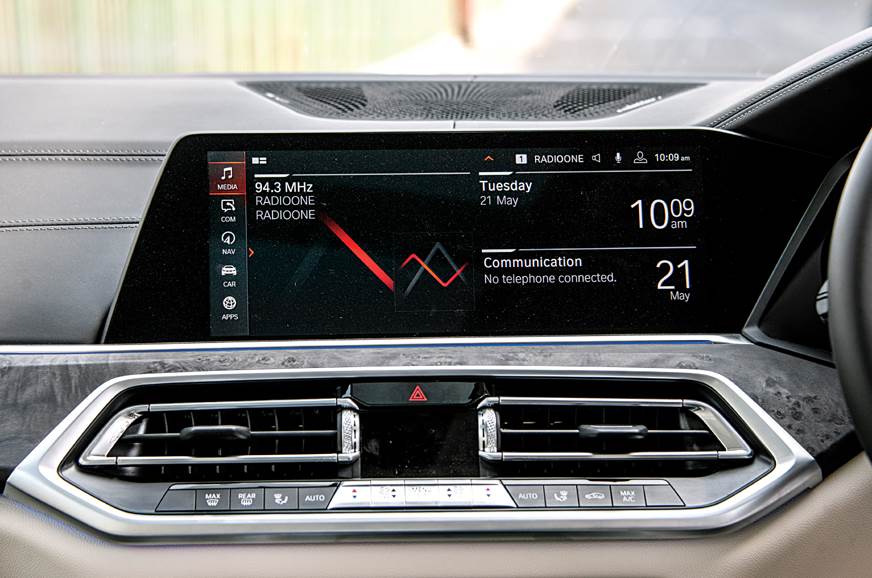 12.3-inch iDrive touchscreen is superb.
Volume players
Speaking of the seats, the Q7, of course, has the advantage of a third row, and while, overseas, the X5 offers a tiny third row, BMW isn't offering it in India this time. Just as well, because the X7 is here, and more so when you realise the Q7's third row isn't the most usable. If you want anything resembling knee room, you'll have to slide the middle row forward, and because there is no provision in this car for a spare tyre, if you opt for one, it takes up one seat!
The Q7's second row can be slid and reclined, offering flexibility; it feels a bit firmer though.
So, while a poor third row is better than none at all, let's just look at these two as five-seaters. The Q7 has the edge on second-row space, with greater knee room and width. It also has more flexibility, with a 40:20:40 split that can be slid and reclined in a variety of ways. The BMW's seatback does not recline and might be set a bit too upright for some, but as it has fewer moving parts, the seat itself is a bit plusher and comfier than the Audi's.
X5 second row feels comfier, but not as spacious; fixed backrest is a bit too upright.
As five-seaters, the Audi has the boot space advantage, with 770 litres to the BMW's 650, although that too is quite vast. The X5, of course, has the advantage of a space-saver spare tyre that doesn't intrude into the passenger or luggage area. With the third row in place, the Q7 serves up 295 litres; good enough for a few soft bags.
Command & conquer
Both cars do well to offer torquey six-cylinder diesel engines, which, despite the market moving slowly over to petrol, remain the best choice for a big SUV. It helps, in a luxury vehicle, if the engine is refined, and the Audi's 3.0-litre V6 does slightly better than the BMW's, being a bit more hushed at all running speeds. You can also hear more of the road in the BMW, likely due to its massive tyres. The Q7's 249hp motor also feels a bit smoother in its power delivery than the X5's racier 3.0 straight-six; but it's worth noting, the X5 is miles better than its predecessor in this respect.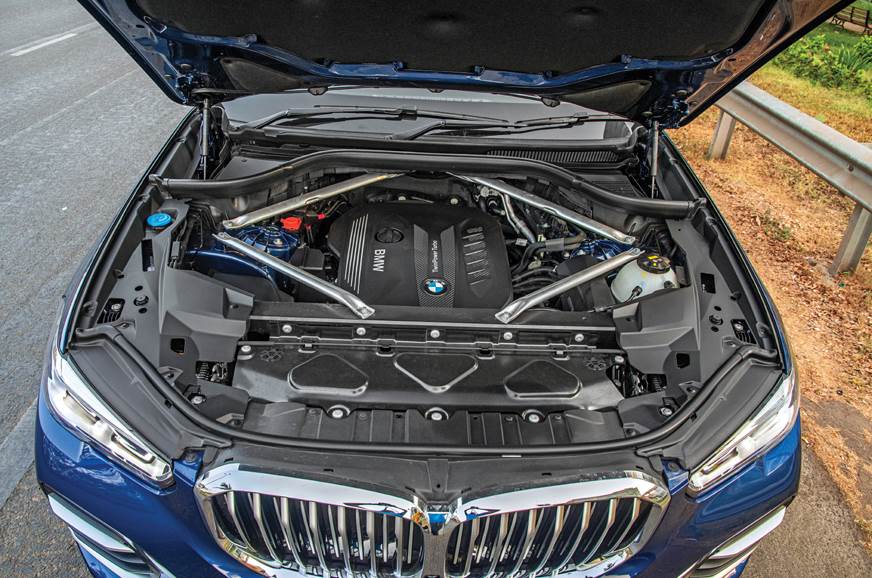 265hp, 3.0 diesel an absolute rocket
But 'racier' is what pretty much defines the X5. Though the two offer similar performance, with the Audi being just 0.4sec slower to 100kph (see chart), the BMW – even in Comfort, but more so in Sport – feels just so much more eager. It's freer revving and really encourages you to wring it out when you have the space to move a car so big, so fast. Only a small percentage of owners will drive these cars, only a small percentage of the time, but for them, it would have to be the X5.
They've blunted the handling somewhat compared to the previous car, with a softer steering and air suspension all around, but in Sport mode, it's still got that incredible poise BMW is famous for. The Q7, in comparison, feels far too large and wallowy, but that's okay; sharp handling simply isn't a part of its repertoire.
Comfort, however, is, and while it does deliver a really cushy ride at low speeds, once you go faster or crest a few bumps, you and your passengers will be moved around far too much. The X5, despite having gotten much softer than before, still maintains a good composure over bumps without giving away too much on comfort, and overall feels like the better compromise. If there is one downside in the Bimmer's ride, though, it's again the immense tyres, which do jiggle you a bit over smaller road irregularities.
Engine and Performance
BMW X5 xDrive30d xLine
Audi Q7 45 TDI Technology
Engine
6 cyl, 2993cc, turbo-diesel
V6, 2967cc, turbo-diesel
Power
265hp at 4000rpm
249hp at 2900-4500rpm
Torque
620Nm at 1500-2500rpm
600Nm at 1500-3000rpm
Gearbox
8-speed automatic
8-speed automatic
0-20kph
0.73s
0.78s
0-40kph
1.61s
1.73s
0-60kph
2.87s
3.07s
0-80kph
4.44s
4.79s
0-100kph
6.55s
6.95s
0-120kph
9.26s
9.67s
20-80kph (in kickdown)
3.97s
4.68s
40-100kph (in kickdown)
4.84s
5.48s
Vote of tanks
With the new BMW X7 having gotten so big and luxurious, the X5 has been given a chance to grow and find its own space. After years of having to play in two segments, it has now finally found a comfortable zone for itself. In fact, it's the Q7 that now feels like it's neither here nor there. Will we see a Q9?
But remember, the Audi has all this while been the reigning king of whatever you want to call the segment it falls in. It's seen off the Volvo XC90 and even the current Mercedes GLS. It was, and still is, a hugely accomplished (and practical) big luxury SUV, and might still be the better choice for a big family. It's merely time that's taken the shine off it.
And with an opponent like the X5, that's especially apparent. It has upped its luxury game and how! It counters the Q7's slight practicality advantage with greater tech, comfort, driving pleasure and luxury. Overall, however, it's the presentation – the wow factor – that wins it for the BMW. It doesn't hold back on the bling, making a strong statement, inside and out, and that's a big deal to luxury car buyers. It really makes you question if you need that extra row of seats. The luxury SUV game is changing, and the BMW X5 is currently the best poised to lead it.
Price and Verdict
BMW X5 xDrive30d xLine
Audi Q7 45 TDI Technology
Price (ex-showroom, Delhi)
Rs 82.40 lakh
Rs 85.28 lakh
Verdict
Now good enough to worry cars from a segment above.
Third row a bonus, but is outgunned everywhere else.
Rating
8/10
7/10
Also see:
Audi Q7 facelift review, test drive
Click here for Audi Q7 prices, news, images, videos and more.
Click here for BMW X5 prices, news, images, videos and more.
BMW X5 facelift image gallery
11700 Views|7 months ago
2019 BMW X5 image gallery
17035 Views|4 years ago
2019 BMW X5 India video review
15681 Views|4 years ago
2019 BMW X5 first look video
11947 Views|4 years ago
2019 BMW X5 video review
24488 Views|4 years ago