After much anticipation, Classic Legends finally revived the Yezdi brand on January 13, with the launch of three new models. Arguably, the most interesting of the lot is the Scrambler, which sits between the Roadster and the Adventure, both in terms of price as well as purpose. Here's everything you need to know about it.
Lives up to its name
The Scrambler does what it says on the tin, because, even at first glance, you can tell that it is most definitely a scrambler. Distinctive elements include the 'beak' under the signature round headlight, a tuck-and-roll seat that rises quite sharply towards the rear and a tall, braced handlebar.
A common heart
The Scrambler shares its liquid-cooled, single-cylinder 334cc engine with the other Yezdi models, but gets its own state-of-tune. Yezdi says it has tuned the engine to deliver a flat torque curve, and output figures stand at 29.1hp and 28.2Nm. It also gets stylish twin exhaust exits, despite only featuring a single exhaust port at the cylinder head.
It's got the chops
The scrambler-ness of the Scrambler isn't just limited to cosmetics – it has the hardware to do some off-roading, too. The telescopic fork and twin shocks deliver a respectable 150mm and 130mm of suspension travel, at the front and rear, respectively. Ground clearance is quite generous too, at 200mm. The block-pattern MRF Zapper Kurve tyres and 19-inch/17-inch wire-spoke wheels also help its off-road ability.
Features
Standard equipment on the Scrambler includes an LED headlight and tail-lamp, fully-digital LCD instrumentation with a gear position indicator and a handlebar-mounted USB charger. On the safety front it gets dual-channel ABS with three modes – road, rain and off-road. So, all in all, it's a reasonably feature-rich motorcycle.
Price
Yezdi has positioned the Scrambler between the Roadster and the Adventure, at just over Rs 2 lakh. At a starting price of Rs 2.05 lakh, it's around Rs 7,000 more expensive than the Roadster, while the most expensive colour option is priced at Rs 2.11 lakh.
(All prices ex-showroom, Delhi)
Which of the new Yezdis is your personal favourite? Tell us in the comments below.
Also See:
Yezdi Bikes
Yezdi Adventure
₹ 2.62 - 2.67 lakh
Yezdi Roadster
₹ 2.50 - 2.54 lakh
Yezdi Scrambler
₹ 2.55 - 2.57 lakh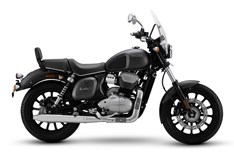 Yezdi Roadster image gallery
9455 Views|1 year ago
Yezdi Scrambler image gallery
5422 Views|1 year ago
Yezdi Adventure image gallery
6386 Views|1 year ago