At long last, the iconic Yezdi brand has been revived. And one of the models in its new line-up is the Adventure. As its name suggests, it's an adventure tourer and one that seems to have been benchmarked quite heavily against the Royal Enfield Himalayan. So, how do the two bikes stack up on paper?
Yezdi Adventure vs Royal Enfield Himalayan: engine
Engine
Yezdi Adventure
Royal Enfield Himalayan
Engine
Liquid-cooled, single-cylinder 334cc engine
Oil-cooled, single-cylinder 411cc engine
Power
30.2hp at 8000rpm
24.3hp at 6500rpm
Torque
29.9Nm at 6500rpm
32Nm at 4000-4500rpm
Gearbox
6-speed
5-speed
It's a tale of two different engine philosophies: the Yezdi has a short-stroke motor that revs high and produces a greater amount of power, while the Himalayan gets a slower-revving long-stroke engine that produces superior torque. The higher torque figure, combined with the fact that the Himalayan's peak figures arrive a good deal earlier in the rev range, should make it the more suitable powertrain off-road. While the Adventure does have respectable output figures, the specs suggest that this engine will need to be revved harder to produce the desired results. Of course, we'll only know for sure once we've had a chance to ride the new Yezdis. On the upside, it does get an additional 6th gear over the Himalayan.
Yezdi Adventure vs Royal Enfield Himalayan: chassis
Chassis
Yezdi Adventure
Royal Enfield Himalayan
Kerb Weight
188kg
199kg
Seat Height
815mm
800mm
Wheelbase
1465mm
1465mm
Fuel Capacity
15.5 litres
15 litres
Suspension (f)
Telescopic fork (200mm travel)
Telescopic fork (200mm travel)
Suspension (r)
Monoshock (180mm travel)
Monoshock (180mm travel)
Tyres (f)
90/90-21
90/90-21
Tyres (r)
130/80-17
120/90-17
Brakes (f)
320mm disc
300mm disc
Brakes (r)
240mm disc
240mm disc
Ground Clearance
220mm
220mm
This is the area where Yezdi's benchmarking is most evident. The wheelbase, suspension travel and ground clearance figures for the Adventure are absolutely identical to those of the Himalayan. It even gets the same wheel sizes, and the size of the front tyre is identical, too. The Yezdi does have a slightly wider rear tyre and a slightly larger front disc brake; and even though it houses half a litre more fuel than the Enfield, it's 11kg lighter. This should make it slightly more manageable, though the RE does claw back some ground with a slightly lower seat height.
Yezdi Adventure vs Royal Enfield Himalayan: features
The Yezdi Adventure has a bit of an upper hand in the features department. Both bikes get dual-channel ABS, but the Yezdi has more ABS modes; both bikes get Bluetooth connectivity and turn-by-turn navigation, but the Yezdi gets fully digital instrumentation compared to the Himalayan's semi-digital design. The Adventure also gets full-LED lighting, which the RE misses out on.
Yezdi Bikes
Yezdi Adventure
₹ 2.57 - 2.65 lakh
Yezdi Roadster
₹ 2.33 - 2.51 lakh
Yezdi Scrambler
₹ 2.49 - 2.56 lakh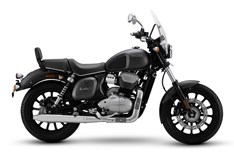 Yezdi Roadster image gallery
8194 Views|1 year ago
Yezdi Scrambler image gallery
4661 Views|1 year ago
Yezdi Adventure image gallery
5125 Views|1 year ago