Royal Enfield Meteor 350 vs rivals: Specifications comparison
Published On Nov 07, 2020 06:00:00 AM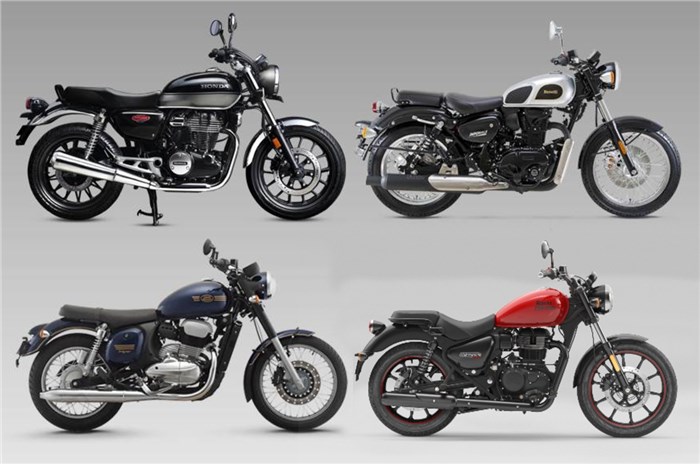 We compare the specifications of the Royal Enfield Meteor 350, Honda H'ness CB350, Benelli Imperiale 400 and the Jawa Forty Two
The Royal Enfield Meteor 350 was launched with a starting price of Rs 1.76 lakh. The Meteor 350 is the first offering to debut the company's new 350cc platform.
The Meteor is available in three variants - Fireball, Stellar and Supernova

It continues to use a five-speed gearbox

The Jawa Forty Two is the only liquid-cooled bike in this comparison
It was not too long ago that Royal Enfield enjoyed a monopoly in India, but its popularity has piqued the interest of quite a few brands. The Indian-owned British brand now faces competition from Honda, Benelli and Jawa. To woo customers, new brands usually bring a little more to the table and this left RE slightly behind.
However, Royal Enfield hasn't been sitting around, and it has just introduced the Meteor 350 - a Thunderbird replacement that also debuts the company's new 350cc platform.
Royal Enfield Meteor 350 vs rivals: Engine
Powering the Meteor 350 is a newly developed, 349cc, single-cylinder engine that produces 20.2hp at 6,100rpm and 27Nm at 4,000rpm. While the engine continues to be air-cooled, Royal Enfield has incorporated an oil circuit in the 2-valve head to aid cooling. The engine has a balancer shaft to quell vibrations. The old pushrod-valve system is replaced by an SOHC, two-valve head.
Honda's CB350 also uses a new engine that has been specifically designed for India. This 348cc, air-cooled, single-cylinder engine develops 21.1hp at 5,500rpm and 30Nm at 3,000rpm. Interestingly, Honda has also equipped the CB350 with an assist and slipper clutch.
Royal Enfield Meteor 350 vs rivals: Powertrain
Royal Enfield Meteor 350
Honda H'ness CB350
Benelli Imperiale 400
Jawa Forty Two
Engine
349cc, single-cylinder, air-cooled
348.36cc, single-cylinder, air-cooled
374cc, single-cylinder, air-cooled
293cc, single-cylinder, liquid-cooled
Power
20.2hp at 6,100rpm
21.1hp at 5500rpm
21hp at 6000rpm
26.5hp
Torque
27Nm at 4,000rpm
30Nm at 3000rpm
29Nm at 3500rpm
27.05Nm
Power-to-weight ratio
105.75hp/tonne
116.57hp/tonne
102.43hp/tonne
154.06hp/tonne
Gearbox
5-speed
5-speed
5-speed
6-speed
In BS6 guise, Benelli's contender makes 21hp at 6,000rpm and 29Nm at 3,500rpm from its 374cc single-cylinder, SOHC engine. Like the Meteor and the CB350, the Imperiale 400 is also air cooled and comes paired with a five-speed gearbox.
Jawa, on the other hand, has taken a slightly different approach. Despite having the smallest engine at 293cc, it makes the highest power figure at 27hp. Torque, meanwhile, is slightly lower than its rivals, at 27Nm. The Jawa manages this because it uses a short-stroke architecture and features more modern technology like a double-overhead camshaft and liquid cooling. Additionally, it's also the only bike here that employs a 6-speed gearbox.
Royal Enfield Meteor 350 vs rivals: Chassis
It's not only the engine that Royal Enfield has worked on; the company has also finally parted ways with its outdated, single-cradle frame, employing instead a double-downtube frame. It's also longer and wider than its predecessor. At the front, there's a conventional telescopic fork, while at the rear, there are twin shock absorbers.
The Honda, Benelli and Jawa also use double-downtube frames, with a conventional telescopic fork and twin shock absorbers handling suspension.
Where some differences begin to appear are in the brakes and wheel sizes. The Meteor 350 uses a 19-inch front wheel and a smaller 17-inch wheel at the rear. The CB350 and Imperiale use a 19-inch front and 18-inch rear, while the Jawa employs an 18-inch front and 17-inch rear.
Royal Enfield Meteor 350 vs rivals: Underpinnings
Royal Enfield Meteor 350
Honda H'ness CB350
Benelli Imperiale 400
Jawa Forty Two
Weight (kerb)
191kg
181kg
205kg
172kg
Ground clearance
170mm
166mm
165mm
NA
Wheelbase
1400mm
1441mm
1440mm
1369mm
Brakes (f)
300mm disc
310mm disc
300mm disc
280mm disc
Brakes (r)
270mm disc
240mm disc
240mm disc
153mm drum / 240mm disc
Suspension (f)
Telescopic fork
Telescopic fork
Telescopic fork
Telescopic fork
Suspension (r)
Twin shock absorbers
Twin shock absorbers
Twin shock absorbers
Twin shock absorbers
Tyres (f)
100/90-19
100/90-19
100/90-19
90/90-18
Tyres (r)
140/70-17
130/70-18
130/80-18
120/80-17
Fuel capacity
15 litres
15 litres
12 litres
14 litres
As for braking, anchorage at the front comes from a 300mm disc on the Royal Enfield and the Benelli. The Jawa has the smallest disc at 280mm, while the Honda features the largest unit at 310mm. At the rear, the Royal Enfield, Benelli and Honda employ a disc brake, while the Jawa can still be optioned with a 153mm drum brake.
While the Meteor 350 is 6kg lighter than its predecessor, it's still quite heavy, at 191kg. For comparison, the CB350 and Forty Two weigh 181kg and 172kg, respectively. The Imperiale 400, meanwhile, is the heaviest, at 205kg.
Royal Enfield Meteor 350 vs rivals: Features
Royal Enfield has finally stepped up its game when it comes to features. The company has incorporated a new semi-digital instrument cluster along with a separate pod for a colour TFT display. Royal Enfield calls it the 'Tripper screen ' and it displays turn-by-turn navigation via Google Maps data. This is done via the Royal Enfield app, after pairing one's phone to the system using Bluetooth. The screen, however, does not display incoming messages or calls, as Royal Enfield believes that would distract the rider. The top-spec Supernova variant also comes equipped with a windscreen and backrest.
The Japanese motorcycle is no old timer either. It gets Honda Selectable Torque Control (HSTC) and Honda Smartphone Voice Control (HSVC) systems. The HSTC is a basic traction control system that detects the difference between front and rear wheel speeds, calculates the slip ratio and adjusts engine torque via the fuel injection. HSTC can be turned on or off using a switch on the left side of the meter.
The HSVC feature (only available on the DLX Pro variant) has been developed in-house and allows the rider to pair his smartphone to the console via the HSVC app. Once connected, the rider can operate the system to access phone calls, navigation, music playback and incoming messages. Like the Royal Enfield, it has a digital fuel gauge.
On the other hand, the Benelli uses a twin-pod layout that features a large RPM gauge (it's the only one here to get a rev counter) and speedometer, along with a small digital display for the odometer; it also features a fuel gauge. The Jawa, on the other hand, uses a single-pod unit that displays the speed and fuel gauge. Its cluster also has a small digital screen for the odometer.
Royal Enfield Meteor 350 vs rivals: Verdict
The Meteor 350 is a big improvement over the Thunderbird, and it will really be appreciated by buyers who were already considering buying a Royal Enfield. It has a good number of features and the engine continues to have the older machine's characteristics while becoming a touch more modern.
Royal Enfield Meteor 350 vs rivals: Price
Royal Enfield Meteor 350
Honda H'ness CB350
Benelli Imperiale 400
Jawa Forty Two
Price (ex-showroom)
Rs 1.76-1.90 lakh
Rs 1.85-1.90 lakh
Rs 1.99-2.11 lakh
Rs 1.65-1.74 lakh
With an ex-showroom Chennai price ranging from Rs 1.76 lakh to Rs 1.81 lakh, the Meteor 350 is priced quite competitively. While this specifications comparison can help making your decision, we'd recommend waiting till we bring you a proper comparison.
Let us know your pick in the comments section below.
Also see:
Royal Enfield Meteor 350 video review
Royal Enfield Meteor 350 review, test ride
Royal Enfield Meteor 350 launched at Rs 1.76 lakh
What do you think about this News