Bajaj has patented a relatively simple variable valve timing system that could be used on its upcoming engines.
Uses a small electric motor to change valve timing
Could debut on upcoming Pulsar 250
Three levels of functionality
Bajaj's venerable Pulsar line-up used to be the go-to choice for the enthusiast on a budget, but it hasn't quite been its innovative self in recent years. That could be set to change quite soon, though, with the introduction of variable valve timing technology.
Bajaj variable valve timing: debut on Pulsar 250?
Bajaj has filed a patent for a simple variable valve timing system, and while it hasn't specified which bike this tech will debut on, the upcoming Pulsar range seems to be a possible candidate, specifically the upcoming Pulsar 250. The patent was actually filed back in 2019,and while there have been a number of Bajaj launches since then, none of them have been quite as significant as the next-generation of Pulsars that's expected to debut with the new Pulsar 250.
However, it's not entirely a foregone conclusion that the Pulsar 250 will get this tech and there are some points to consider. For one, the Pulsar platform will be all about value and cost-effectiveness, which raises the question of whether a system like this can fit with the strict price engineering.
More so, VVA systems usually aim to provide better low and mid-range performance without sacrificing the top-end. Again, the Pulsar has always been about a meaty low and mid range, so would a VVA system really be necessary in the 250cc Pulsar? Where we do see a system like this being of great value could be in the next generation KTMs, and quite possibly in the upcoming Bajaj-Triumph motorcycle that's currently under development.
Bajaj variable valve timing: the technology
The patent drawings show an air-cooled, two-valve engine, but the wording of the text in the application says "at least one inlet valve and one exhaust valve". This implies that the technology could also be used on four-valve engines in the future. As for the technology itself, it aims to offer ideal fuel efficiency, power, or torque, depending on instantaneous requirements.
By changing the position of the cam lobe relative to the camshaft, the system changes the time at which the inlet and exhaust valves open and close. There are 3 positions in the drawing – one for optimal fuel efficiency, one for maximum torque and one for peak power. These three modes are likely to be used at low rpms, mid rpms and high rpms respectively. Switching between the modes is facilitated by an electric motor (115 in the figures) that drives a lead screw (220) via a geartrain (125).
2023 Bajaj Pulsar NS 160, NS 200 video review
6382 Views|2 months ago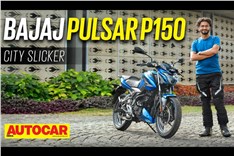 Bajaj Pulsar P150 video review
5223 Views|5 months ago
2022 Bajaj CT 125X video review
7556 Views|7 months ago