UPDATE: Citroen's first model for India is the C5 Aircross
The PSA Group is gearing up to make a comeback to India. It set the cogs of its return in motion by partnering with the CK Birla Group and inaugurating a powertrain manufacturing plant in Hosur, Tamil Nadu in late 2018. Furthermore, PSA will also be using the same group's facilities in Tiruvallur for putting together its cars and SUVs.
With the manufacturing backbone in place, the French conglomerate announced last month that it has chosen the Citroën brand to crack the Indian market this time around. And finally, Groupe PSA has now revealed that it will put in the last piece to the puzzle on April 3, 2019 and divulge the car that will go on sale in our market before end 2021.
While most of this is widely known, the range of products that Citroën has in its stable isn't. In brief, the range comprises hatchbacks, MPVs, sedans and SUVs. There's no confirmation about the models for India but, in our opinion, an SUV would be a clever start. Here's an overview of Citroën's global SUV range.
Citroen C3 Aircross
Launched in late 2017, the C3 Aircross is a small SUV inspired by the C-Aircross concept showcased earlier at the Geneva motor show the same year. Currently available in the UK, France, Germany, Australia and Singapore, the C3 has proven to be a popular model from the French carmaker.
In addition to the funky styling, feature-rich cabin and bevvy of safety equipment, the Citroën C3 Aircross is also armed with a Grip Control feature which helps improve front-wheel traction on demanding terrains and aids off-road ability.
The C3 Aircross measures 4,154mm in length, 1,765mm in width, 1,637mm in height and has a wheelbase of 2,604mm. With these dimensions, it has a greater overall length, wheelbase and boot capacity than any of the compact SUVs on sale in our market. In its current spec, the C3 would be more expensive and will sit slightly above the Maruti Suzuki Vitara Brezza, Tata Nexon, Ford EcoSport and Mahindra XUV300.
The small Citroën comes with a choice of three petrol and one diesel engine – an 83hp, 1.2-litre petrol, a 110hp, 1.2-litre turbo-petrol, a 130hp, 1.2-litre turbo-petrol and a 102hp, 1.5-litre diesel. Transmission duties are handled by a 5-speed manual, 6-speed manual or a 6-speed automatic gearbox.
Citroen C3 Aircross vs rivals: Dimensions
C3 Aircross
C4 Cactus
Vitara Brezza
Nexon
EcoSport
XUV300
Length
4154mm
4170mm
3995mm
3994mm
3998mm
3995mm
Width
1765mm
1714mm
1790mm
1811mm
1765mm
1821mm
Height
1637mm
1480mm (hatch)/1563mm (SUV)
1640mm
1607mm
1647mm
1627mm
Wheelbase
2604mm
2595mm (hatch)/2600mm (SUV)
2500mm
2498mm
2519mm
2600mm
Boot capacity
410 litres
358 litres
328 litres
350 litres
352 litres
257 litres
Citroen C4 Cactus
The C4 Cactus is a rather intriguing offering from Citroën. Positioned as a hatchback in the UK, it takes on the role of an SUV in Latin American markets like Brazil and Argentina by donning some subtle changes. Introduced in 2014, the C4 Cactus was given a thorough makeover last year, bringing its design and features more in line with rest of the Citroën product range.
Globally, the Cactus gets the same 110hp petrol, 130hp petrol and 102hp diesel engines as the C3 Aircross, as well as a more powerful 120hp oil burner. 6-speed manual and 6-speed automatic units transmit power to the front wheels.
With a length of 4,170mm, width of 1,714mm, height of 1,480mm (hatchback)/ 1,563mm (SUV), it is longer than its probable compact SUV competition in India, though it sits lower and is narrower. It will be interesting to see which segment the car falls in, if the French carmaker introduces it in India.
Dongfeng Citroen C4 Aircross
The Dongfeng Citroën C4 Aircross is essentially the Chinese version of the C3 Aircross. Measuring 4,270mm (length), 1,770mm (width) and 1,655mm (height), it is longer and wider than the C3 by 116mm and 5mm respectively. Its 2,655mm wheelbase is also stretched by 51mm compared to the European-spec car. China, which was Citroën's second-biggest market after France as of early 2018, gets a bespoke SUV because rear seat space is a key purchasing criterion for its people.
As such, the C4 Aircross is dimensionally quite close to the Hyundai Creta and would make sense for our market too. However, the Nissan Kicks, Renault Captur and Renault Duster are marginally longer.
Under the hood of the C4 is a 136hp, 1.2-litre unit or a 167hp, 1.6-litre mill, with both being turbo-petrol engines. A 6-speed automatic transmission is standard, while the smaller engine can also be had with a 5-speed manual gearbox.
Citroen C4 Aircross vs rivals: Dimensions
C4 Aircross
Creta
Kicks
Captur
Duster
Length
4270mm
4270mm
4384mm
4329mm
4315mm
Width
1770mm
1780mm
1813mm
1813mm
1822mm
Height
1655mm
1665mm
1651mm
1619mm
1695mm
Wheelbase
2655mm
2590mm
2673mm
2673mm
2673mm
Boot capacity
422 litres
405 litres
400 litres
392 litres
410-475 litres
Citroen C5 Aircross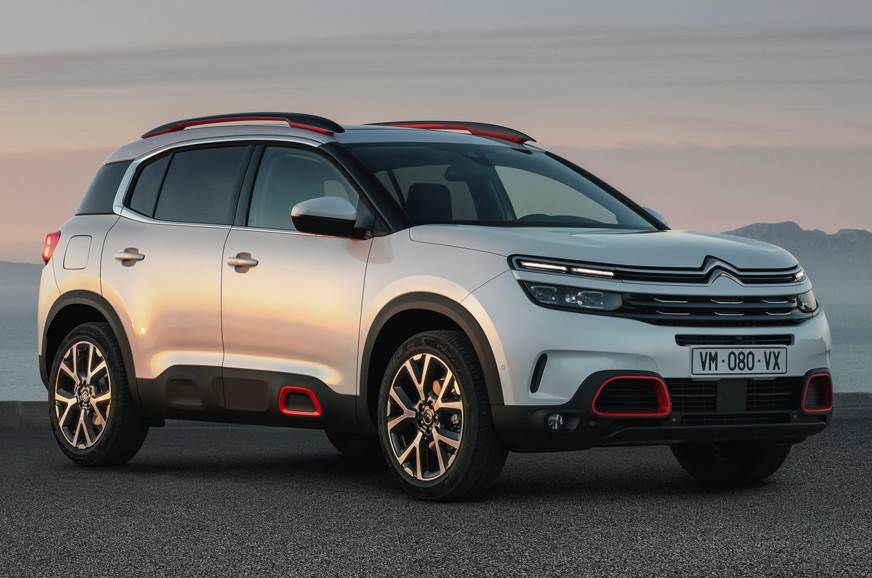 The C5 Aircross is Citroën's mid-size SUV that debuted in April 2017 in Shanghai. Today, it is sold in markets around the world like China, Australia, Germany, France and the UK. Recently, the C5 was even spied testing in India, which leads us to believe that it might just be the French automaker's first product in our market.
Based on Group PSA's EMP2 platform, the premium SUV is 4,500mm long, 1,859mm wide, 1,670mm high and has a wheelbase of 2,730mm. If launched in India, the C5 Aircross would square off against the Tata Harrier, Hyundai Tucson and Jeep Compass. Notably, the C5 has a larger footprint than all of these, barring the Harrier.
With Citroën's trademark split headlamp setup, the C5 has an urban SUV look. An extensive list of safety equipment and feature-rich cabin are also part of the package. The C5 even gets the Grip Control feature, similar to the Harrier's Terrain Response Modes and the Compass' Selec-Terrain system.
In international markets, Citroën offers the C5 Aircross with a petrol motor and two diesel engine options – a 130hp, 1.2-litre turbo-petrol, a 130hp, 1.5-litre turbo-diesel and a 180hp, 2.0-litre turbo-diesel. Transmission options include a 6-speed manual and an 8-speed automatic.
Citroen C5 Aircross vs rivals: Dimensions
C5 Aircross
Harrier
Tucson
Compass
Length
4500mm
4598mm
4475mm
4395mm
Width
1859mm
1894mm
1850mm
1818mm
Height
1670mm
1706mm
1660mm
1640mm
Wheelbase
2730mm
2741mm
2670mm
2636mm
Boot capacity
580 litres
425 litres
513 litres
438 litres
With scalability and localisation being its prime focus, it remains to be seen which of these models will come to India. But one thing is for sure – owing to its high quality and unique design language, you will not mistake a Citroën to be anything else on our roads.
Also see:
Why PSA chose Citroen over Peugeot for India
Citroen Cars
Citroen C3
₹ 6.34 - 9.13 lakh
Citroen C5 Aircross
₹ 38.19 - 40.02 lakh