Following the Skoda Rapid Auto launch, Zac Hollis – director, Sales, Service and Marketing, Skoda Auto India said the company will "enter the used car business in the coming few weeks" at a round-table discussion with the media.
Will offer certified used Skodas.
Trade-ins will be multi brand.
India 2.0 plans on track for 2021.
Why is a used car business important for Skoda?
While most other companies have their own used car division, including sister brand Volkswagen and its Das WeltAuto business, Skoda, which has been in India since 2001, is yet to venture into this area.
The Czech carmaker, along with VW, has struggled in India and is thus refocusing its business plan under what the company calls its 'India 2.0' project. The project will see Skoda take charge of the entire India operations, an expansion of its network, and a flurry of new model launches in the mid to premium end of the market.
This makes the used car business an important tool for Skoda. Not only does it give its dealers some much-needed additional revenue, but it importantly enables existing car owners to trade in their cars for a new Skoda.
Skoda Auto India is mum so far on details like the brand name and the planned rollout, but it's likely the company will equip and enable all of its dealers to offer the used car service.
What else does Skoda India have lined up?
Skoda Auto India's plans for 2020 have been delayed a bit by the Coronavirus pandemic, which means the launch of the Kodiaq TSI petrol and the next-gen Octavia have been pushed to 2021. And while this year's run of the Skoda Karoq is pretty much all spoken for, there's no word on whether it will come back in a second batch of CBU imports, or with local assembly. However, Hollis mentioned that the launch of the India 2.0 project and the crucial production version of the Vision IN mid-size SUV are still on track, and that we will see the all-new Skoda mid-size sedan by the end of 2021.
Skoda India Brand Director Petr Solc on the return of the...
3355 Views|4 months ago
Hyundai Verna vs Skoda Slavia vs Volkswagen Virtus video ...
18619 Views|4 months ago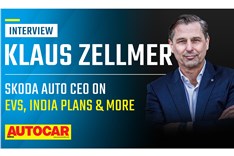 Skoda Auto CEO Klaus Zellmer on EV strategy, future India...
2466 Views|4 months ago