Czech carmaker Skoda today elaborated on its plans to crack the Indian market after it was recently tasked with leading the development of future Volkswagen Group cars for India. At the centre of Skoda's 'India 2.0' project is the India-specific MQB A0-IN platform, which will spawn models for both VW and Skoda models. The company is targeting a localisation level of over 90 percent in an effort to boost the cost effectiveness of its vehicles, which have traditionally been positioned at a premium in the Indian market.
Notably, the company aims to grow its market share between both VW and Skoda brands to 5 percent by 2025, up from 1.9 percent currently. Autocar India exclusively reported about the company's plans to expand market share back in September 2017. Skoda and VW have found it difficult to crack the Indian market, which is dominated by Maruti Suzuki. Its plans to form an alliance with carmakers too hasn't materialised; the alliance with local player Tata Motors was called off and the partnership with Suzuki, too, met a similar fate.
Admitting that the company hasn't achieved grown as per its expectations, Skoda CEO Bernhard Maier said, "The VW group has struggled to achieve its growth targets in India and we accept it. The VW Group must have other ambitions in India, which is why we came up with India 2.0."
Maier said that, to achieve success in India, the company has formulated a three-pronged strategy, which includes customer service, cost and timing.
While Skoda-branded cars are well known for their build quality, the company's poor aftersales and service have been an area of concern. The brand has already taken a host of measures to improve that aspect and greater emphasis will be laid on improving customer satisfaction with project India 2.0. "Best in class customer satisfaction is our top priority. We will centre our activities even more on customers," according to Maier.
The second area of focus for the brand will be building cars to a better cost by sharpening focus on increasing localisation. "India is a highly competitive and price sensitive market. True localisation is a must for sustainable success," Maier said. Skoda will take over VW's Chakan plant and include a new production line to manufacture cars based on the newer MQB platform.
The big news is that enhanced focus on localisation means that VW's new 1.0-litre TSI petrol engine will be localised. This new motor is internationally available in two states of tune – 94hp and 115hp. The 94hp version could power future hatches based on the MQB A0 IN platform while the more powerful 115hp motor can see duty in the upcoming Skoda SUV.
The first model for India based on the new platform will be a Creta-rivalling SUV that will borrow design cues from Skoda's Vision X SUV concept. "We are entering the fastest growing segment in India – SUVs. We see the segment growing 75 percent in the next five years," Maier said.
There will be four models in total, two from VW and two from Skoda when the plan kicks off. "In addition to the SUV, we will explore multiple body styles, the MQB platform clearly allows us this flexibility," Gurpratap Boparai, MD of Skoda Auto India said, adding that there is a potential to make India a manufacturing hub for the new generation of compact cars for the Volkswagen Group. "The India 2.0 project offers great opportunities to tap other fast-growing emerging markets from India."
As far as timing goes, Skoda is committed to keeping its foot on the gas and the first product will have its global premier in India in the latter-half of 2020. Skoda is also building an engineering centre in Pune – which will be opened by end of this year – this will give the company a quick market response time.
VW Group plans to invest one billion Euros (around Rs 7,900 crore) towards implementation of the project in the first phase (2019-2021), with the possibility to invest further at a later stage. "With the India 2.0, we will invest a substantial amount towards increasing our production capacity for the group. This would allow us to cater not only to the increased demand in India, but also explore export opportunities," Boparai said.
Also read:
Skoda to develop low-cost 'Eco' car platform for India
Skoda plots 6 new models for VW Group's India comeback
Skoda confirms MQB A0 platform for India
Skoda India Brand Director Petr Solc on the return of the...
3371 Views|4 months ago
Hyundai Verna vs Skoda Slavia vs Volkswagen Virtus video ...
18749 Views|4 months ago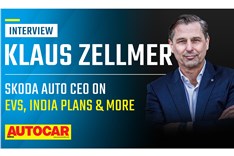 Skoda Auto CEO Klaus Zellmer on EV strategy, future India...
2481 Views|5 months ago