As we told you recently, following the launch of the Harrier on January 23, Tata Motors will also introduce the seven-seat version of the Harrier later this calendar year. And while it will be notably longer than the five-seat model, the reason the seven-seat Harrier can be introduced so soon after the launch of the five-seat model is because mechanically, both models will be largely identical. In terms of appearance, however, the seven-seat Harrier could differ from the five-seat model.
Confirming the seven-seat Harrier's imminent arrival in an interview with Autocar India, Guenter Butschek, CEO and MD, Tata Motors, said, "Products sharing the new architecture are going to come even quicker because the product is differentiated in appearance but not differentiated in architecture."
Since the seven-seat Harrier will be based on Land Rover's D8 platform – just like the five-seat model - making space for an extra row of seats should be easy. But in addition to a 62mm longer rear overhang (which will take overall length up to 4,660mm), there will also be a larger rear-quarter glass, replacing the stylish 'pinched' window line. Roof rails will also be a part of the package, and there could be further detail changes to the front and back of the seven-seat Harrier to distinguish it from the five-seat model.
It should also be largely identical to the five-seat Harrier on the inside, but, of course, with a third row of seats. The inclusion of a third row will mean the seven-seat model won't come close to matching the five-seat version's 425-litre boot. Some features that could come with the addition of a third row could include additional AC vents for the rear-most passengers, cooled cup holders, USB charging points and it'll be interesting to see if Tata also adds a recline function (as seen on the new Maruti Suzuki Ertiga) for the third row.
As we'd reported earlier, the seven-seat version of the Harrier will carry a different name in order to differentiate it from the five-seater. It will also be equipped with a more powerful, BS VI-compliant version of the Harrier's 2.0-litre Kryotec diesel engine, which could make in excess of 170hp and 350Nm of torque. This engine will also likely make it to the five-seat Harrier at around the same time. Transmission options for the seven-seat Harrier will include a 6-speed manual and a Hyundai-sourced 6-speed torque convertor automatic gearbox.
With the five-seat Harrier estimated to be price between Rs 16-21 lakh (on-road), expect the seven-seat version to cost around Rs. 1 lakh more.
Also see:
Tata Motors lines up four big launches for 2019
Tata Hornbill micro-SUV concept to debut at Geneva
Tata Harrier vs rivals: Specifications comparison
2019 Tata Harrier review, test drive
2019 Tata Harrier video review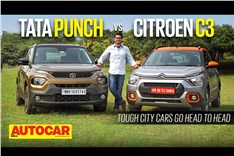 Citroen C3 vs Tata Punch video comparison
5989 Views|10 days ago
Shailesh Chandra on Tiago EV, Tata's future EV plans and ...
1997 Views|2 months ago