Volkswagen has revealed final design sketches of its upcoming Taigo coupe-SUV,whichwill go on sale in Europe later this year. This new SUV has a lot in common with the upcoming Volkswagen Taigun.
Volkswagen Taigo will be based on South American-spec Nivus
Shares its MQB A0 platform with the Brazilian-spec T-Cross
India-spec VW Taigun will be unveiled tomorrow
Volkswagen Taigo: What is it?
Volkswagen's smallest coupe-SUV globally,this new model is already on sale in the South American market as the Nivus, and a version of it will reach European shores later this year and will be called theTaigo. The Taigo will be sold alongside the Volkswagen T-Cross SUV, the brand's smallest SUV in Europe. While the Nivus was developed specifically for the South American market, at its launch in 2020,VW saidthat it will eventually offer it in certain European markets.
Volkswagen Taigo: Why is it relevant to India?
The Nivus-based Taigo shares a fair bit of its underpinnings with the upcoming Volkswagen India 2.0 cars. This means, the Nivus' MQB A0 platform (for emerging markets) is quite closely related to the MQB A0 IN architecture that will form the basis of the upcoming Volkswagen Taigun SUV (global unveil tomorrow) and the future VW sedan that will replace the Vento.
Volkswagen Taigo: How big will it be?
The Nivus-based Taigo SUV will be around 4.2m long, similar to the upcoming Taigun for India, but will come with a 2.56m wheelbase (about 90mm shorter than the Taigun).However, the Nivus will offer more cargo space.
Volkswagen Taigo: What engine options can be expected?
Under the hood, the Nivus comes with a 1.0-litre TSI petrol engine that churns out a healthy 128hp. This turbo-petrol engine is mated to a 6-speed automatic gearbox as standard. Volkswagen hasn't confirmed the engine options for the Taigo but expect the SUV to come with the same unit as the Nivus.
Volkswagen Taigo: What features can be expected?
A features list similar to the European-spec T-Cross and the South American spec Nivus can be expected on the Taigo. This includes standard LED tail-lamps, rear parking sensors, cruise control, a multifunction steering wheel, powered wing mirrors and rain sensing wipers, along with automatic headlamps, a digital instrument panel, paddle shifters, drive modes and front parking sensors. The top-spec Taigo R-Line trim that has been teased will most likely come with 17-inch alloy wheels, a new Discover Multimedia system, gloss black paint finish and full-LED headlamps.
Volkswagen Taigo: Will it come with Volks Play?
The Nivus features a new, Brazil-developed infotainment system called Volks Play. The 10.1-inch high-definition screen features tech similar to that seen in recent European VWs, including an App Store for increased functionality and built-in Wi-Fi. This system could make its European debut on the Taigo and will be seen on future VW SUVs.
Volkswagen Taigo: What safety features can be expected?
Again, similar to the Nivus, the Taigo can be expected to come with safety tech like adaptive cruise control,autonomous emergency braking, six airbags and a driver drowsiness detection system.
Volkswagen Taigo: will it come to India?
Although the Taigun and Nivus/Taigo have similar underpinnings, along with the the fact that SUV-coupes do resonably well in India, this new VW could be a candidate for India. However, VW has not offered any news so far. While there are no plans of the Taigo or the Nivus making it to our country, Volkswagen is gearing up to introduce the heavily localised Taigun and a midsize sedan here as part of its India 2.0 plan. Additionally, the Tiguan facelift and the T-Roc are the other key models the German brand is focusing on in the Indian market.
Also see:
2021 Volkswagen Polo Championship car review, track drive
Volkswagen Tiguan Allspace long term review, second report
Volkswagen Cars
Volkswagen Taigun
₹ 13.57 - 22.16 lakh
Volkswagen Tiguan
₹ 40.22 lakh
Volkswagen Virtus
₹ 13.41 - 21.60 lakh
Volkswagen Virtus GT 11,000km long term video report
4298 Views|23 days ago
Quick News Video, November 5, 2023
2223 Views|1 month ago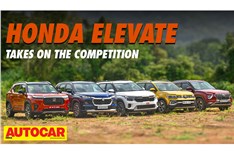 Elevate vs Seltos vs Creta vs Grand Vitara vs Taigun: Mid...
18434 Views|1 month ago