Auto Expo 2018 will mark Kia's first public showing in India and the Korean carmaker is leaving no stone unturned to make a lasting first impression. Set to start selling cars in India from the second-half of 2019, Kia will have on display an array of models from its international line-up at the Auto Expo. However, the spotlight will be on an SUV concept that will be a precursor to a made-for-India production model that will go on sale in 2019. Interestingly, the model will not be a compact SUV as was expected but will be a larger SUV that would compete with the Hyundai Creta. While details are minimal for the moment, we do know the model will be a five-seater. The SUV is expected to sport a bold design in line with the latest Kias and could have a strong resemblance to the Stonic, a sketch of which is pictured here.
In addition to the SUV concept, Kia will also have on display multiple models from its international line-up. Here are just some of the models you can expect Kia to show at the Auto Expo 2018:
Kia Picanto
You can think of the Picanto as a distant cousin of the made-in-India Hyundai Grand i10 or a close cousin of the smaller i10 sold abroad. Though, the Hyundai and Kia hatchbacks are built on the same platform, the Picanto is dimensionally more i10 than Grand i10. The Picanto is available with a 67hp and 95Nm, 1.0-litre petrol engine in international markets.
Kia Rio
Sitting higher up the pecking order than the Picanto, the Rio is Kia's rival to the Hyundai i20, Maruti Baleno and Honda Jazz. As it measures 4,065mm in length, Kia would have trim it to bring it under 4 metres (needed to qualify for excise sops on small cars) should the carmaker decide to bring the Rio to India. Abroad, the Rio comes powered by a 1.2-litre petrol engine that produces 84hp and 122Nm of torque.
Kia Cerato
Kia's Cerato sedan, sold as the Forte in the US market, is a rival to the Hyundai Elantra, Skoda Octavia and Honda Civic. It comes with a 1.6-litre petrol engine that's tuned to produce 130hp and 157Nm of torque and is mated to a six-speed automatic gearbox. Size-wise, the Cerato is marginally smaller than the Elantra.
Kia Optima
Kia's answer to the Toyota Camry, Skoda Superb and Honda Accord, the Optima is a smart-looking large sedan with a well-specced cabin to match. It's available abroad with a 2.0-litre petrol unit that produces 143hp and 204Nm of torque and is mated to six-speed automatic transmission.
Kia Sportage
On the face of it, the Sportage is a Kia that holds great promise for India. It's a right-sized SUV that takes on the likes of the VW Tiguan, Honda CR-V, Hyundai Tucson and Jeep Compass. And you would agree, it's got the right engine too – a 2.0-litre diesel making 185hp and 402Nm of torque.
Kia Niro
The smart Niro is Kia's crossover that is a natural rival for models like the Skoda Karoq. Sold as a hybrid model elsewhere in the world, the Niro comes powered by a 141hp, 1.6-litre petrol engine mated to an electric motor.
Kia Sorento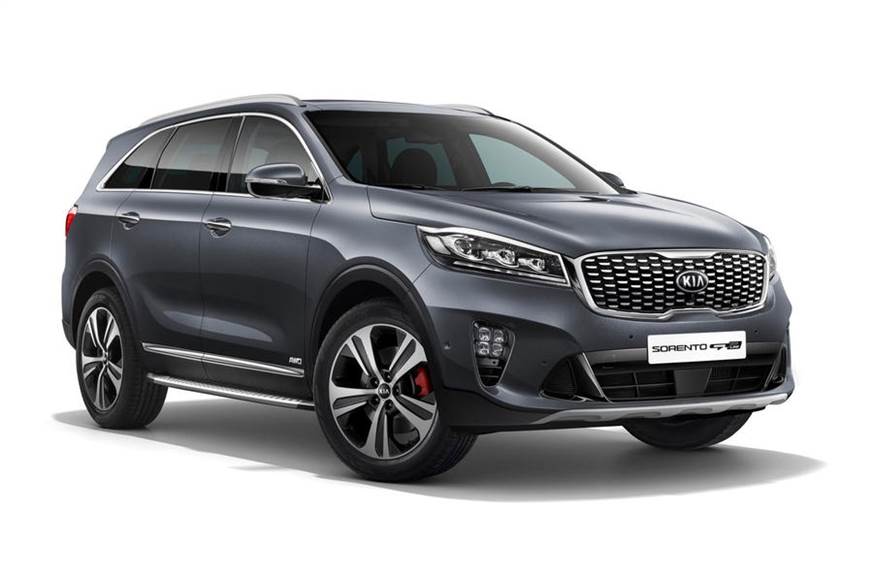 Kia's flagship SUV, the Sorento, is a seven-seat model that goes head-to-head with the Hyundai Santa Fe and Skoda Kodiaq. Interestingly, the Sorento has been spotted in India in the vicinity of Kia's upcoming manufacturing facility in Andhra Pradesh. In markets abroad, the Sorento is offered with a 188hp, 2.2-litre petrol, a 185hp, 2.0-litre diesel or a 200hp, 2.2-litre diesel motor. Transmission options include a six-speed manual, six-speed automatic and a new eight-speed automatic gearbox that debuted on the facelift at the 2017 Frankfurt motor show. Four-wheel drive is also offered as an option.
While the Korean manufacturer has confirmed that its sporty Stinger sedan will not be coming to India, it is likely to be displayed at the Auto Expo 2018.
Kia had made public its plans to start its India innings with a compact sedan, but this model will not be shown at Auto Expo 2018.
Also see:
Auto Expo 2018 preview: Cars and SUVs
Auto Expo 2018 preview: Scooters and bikes
Kia Stonic crossover fits well for India, says design head
Talking design with Peter Schreyer, President and Chief Design Officer, Kia
Hardeep S Brar on Kia EV6 pricing, made for India Kia EV ...
3183 Views|20 days ago
2022 Kia EV6 video review
22887 Views|1 month ago