Kia Motors India is on track with its Greenfield facility in India. The Indian arm of the Korean carmaker is looking to begin with setting up the "most extensive" dealer network for a new entrant in the Indian market.
The company is investing US$ 1.1 billion (Rs 7,005 crore) in the Indian market. Its new plant at the Anantapur district of Andhra Pradesh has a capacity of 3,00,000 units per annum. The manufacturer says that the plant structure has been erected and is now in the process of installing equipment to begin operations. During the first phase, 90 percent of vehicles produced will be slated for the domestic market while 10 percent will be for export.
In a conversation with our sister publication, Autocar Professional, Manohar Bhat, Head - Marketing and Sales, Kia Motors India, said, "We will begin trial production by early next year and eventually mature our process to commence mass production by middle of 2019."
The brand showcased a midsize crossover – the SP Concept – at Auto Expo 2018 in February, this year. After it makes its entry with the SP, the carmaker aims to quickly introduce other models as well in order to strengthen its presence in the Indian market. "The SUV segment is the most growing segment right now anywhere in the world and we want to target that space," said Bhat.
The company says that it is studying the Indian market and will select products from the expansive Kia portfolio so as to launch models most relevant to the Indian market. It aims to introduce the second model by Auto Expo 2020. "We are going to introduce one new model every six months and aim to reach full capacity utilisation within three years from launch," Bhat added. The annual capacity at the plant is being initially considered only for domestic sales in India.
Regarding plans for Kia's dealer network in the country, Bhat said, "We are working on having 'touch-points' up to the Tier 4 level, and we will have the most extensive network to begin with, for any new entrant into the Indian market."
"We want to reassure our customers with our presence in every part of the country and be ready to offer them aftersales support whenever they need it," he went on to say. "While we will be establishing our network in a phase-wise manner, we need to be ready with a robust presence at start to a certain extent, given that we will be adopting an aggressive launch strategy and cannot ramp up our network every six months."
"We will adopt our globally followed 'Red Cube' design theme for our all our outlets to represent the brand and we will begin our brand campaign in the country by end of December," Bhat concluded.
Kia Motors India will employ 3,000 people at its Anantapur plant and will gradually ramp-up production – starting with 1,00,000 units in the first year in a single shift and growing to 2,00,000 and 300,000 units in the second and third year, over two and three shifts, respectively.
MAYANK DHINGRA
Also see:
Kia pushes for electric mobility in Andhra Pradesh
Kia Stinger to be showcased at Autocar Performance Show 2018
Kia SP Concept-based SUV to be priced between Rs 10-16 lakh
Maruti Suzuki XL6 vs Kia Carens comparison video
9325 Views|1 month ago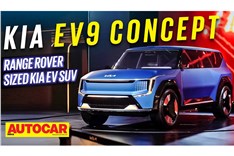 Auto Expo 2023: Kia EV9 concept walkaround video
1390 Views|2 months ago