Lexus has revealed the first set of details of the upcoming second-generation LM MPV in India – a sister model to the Toyota Vellfire – and commenced bookings today. This is the first time Lexus has brought the LM – which stands for Luxury Mover – to India, as in its first-gen guise, it was exclusive to the Chinese market.
Lexus LM is available in 4- and 7-seater layouts
Is powered by a petrol-hybrid powertrain
Bookings open at Lexus Experience Centres and Meraki showrooms
New Lexus LM platform and styling
The second-gen Lexus LM is based on Toyota's GA-K modular platform, which is shared with the Toyota Vellfire and several other models in the Toyota-Lexus range. Up front, it gets the latest iteration of Lexus' oversized grille, sleek LED headlamps and stylish vertical housings for the fog lamps finished in satin silver.
In profile, there's a large glasshouse with a subtle kink at the B-pillar, with small creases throughout its length that help reduce the slab-sided look. The rear, in contrast to the front, has a rather minimal look with a boomerang-shaped LED light bar being the only highlight.
The LM measures 5,130mm in length, 1,890mm in width and 1,945mm in height. It comes with sliding doors on each side and sits on a set of 17-inch or 19-inch alloy wheels.
New Lexus LM MPV: more luxurious than Vellfire
Lexus will offer the LM in both 4- and 7-seater configurations in India. In 4-seater guise, the new LM gets a partition between the driver and passenger area, and features airline-style recliner seats, a 48-inch TV, a 23-speaker surround-sound audio system and pillow-style headrests.
Passengers also get fold-out tables, heated armrests and ottomans, several USB ports, wireless phone chargers, reading lights and vanity mirrors, a fridge, rear gloveboxes and an umbrella holder. Lexus also offers a dimmable glass panel on the partition that can be raised and lowered for privacy.
The new LM also gets a new voice control system that Lexus says is the first in the world to cater specifically to rear passengers, while an overhead console controls the doors, storage compartments and cabin temperature. There's also a two-part sunroof on either side of the overhead console. Rear passengers also get a separate smartphone-style control panel to adjust the climate, seat functions, interior lighting, window blinds and audio settings.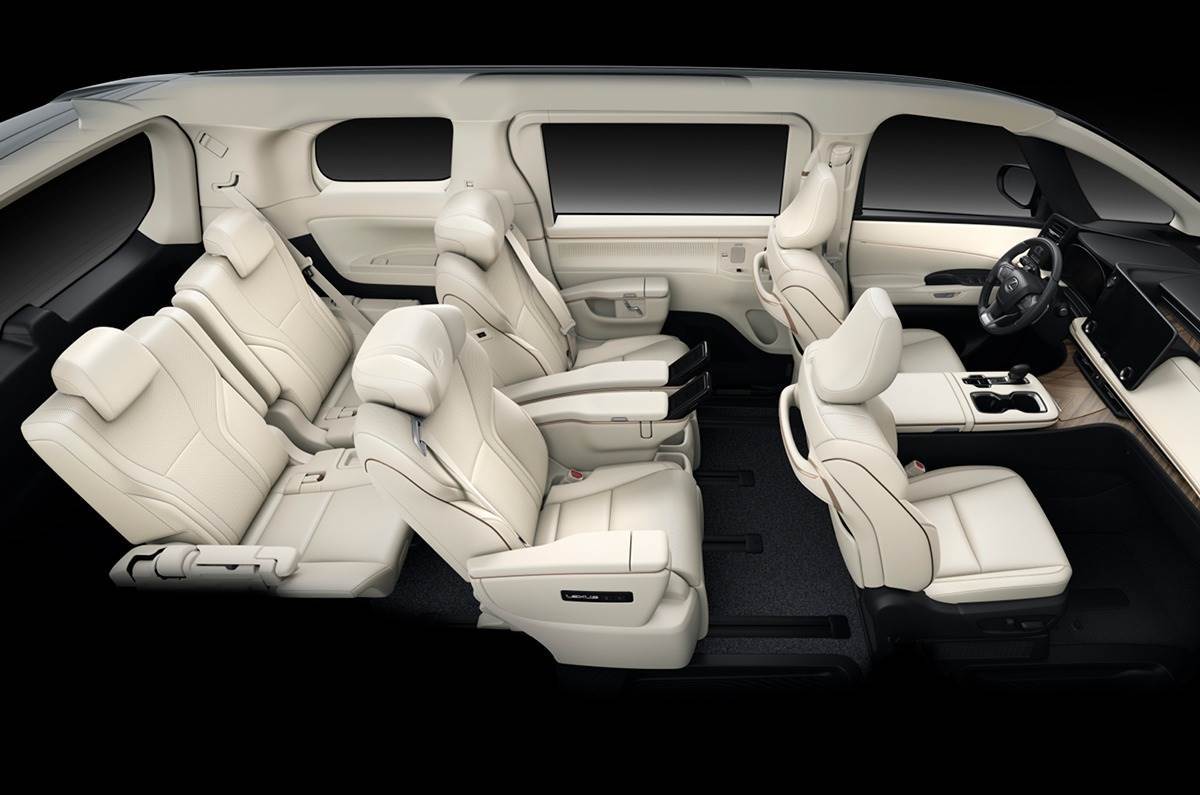 Sound deadening and insulation has been key for Lexus with the second-gen LM as it gets a specially designed headliner. The MPV also gets noise-reducing wheels and tyres, and active noise control that cuts sounds detected through a microphone while driving. Drivers benefit from a digital rear-view mirror, a panoramic-view monitor, a digital infotainment system and digital dials along with a suite of ADAS functions.
New Lexus LM MPV powertrain
Internationally, the LM (350h) is powered by a 2.5-litre, four-cylinder self-charging hybrid powertrain that sends power to all four wheels, with a maximum combined output of 250hp and 239Nm. There will also be a more powerful LM500h that will join the global line-up at a later stage that will come powered by a 2.4-litre four-cylinder turbo-hybrid powertrain. Although Lexus hasn't specified which powertrain the LM will get in India, it will likely be the 350h version – same as the Vellfire.
The upcoming Lexus LM and the Toyota Vellfire are the only two models in the luxury MPV segment, and sit in a niche of their own. For reference, the Vellfire is priced between Rs 1.20 crore-1.30 crore (ex-showroom), so expect the LM to be priced more than that.
Also See:
"India hasn't missed the bus on hybrids yet": Toyota's Vikram Gulati
Porsche 911 S/T priced at Rs 4.26 crore