Hyundai has previewed its 'walking car' concept, called Elevate, ahead of its unveiling at CES 2019 in Las Vegas, US. The image shows a unique machine combining what looks like four driven wheels mounted on robotic legs for a "totally new" vehicular concept that Hyundai says will be able to "take people where no vehicle has been before".
Few technical details of the vehicle's mechanical systems have been revealed, but we do know that it utilises an electric powertrain alongside advanced robotic systems.
Clues to the Elevate's purpose include a first aid logo on what looks like a slide-opening door panel, likely intended for boarding patients rescued from terrain otherwise inaccessible by traditional ground vehicles.
It's not yet clear whether there's any production or research intention with the Elevate concept beyond drawing in crowds at the tech show's stands.
We can expect more details, alongside a 'prototype' displaying the vehicle in action, when CES' doors open on January 8.
Also see:
CES 2019: Kia to showcase AI-based R.E.A.D system
New long-range Nissan Leaf to debut at CES
Next-gen Mercedes-Benz CLA to be unveiled at CES in January
Hyundai QXi compact SUV interior spied
Hyundai India to hike prices by Rs 30,000
Tarun Garg on Hyundai Venue buyers, popularity of sunroof...
558 Views|3 days ago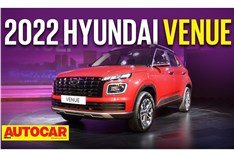 2022 Hyundai Venue facelift walkaround video
6044 Views|11 days ago