GOOD FOR: Peppy engine, spacious cabin
LOOK OUT FOR: Worn-out switchgear, clutch wear
The year 2016 marked the entry of the Maruti Suzuki Baleno in the premium hatchback segment, which was dominated by the Hyundai i20 for the longest time. Like with every Maruti, the crowd responded positively and with reason. The 84hp, 1.2-litre petrol engine is known for its peppy performance and superb fuelefficiency figures. Pair that with a spacious cabin, a 339-litre boot and high levels of equipment like HID headlamps and a touchscreen infotainment with Apple CarPlay, a used Baleno could be all the car you need.
As with its predecessor, you will enjoy driving the Baleno. A significant part is the K12 engine, which is fast enough for an exciting drive that doesn't get you in trouble. With 84hp on tap, and a 5-speed manual gearbox, it is good fun on a ghat road and quite relaxed in the city. Cruising ability could have been better with an extra gear on the highway, but it's something you get over. The highlight, however, is the ride quality. Even over our rough roads, the Baleno feels supple and comfy. Potholes and cuts in the roads are well taken care of as well. Now while the city performance is excellent, it does not feel as confident on the highway at speeds of over 100kph. Keep it within the triple-digit mark though, and there is nothing to worry about.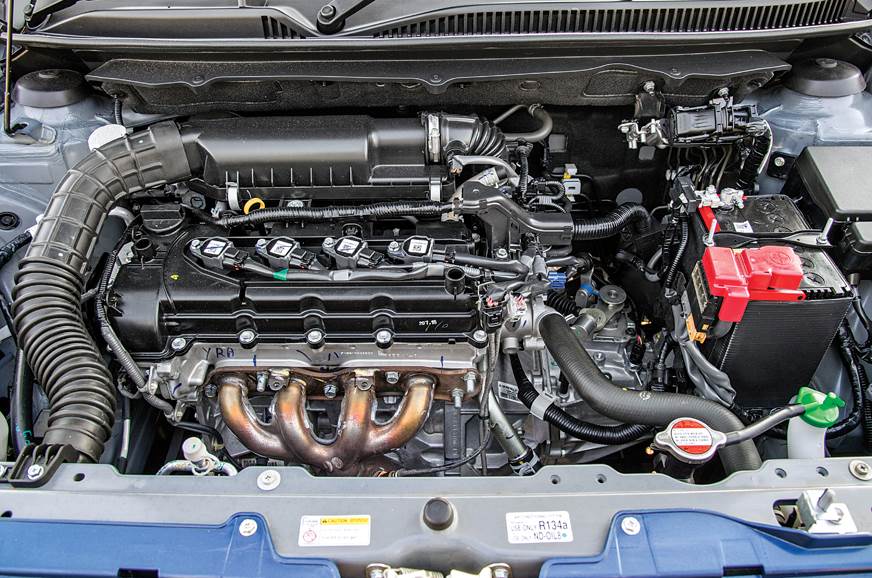 Being a Maruti Suzuki, the Baleno comes with a certain level of reliability and assurance. And there isn't much that goes wrong with these. However, there are a few things to watch out for before buying a used model. The power window switches are prone to malfunctioning, so check these. A replacement is cheap, like all other parts, but it is always better if you find one with no issue. Another thing to look for is the clutch. Owners have reported the clutch setting to be slightly tricky, and as a result you could end up stalling the car. Owing to this, a lot of owners constantly tend to ride the clutch with their foot almost always on it in traffic; this results in premature wear. A new clutch will cost Rs 6,000. Maruti also launched a CVT automatic version with a petrol engine. If you prefer the convenience of an automatic, this is a good option. The Baleno was part of a recall issued for cars manufactured between August 2015 and May 2016, to replace a faulty airbag controller module. Look for an airbag warning sign on the instrument cluster and have a technician check it out. Lastly, while scouting for a model, try and find the top-spec Alpha trim, which will get you the HID headlamps and the touchscreen infotainment.
Maintenance of the Baleno is as expected – easy on the wallet. The parts and service cost too is anything but expensive. Efficiency-wise, you can expect the Baleno to deliver around 13kpl in the city and an impressive 21kpl on the highway.
HOW TO GET ONE IN YOUR GARAGE
Buyer beware…
Airbag module
Make sure the model you are looking at has had this issue attended to. Look for an
airbag warning light in the instrument cluster.
Switchgear
Look for worn-out switches and buttons, especially for the power windows. These tends to break quite easily. Check the steering-mounted switches too.
Clutch
The clutch bite point on the Baleno is inconsistent, which means owners tend to ride the clutch and wear it out earlier than expected. A new clutch will cost Rs 6,000.
Also worth knowing
The SmartPlay infotainment touchscreen tends to lag and malfunction often. The reversing camera too struggles to work smoothly; so keep an eye out for this as well.
How much to spend
Rs 5.5 - 6.5 lakh
At launch, the Baleno was priced between Rs 6 lakh to almost Rs 10 lakh on-road. The used car market has Balenos from 2015 with an asking price of Rs 5.5 lakh even for the top-spec Alpha trim. That is incredible value for money considering all that you get – a feature-rich cabin, Maruti reliability and efficiency and also a peppy and exciting engine. If you want the CVT automatic, prices are upwards of Rs 6 lakh, but make sure you cap it off at Rs 6.5 lakh. Also, with the recent introduction of the facelift, there is more scope to bargain. Don't worry though, as the mechanicals, and even most of the cosmetic bits, are similar to the outgoing car.
Factfile
Years produced
2015-present
Price when new
From Rs 4.99 lakh
Engine
4 cyl, 1197cc
Power
84hp
Torque
115Nm
0-100kph
12.60sec
Top speed
171kph
Economy
13.4/21.4kpl (City/Highway)
Also see:
Maruti Suzuki Baleno recall announced
2019 Maruti Suzuki Baleno facelift price, variants explained
2015 Maruti Baleno long term review, final report
2015 Maruti Baleno review, road test
2018 Jazz vs i20 vs Baleno automatic comparison
2022 Maruti Suzuki Baleno video review
27382 Views|2 months ago
2022 Maruti Suzuki Baleno first look video
24349 Views|3 months ago