Elantra N Line gets unique styling elements

To be powered by a turbo-petrol engine
Having revealed the all-new, seventh-generation Elantra a few months ago, Hyundai has now given us a glimpse of the spicier Elantra N Line in official renders ahead of its debut in the coming weeks.
What exactly is the Hyundai Elantra N Line?
This is the first time Hyundai has come up with an N-flavoured version of the Elantra. It's important to state at this point that the N Line is not a full-blown N model. Somewhat similar to BMW's M Performance and Mercedes' AMG Line models, Hyundai's N Line cars are a step up from the standard car in terms of styling and performance, but are not as extreme as full-fledged N models.
What's different about the Hyundai Elantra N Line compared to the standard car?
The already-bold and aggressive design of the standard Elantra means Hyundai hasn't had to make any drastic changes to add visual drama to the Elantra N Line. Unique to the N Line model are a blacked-out grille wearing an N Line badge, redesigned air intakes, 18-inch dual-tone alloys, a subtle faux rear diffuser and twin tailpipes. While Hyundai hasn't revealed any pictures of the Elantra N Line's interior, expect it to be largely the same as that of the standard car, with N Line-specific touches such as red accents and different upholstery.
What sort of performance upgrades will the Hyundai Elantra N Line have?
Hyundai hasn't shared any technical details as yet, but has previously revealed the Elantra N Line – in addition to receiving styling changes – will also get chassis upgrades and a turbo-petrol engine. Rumours suggest the Elantra N Line will be powered by a 1.6-litre turbo-petrol making in excess of 200hp, and will be mated to a 7-speed dual-clutch automatic gearbox.
Is the Hyundai Elantra N Line likely to come to India?
Hyundai has previously flirted with the idea of introducing its performance-oriented N brand in India, but hasn't gone through with it so far. It's unlikely that Hyundai will introduce the new Elantra in India anytime soon, with the midlife update for the current-gen car having arrived only late last year. At the very earliest, the new Elantra will go on sale in India in 2021. Should the Elantra N also come to India, Hyundai could have a credible alternative to the (next-gen) Skoda Octavia that's long been the petrolheads' choice of executive sedans.
What do you think of the idea of Hyundai bringing the Elantra N Line to India? Let us know in the comments.
Also see:
Over 1,900 bookings made via Hyundai's Click to Buy
Hyundai Vision Concept T SUV: A close look
Hyundai Tucson facelift to launch on July 14
2021 Hyundai Elantra N Image Gallery
8685 Views|1 year ago
2019 Hyundai Elantra image gallery
33524 Views|2 years ago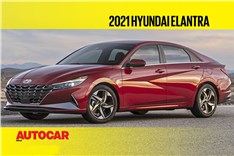 2021 Hyundai Elantra first look video
15605 Views|2 years ago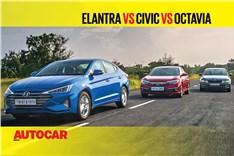 Hyundai Elantra facelift vs Honda Civic vs Skoda Octavia ...
9074 Views|2 years ago
2019 Hyundai Elantra facelift video review
10499 Views|2 years ago