18,000km on our long-term Hyundai and it still feels as tight as a drum; no rattles, no shakes.
Our long-term Elantra has been with us for a fair bit. Although initially, I spent a good amount of time behind the wheel, I haven't driven it at all in the last six months. This is probably why it is making such a strong second impression now. The light but feelsome steering, the responsive petrol engine, the simply brilliant touchscreen with its shortcut buttons, the amazing refinement – the list is just endless. The car feels just so effortless; it's an absolute joy to drive in and around the city.
OVER REACTIVE: Over-the-top throttle responses make using Sport impossible.
Then comes the rains. And, as many of you must know, when it rains in Mumbai, it rains! For a couple of days, it seems almost apocalyptic: lashing winds, hard rain, fallen trees, cars wading through pools of water, wheels partly submerged. Some low-lying roads near the office often flood. So to avoid them, I take the long way to and from work. There's no way I'm taking this low-slung 'submarine' of a car into the 'deep'. I can well imagine myself sitting there in the 'conning tower', surrounded by water, the low bonnet almost submerged. And that big 2.0-litre engine; it will just suck water in through the narrow straw-like inlet.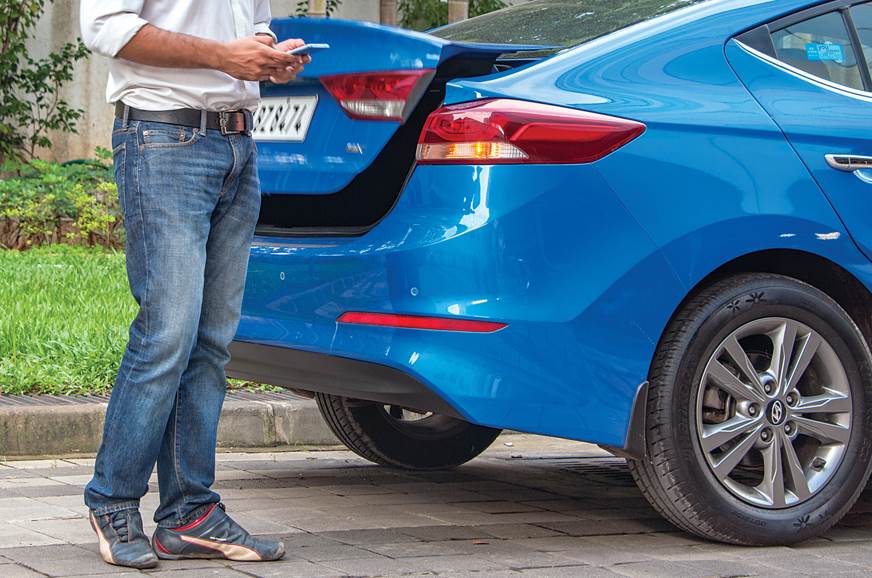 EXTRA SMART: Smart Boot pops open every time you walk past. Aaarghh....
Luckily, taking the long way home isn't so bad. Traffic is often light, and though there is a bit of water on the roads, the Elantra has a nice clean run for a couple of days. Mumbai's elevated roads, for once without too much traffic, are just a joy. The sure-footedness in the wet is reassuring. This Hyundai feels genuinely well balanced in corners and what impresses even more is that it doesn't fall apart when I drive it a bit quicker. And I simply love the fact that it is a sedan and not an SUV. The weight is placed low down, it feels happy and not nervous at speed, and the only rock and roll I have to contend with comes from the speakers. Guess it's sedans that are the niche now, not SUVs.
QUICK GUN: Instant responses from low speed make it super in traffic.
I love the low-slung lines; I still give the Elantra a good hard stare every time I walk through the parking lot. And, incredibly, the lines and the details just seem to be getting better and better. What's surprised me most about the car, however, is the build. Hyundai's cars have always had a 'tougher than Japanese' build, and here I'm happy to state, the Elantra almost feels European. Even 18,232km on, there's not a rattle or a squeak from inside the cabin, and that's amazing.
NOT A SQUEAK: No rattles either. And it feels good for another 20,000km.
Still, there's a lot I don't like about this car. My pet peeve is the overreactive 'Sport' mode; throttle responses are so over the top, it almost feels like the car has a mind of its own. I've stopped using the cooled seats, they gave me a stiff back, the gearbox shifts inconsistently in 'Eco' (the one best suited to everyday driving), and now, the boot pops open every time I walk past it with the key in my pocket. Silly car. All that aside, this has to be one of Hyundai's best cars on sale. And to top that, I think it's much, much cooler than any of the Korean carmaker's SUVs.
Also see:
2016 Hyundai Elantra long term review, fourth report
2016 Hyundai Elantra petrol long term review, second report
2016 Hyundai Elantra petrol long-term review first report
Hyundai i20 facelift image gallery
7749 Views|29 days ago
Hyundai Exter image gallery
35504 Views|1 month ago
2023 Hyundai Verna vs Honda City: Which is the better CVT...
6791 Views|15 days ago
Hyundai Verna vs Skoda Slavia vs Volkswagen Virtus video ...
12685 Views|1 month ago