These three cars blur the lines between budget-friendly hatchbacks and compact SUVs. Gavin D'Souza tells you which one carves out the best niche in this new sub-compact segment.
If there's a gap to be plugged in the market, you can be almost certain these days that it will be filled by some manner of SUV.
Or at the very least, a car with SUV aspirations. We saw way back in 2015 with the Renault Kwid that even the smallest of cars could deliver SUV appeal just by virtue of butch looks and a healthy serving of ground clearance. For long, there was no SUV-like vehicle between the Kwid and the near-4m-long SUVs that we call the 'compact SUV' segment, save for perhaps the Mahindra KUV100, which failed to make an impact.
Tata Motors, with the Punch, has aimed for that gap with a laser focus, delivering the looks, toughness and ground clearance of an SUV in a 3.8m-long package. Renault and Nissan, however, have a different approach to delivering a more affordable SUV. Apart from the well-priced 1.0 Turbo versions we've tested before, the Kiger and Magnite are both offered with lower-powered naturally aspirated 1.0 petrol engines, which further widen the price gap to the rest of the 'compact SUV' segment, and bring them right on par with the Punch. And these are the versions we have with us today. So, if you're looking for that SUV experience on a tighter budget, which of these three is best for you?
Tall Boys
Looks, as I mentioned earlier, are a crucial part of the appeal at this end of the market, and personally, I think all three look great in their own right. The Punch screams out that it wants to be an SUV with the tallest height and most upright shape. The split headlamp treatment links it to the Harrier and Safari – a good move, indeed – and the generous black cladding all around gives it that tough appeal. Moreover, the subtle muscularity of the bodywork, 16-inch wheels and tiny tail-lamps cleverly trick you into thinking that it's larger than it is.
The Renault Kiger is at the opposite end of the spectrum, with the most crossover-like design. It's the one with the most sharply raked glasshouse and, particularly in two-tone paint, it has an almost coupe-like profile. Adding some muscle are the big black housings for the headlamps in the front bumper, chunky wheel arch cladding and smart 16-inch alloy wheels, while the 3D tail-lamps are a nice touch, too. In an ironic side effect of family resemblance, it looks all too similar to the cheaper Kwid, which people often mistake it for at first glance.
The Nissan Magnite strikes a neat balance between swoopy crossover and bold SUV. Its huge, chrome-bracketed grille certainly gives it presence, and there are loads of other smart details, like the sharp headlamps, sporty alloy wheels and silver cladding under the doors. Also, despite some sharp angles and creases, it looks visually the largest, being a touch boxier and more upright than its cousin, the Kiger. Incidentally, the Magnite is a few millimetres longer and wider than the Kiger, but both stretch the tape to nearly 4m in length, compared to the Punch's 3.8. The Tata, however, is taller than both. And ground clearance? The Punch offers a decent 180mm, but the Kiger and Magnite simply offer more, at 205mm each. .
Dimensions
Tata Punch
Renault Kiger
Nissan Magnite
Length
3827mm
3991mm
3994mm
Width
1742mm
1754mm
1758mm
Height
1615mm
1605mm
1572mm
Wheelbase
2445mm
2500mm
2500mm
Ground Clearance
180mm
205mm
205mm
Boot Space
366 litres
405 litres
336 litres
Fuel Tank Capacity
37 litres
40 litres
40 litres
Tyres
195/60 R16
195/60 R16
195/60 R16
Spatial Delivery
It's no easy task delivering big SUV space in small vehicles like this, and each manufacturer has been clever in scooping out as much passenger space as possible. Unsurprisingly, given their larger size, the Kiger and Magnite immediately feel the most spacious to sit in, front seat or back. You immediately notice the greater cabin width, and these cars are better at fitting three in the back seat than the Punch. Head and knee room here are greater too, but the two cars are not identical. A consequence of its rakish exterior design, the Renault Kiger does make you feel a little cooped up in the back seat, thanks to higher door sills and smaller windows than the Magnite. You also sit a little lower to the floor, which doesn't help in this regard, freeing up some head room but reducing thigh support, and the seat cushioning is noticeably firmer. The Nissan's feels like the best back seat of the three, excelling not only on space, but comfort and a feeling of airiness too; the silver accents and grey denim-like upholstery on the doors also add some visual relief, compared to the Kiger's all-black interior.
High-set Punch seat gives a good view forward, but space not as good as others.
Stepping into back seat of the Punch after either of the others immediately highlights how much smaller a car it is. You feel hemmed in by the width, and though you sit higher up and get a better view forward, it's clear there just isn't as much knee or head room on offer here. The seats, however, are very supportive and strike a neat balance between firm bolstering and comfort. One sore point, though, is the absence of rear AC vents, which you do get in the other cars. In conclusion, space in the Punch's back seat feels more akin to a high-riding hatchback, while the other two are what you'd expect from a compact SUV.
Kiger's small windows make it feel less spacious than it is; you sit lower down too.
A quick look at the boots shows the Punch's relatively small size, and though its 366 litres is larger, on paper, than the Magnite's 336 litres, the way it's shaped means you get less usable space in the Tata. In fact, it seems like there is something amiss in Nissan's measurement, because its boot appears to be about the same size as the Kiger's, which is rated at 405 litres.
Magnite's back seat has big space and a good sense of airiness. The best of the lot.
To the bridge
One thing all these cars have in common is telltale signs of being built to a price; however, it's how each one balances out their presentation that sets them apart from one another. The Punch, right away, looks good at first glance, with a layered, nicely contoured dashboard and multiple colours and textures to liven things up. The AC vents can even be contrast coloured and you'll like the tall, pukka SUV driving position. Poke around a bit, though, and you'll find sharp edges and rough plastics that don't feel as good as they look, with less-than-desirable fit and finish. Moreover, the 7.0-inch touchscreen (more on this later) is a tad small, and the asymmetrical part-digital instrument cluster isn't nearly as well executed as those of the other cars'. Storage, too, isn't great, with small door bins, shallow cupholders and an average-sized glove box.
Punch cleverly uses various colours and textures to help disguise basic plastic quality.
The Nissan Magnite, on the other hand, offers the most usable in-cabin storage. The glovebox and door bins are massive, the centre console has big cup holders, and there is a phone tray and a big storage bay ahead of the gear lever. That nice denim-like finish features on the front armrests, too, adding a premium-feeling touch, and the seats feel big and comfortable. Quality levels are a notch above the Punch, with simple yet solid-feeling plastics that are decently put together. It's just that the largely black colour scheme with little visual relief looks far too bland and gives the impression of being low quality, even though it isn't. The hexagonal AC vents are a nice touch, though.
Dull Magnite interior is the least interesting, but scores high on practicality and storage.
Both, the Nissan and the Renault have big, colourful 7.0-inch digital instruments screens with various selectable displays – a highlight of their long features lists. Though very clear and informative, some might find the Magnite's graphics a bit cartoonish, whereas the Kiger's look far more upmarket. And that's the sense you get all over the Renault cabin. Plastic quality, fit and finish are the same as in the Nissan, but the design is more premium. It, too, is heavy on the dull black plastic, but there's a nice dull bronze plastic strip bisecting the dashboard, and the raised centre console is finished in piano black. It's a bit 'form over function', though – storage within the tall, narrow centre console is deep and hard to access, the gear lever sits a touch too high and far forward, and the seatbelt buckles are tucked in a recess that's inconvenient to access. And these are just a few of the many ergonomic oddities you'll find in the Kiger.
Kiger has the best perceived cabin quality, but frustrating ergonomic oddities abound.
Gadget quest
You can't argue that the Kiger isn't well equipped, though. For a car at this price, it's astonishing that you get drive modes (the Punch does offer an Eco setting too), digital dials, four airbags, full-LED headlamps, wireless Apple CarPlay and Android Auto, front parking sensors, a wireless charger, an air purifier and more. Okay, some of that is tied to an accessory pack (which our test car is not equipped with), but even that does not drive the price up by much!
Kiger's three drive modes are noticeably distinct.
Amazingly, it's the Magnite that's even better equipped, and apart from drive modes and side airbags, it gets everything the Kiger does and then some. Tyre pressure monitoring, 360-degree cameras, some connected features and a JBL sound system (some of this, too, is part of an affordable accessory kit) are all on offer – in a budget SUV!
Magnite dials are neat but a bit cartoonish to look at.
The Tata Punch trades blows with the others admirably on the features front, but ultimately it does fall a little shy. It too gets some connected car features, as well as a great-sounding Harman audio system, plus auto headlamps and wipers, which the other two don't have (see box).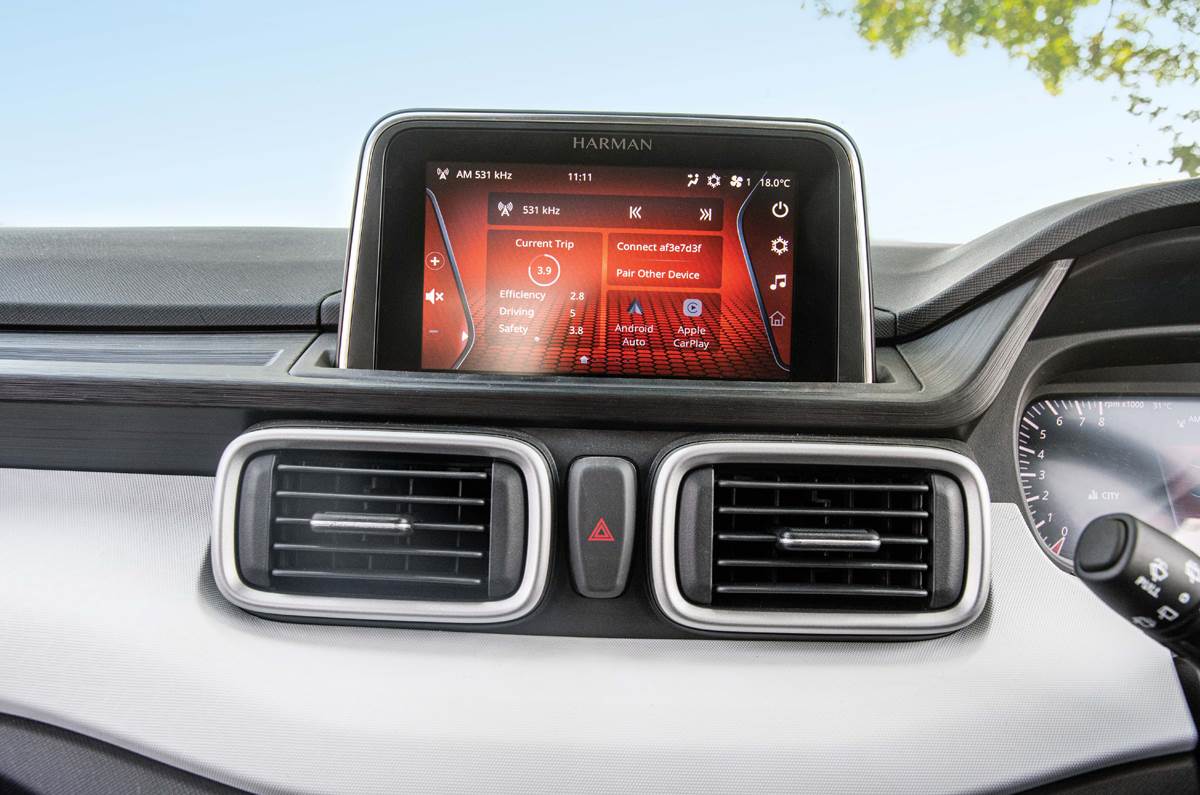 Small, crowded touchscreen slowest in operation.
Let's talk about the touchscreens themselves though, and while none is as quick or smooth as what you'll find in a Hyundai or Kia, the Punch is a clear step below the other two (which are also larger, at 8.0 inches apiece). Its screen is the slowest, the graphics are small and crowded, and touch sensitivity is incredibly low. Despite all this, though, the Punch can at least claim to have a 5-star crash test rating from Global NCAP; neither the Kiger nor the Magnite has yet been tested.
Kiger digital dials look the most sophisticated here.
Features
Tata Punch Creative (O) MT
Renault Kiger Energy RxZ MT
Nissan Magnite B4D XV Premium MT
Touchscreen
7.0-inch
8.0-inch
8.0-inch
Apple CarPlay/Android Auto
Wired
Wireless
Wireless
Connected car tech
Available
NA
Available
LED headlights
NA
Available
Available
Keyless entry & go
Available
Available
Available
Reversing camera
Rear
Rear
360-degree
Wireless phone charger
NA
Optional
Optional
Tyre pressure monitor
NA
NA
Available
Auto climate control
Available
Available
Available
Auto headlamps
Available
NA
NA
Auto wipers
Available
NA
NA
Digital instrument cluster
Part
Available
Available
Drive modes
Available
Available
NA
Air purifier
NA
Optional
Optional
Rear AC vents
NA
Available
Available
Cruise control
Available
NA
Available
Parking sensors (f/r)
NA/Available
Optional/Available
NA/Available
Airbags
2
4
2
Packing a...
What the Tata also has are the headline figures on engine spec. Strictly speaking, that's not saying much, since we're talking small, three-cylinder naturally aspirated petrol engines here. The Punch's 1.2-litre unit puts out 86hp and 113Nm to the Magnite and Kiger's common 72hp and 96Nm. However, the tough little Tata weighs roughly 100kg more than either of the others, so that's bound to affect performance.
And it does! The Punch is the slowest of the bunch in most areas, taking 16.14sec to get to 100kph, although the Kiger is not far behind, at 16.12sec. The Magnite is well over a second quicker, at 15.33sec, but it has to be noted here that our test Kiger was brand-new and had not been fully run in yet, so the figures may not be representative. We expect it to be closer to the Magnite. You will agree, however, that none of these small SUVs is close to what you'd call quick, and that continues in in-gear acceleration, where all three cars took over 14sec to get from 20-80kph in third gear, and over 20sec from 40-100kph in fourth. That's disappointing, since effortless performance is usually what you expect from an SUV, and that reveals these cars' true positioning. Still, if it's performance you seek, for a greater outlay, you can have the Nissan and Renault with turbo-petrol engines, and we hear a punchier Punch i-Turbo is in the works, too.
But let's dial it back and see what they're like when you aren't chasing down performance figures. The Punch, with more cubic capacity and power, does feel the strongest overall, relatively speaking, but this is far from what you'd call a punchy engine, and there's a catch. At lower engine and vehicle speeds, Tata's Revotron motor, true to form, stutters quite a bit, making for an unpleasantly jerky experience off the line, or if you ever let the revs drop too low while pottering around. You will find yourself shifting gears a lot, so luckily the Tata has a light clutch and gearshift action. Once you get into the mid-range, this engine comes closer to living up to the car's name, and keeping it between 2,000 and 4,000rpm is advisable if you want to maintain a good momentum. It's even got a bit of a top end, but again, it's far from what you'd call exciting, nor is it particularly free revving.
The Kiger and Magnite, as they share the same mechanicals, including the 999cc naturally aspirated petrol engine and 5-speed manual gearbox, are similar to one another to drive.
They, unlike the Punch, offer up a smoother experience at low revs, with far less stutter and a cleaner step off the line. That's not to say they're sprightly, but just better at ambling about at low revs in a higher gear, and in this regard, the Kiger felt marginally more hesitant than the Magnite. What doesn't help here is that both the Renault and Nissan have long-travel clutch pedals whose bite point is sharp and located right at the end of the travel. This makes transitioning smoothly between gears tricky. Moreover, neither of the two has a dead pedal to rest your weary foot; the Punch does.
Still, the way they have been tuned, the initial power delivery from the Renault-Nissan B4D naturally aspirated 1.0-litre engine is decent, but it very soon plateaus as you get into the mid range. Revving the engine out feels like a wasted exercise, all noise and little progress, and you're far better off shifting up early and moving along gently. The Kiger's drive modes – Eco, Normal and Sport – do make a difference, perhaps more so with this naturally aspirated engine than the Turbo, as the difference is far more discernible. Stay away from Eco because it hamstrings the engine to the detriment of drivability, making things far too jerky. Normal is great for everyday driving and Sport brings some urgency to the mix. The Punch has an Eco mode too, but we didn't notice too much of a difference in the driving experience. None of these cars is what you'd call a highway star, but the Punch's marginally stronger mid range will stand you in better stead for overtaking at high speeds.
Engine and Performance
Tata Punch
Renault Kiger
Nissan Magnite
Engine
3 cyls, 1199cc, petrol
3 cyls, 999cc, petrol
3 cyls, 999cc, petrol
Power
86hp at 6000rpm
72hp at 6250rpm
72hp at 6250rpm
Torque
113Nm at 3300rpm
96Nm at 3500rpm
96Nm at 3500rpm
Gearbox
5-speed manual
5-speed manual
5-speed manual
PERFORMANCE
20kph
1.48
1.24
1.20
40kph
3.66
3.27
3.08
60kph
6.95
6.03
5.88
80kph
10.60
10.68
10.20
100kph
16.14
16.12
15.33
ACCELERATION
20-80 (in 3rd gear)
15.58
17.41
14.18
40-100 (in 4th gear)
25.77
28.00
21.43
Curveball
So, relatively speaking, the Punch has the more eager engine here, and that's complemented nicely by its chassis set-up. Tata's Alfa platform proved its ride and handling chops in the Altroz, and there's more of the same in this higher-riding vehicle. Though it's the smallest of the three cars here on paper, there's a big-car feel in the robustness with which it tackles bumps. It cushions passengers much better and can do this, unfazed, at speed too, whereas the Kiger and Magnite get unsettled all too easily.
The Punch is the most agile in corners and stable at speed too.
Though the other two cast a wider footprint on the road, it's the Punch that feels more stable at speed as well. That has a lot to do with its weightier and more confidence-inspiring steering, which incidentally makes it great fun in the bends too. Body control, especially for a tall car, is very impressive, and the little Tata corners gamely. The Kiger and Magnite have been given very light, but also very slow steering racks, requiring far too many turns lock to lock. Though this makes steering easy, it robs these cars of any agility, which is a shame because their suspension set-ups – a touch on the firm side – do have a lot of potential for good handling. The Magnite rides a little firmer than the Kiger, though both offer a reasonable amount of passenger comfort on our roads.
None of them are highway stars, but the Punch's stronger mid-range helps in high-speed overtaking.
The other upside of Tata's Alfa platform is sound insulation, which feels far superior to the Renault-Nissan CMF-A+. Tata's petrol engine isn't the most refined, but the in-cabin experience is still quieter, and you get less road and wind noise too. Both the Kiger and Magnite let in far too much noise, be it from under the bonnet or the wheels, and overall, on the dynamics and refinement fronts, feel like they've been derived from budget hatchbacks, while the Punch feels like it's born of something more premium.
Mini Might
Take the tough job of the compact SUV and crunch it down to a segment below and the task at hand becomes even tougher. The cost constraints are far greater, but buyer expectations are still pretty high. There are two distinct approaches here, so which one works best? Well, it's close.
The Tata Punch, the smallest of the bunch, delivers that big-car feel from behind the wheel. It has a mature ride and handling package, an SUV-like driving position, and, for whatever its worth, a relatively stronger engine. But let's face it, with their small-capacity naturally aspirated three-cylinder engines, performance isn't a consideration here; no, what customers will be after is value. And in this company, the Punch simply can't compete on that front. It lacks the cabin and boot space the others offer and misses a few features too, but most of all, it's the ambitious pricing, which is the highest of the lot and dangerously close to the Nexon, that keeps it from winning this test.
Despite being the most affordable, the Magnite also gives you the most, making it the value champ of this lot.
So it's down to the second approach taken by the Renault-Nissan Alliance, where both cars deliver big space and loads of features at aggressive prices. If appearances are important, the Renault Kiger delivers a strong first blow. Outside and in, it looks very upmarket, and that's helped along by a generous equipment list that delivers the feel-good factor. What lets the Kiger down are the myriad ergonomic quirks in the cabin, a back seat that's not the most comfortable, and a tall, heavy clutch pedal that makes low-speed driving tricky.
That last one is something that plagues the Magnite too, unfortunately, but it's not as pronounced as in the Kiger. The Japanese brand has worked hard to make the cabin environment a lot easier to live with, with more storage spaces, friendlier ergonomics, better comfort and a greater sense of space. And if these weren't enough to edge it ahead of the other two, it's the knockout value proposition that clinches it for the Magnite – it simply delivers the most in terms of useful and feel-good features, and does so at the lowest sticker price. So, if you're after the 'SUV' that gives you the very most on a tight budget, the Nissan Magnite is the one for you.
Verdict
Tata Punch Creative (O) MT
Renault Kiger Energy RxZ MT
Nissan Magnite B4D XV Premium MT
Price (ex-showroom, Delhi)
Rs 8.79 lakh
Rs 7.91 lakh
Rs 7.85 lakh
Rating
7/10
7/10
7/10 [OUR CHOICE]
Verdict
Tough baby SUV with great presence, let down by ambitious pricing.
Premium feeling and stylish inside out, but full of ergonomic flaws.
A few rough edges, but ultimately the best SUV package at a killer price.
Also see:
Tata Punch vs Nissan Magnite vs Renault Kiger comparison video