Volvo's new entrant is eager to impress with its features list and attractive price tag. We find out if it is better than the segment-best, the BMW X1.
If you're in the market for an entry-level premium SUV, there's an all-new option now in the form of the XC40. Volvo has come out all guns blazing with this stylish, feature-rich SUV, and what makes it even more appealing is its price range of Rs 39.90-43.90 lakh, that's a bit cheaper than the fun-to-drive BMW X1. Will buyers love the Volvo for its freshness or will the BMW's practicality make it our pick in the segment? Let's find out.
Number Game
Within a few weeks since its launch, Volvo introduced two more variants of the XC40, taking the total count to three. The model tested here is the R-Design variant priced at Rs 42.90 lakh, which sits between the Momentum (Rs 39.90 lakh) and Inscription (Rs 43.90 lakh) trims. This is the first car to be based on the all-new CMA (Common Modular Architecture) platform that's co-developed and shared with parent company Geely Auto. It is wider and taller than the BMW by 42mm and 40mm, respectively, and its wheelbase is longer by 32mm. The XC40 looks like a proper SUV thanks to its upright stance and flat bonnet. The Thor's Hammer LED DRLs, signature front grille and attractive 18-inch wheels make it a head-turner. Moving away from the front, the sharply kinked upward sloping window line, the dual-tone roof and the distinct tail-lamps only add to the XC40's appeal.
Ride comfort is very good and the XC40's larger profile tyres smother rough surfaces with disdain.
BMW offers the X1 in three variants, with prices ranging between Rs 34.50 lakh (Expedition) and Rs 44.50 lakh (M Sport, variant tested here). It is based on the UKL2 platform that's shared with the Minis, and the X1 is actually longer than the XC40 by 14mm. In comparison to the Volvo, the BMW is low-slung and has a more crossover-like stance, with its low-profile tyres and the M body kit conveying its racier intentions.
Dimensions
Volvo XC40 R-Design
BMW X1 M Sport
Length
4425mm
4439mm
Width
1863mm
1821mm
Height
1652mm
1612mm
Wheelbase
2702mm
2670mm
Fuel tank
54 litres
61 litres
Tyre size
235/55 R18
225/50 R18
Heart of the Matter
Both the SUVs are powered by 2.0-litre diesel engines making 190hp at 4,000rpm and 400Nm of torque between 1,750-2,500rpm, and are mated to eight-speed automatic gearboxes transmitting power to all four wheels. However, the similarities end here.
The X1 will plaster a huge smile on the face of those who love driving. Its ride is firm in comparison, though.
The XC40's diesel is extremely responsive to the slightest flex of your foot and power flows in smoothly and effortlessly. There's ample torque at lower revs, but in the mid-range it's nice and strong and the motor spins freely to a modest 4,200rpm. The engine is pretty refined at low and cruising speeds, but the diesel rattle is prominent inside the cabin at higher revs. The automatic gearbox is smooth and shifts are seamless, but the short, stubby gear lever has an ultra-short throw and you need to look at the indicator to see if you've shifted to the correct gear position.
Powertrain and performance
Volvo XC40 R-Design
BMW X1 M Sport
Engine
1969cc, 4 cyls, diesel
1995cc, 4 cyls, diesel
Power
190hp at 4000rpm
190hp at 4000rpm
Torque
400Nm at 1750-2500rpm
400Nm at 1750-2500rpm
Transmission
8-speed automatic
8-speed automatic
0-20kph
0.82s
0.77s
0-40kph
2.37s
2.02s
0-60kph
4.09s
3.48s
0-80kph
6.60s
5.42s
0-100kph
9.54s
8.07s
0-120kph
13.11s
11.67s
20-80kph (in kickdown)
6.05s
5.16s
10-100kph (in kickdown)
7.12s
6.67s
The BMW X1's response, on the other hand, feels a bit dull initially. Get past the initial power delay, however, and the engine has a strong performance and there's a spike in power which gives the X1 a nice spring in its step. Under normal driving conditions though, turbo lag is noticeable, and what makes matters worse is that the gearbox takes a while to downshift when you suddenly put your foot down, and this can be quite frustrating. Shift to Sport mode and it rewards the driver with athletic performance and a far more responsive gearbox. It transforms the car so well that it is the faster one here when it comes to performance. Thanks to its launch control system, it takes just 8.07sec to reach 100kph from a standstill, which is 1.47sec quicker than the Volvo. Even within the gears, the X1 is quicker from 20-80kph and 40-100kph.
That fine balance
Volvo has tuned the XC's suspension really well. There is a hint of firmness to the ride, but the big 235/55 R18 tyres just smother bad roads, keeping the car composed at all times. The four-wheel-drive system offers confidence-inspiring grip around corners, and while there is some roll due to its tall stance, the XC is still reasonably fun when driven hard. Even the steering is great; it is light and consistent, yet offers adequate feel and accuracy at speeds.
The X1 is great fun around corners and is sharp in the way it changes directions. Grip levels are further enhanced by the four-wheel-drive system, which ensures tidy and predictable handling. Adding to the experience is its steering that, although a bit heavy, is bristling with feel and feedback. In addition, body roll is negligible, the driving position is low-slung, and the large paddleshifters only add to the X1's sportier character. However, because of its lower profile 225/50 R18 tyres and stiffer suspension, the ride is firm, and it tends to crash over bumps. It isn't uncomfortable per se, but the X1's ride feels quite busy.
Touchscreen on the XC40 is intuitive, controls most of the functions.
Inner Peace
Right from when you open the door, the XC40's cabin has a 'wow' effect. The interiors look watered down in terms of quality when compared to more expensive Volvo SUVs, but the quality of materials used is great. And though there aren't any soft-touch plastics on the dash, several bits, like the steering, vertical touchscreen and virtual instrument cluster, are carried over from more expensive Volvos, making the cabin very appealing. The subtle use of chrome and the silver trim on the dashboard complement the design well. The orange, lava-coloured carpets and door pads might not be to everyone's taste but it's an option that can be deleted. The seats of the XC40 are part leather and part Alcantara, and for sheer comfort, these aren't as nice or supportive as the BMW's. Another complaint is that the rear doors don't open wide enough and the seat itself is small. Passengers here are seated a bit low with their knees up, and the backrest is upright. Like in the front, the rear occupants get a seat-heating option, and what's nice is that there are many hidden storage areas and thoughtfully designed spaces across the cabin.
Speed, navigation and warnings on the X1's head-up display.
The X1's interiors impress with its chocolate-brown and black theme. There's generous use
of soft-touch materials, double stitching on the doors and dashboard, and lovely lacquered wooden trim, all of which feel very premium. The three-spoke 'M' steering with it oversized paddleshifters looks sporty and is superb to hold. Even the front seats are extremely supportive, with plenty of adjustments, including adjustable side bolstering. Cushioning, though, is a bit firm. The cabin is spacious, with a good amount of room at the back as well. The back seat is comfortable and offers adequate support, and is wider, so a third passenger can be accommodated more comfortably. In addition, the backrest can be split in a 40:20:40 ratio and can also be individually reclined. Furthermore, the seats can be slid to accommodate more cargo as well. So, it is the BMW's cabin that's the more practical of the two, with several storage areas and a larger 505-litre boot.
Equipment list and price
Volvo XC40 R-Design
BMW X1 M Sport
Price (ex-showroom, India)
Rs 42.90 lakh
Rs 44.50 lakh
Panoramic sunroof
Yes
Yes
Paddleshifters
Yes
Yes
Android Auto / Apple CarPlay
Yes
NA
Heated seats
Yes
NA
LED headlamps
Yes
Yes
Cruise control
Adaptive
Yes
Electric tailgate
Yes
NA
Lane departure warning
Yes
NA
Wireless phone charging
Yes
NA
Icing on the cake
When it comes to equipment, it's the XC40 that's the better equipped of the two. It gets radar-based safety kit like adaptive cruise control, pilot assist, collision mitigation system, lane-keeping assist, as well as premium features like a virtual instrument cluster, electric tailgate, semi-automatic parking, 9.0-inch touchscreen infotainment, Android Auto/Apple CarPlay, wireless phone charging, keyless entry and heated seats.
Volvo has loaded the XC40 with radar-based tech.
Both these SUVs are fitted with a reversing camera, dual-zone climate control, paddleshifters, driving modes, auto LED headlights and wipers, panoramic sunroof and 18-inch wheels. Unique to the X1 are a head-up display and reclining/adjustable rear seats.
X-factor
The BMW X1 is the sportier of the two; it has the nicer steering, sharper handling, and a car-like driving position. Even in terms of practicality, it scores better with more space, comfier seats and a larger boot. Taking practicality a step further, BMW is giving owners the option of prepaid maintenance packages for up to 10 years, and a more comprehensive extended warranty package, for added peace of mind. Yes, its ride is a bit firm and it looks more crossover-like than SUV, but what really sways the game away is the price, which is higher than the better-packaged Volvo XC40.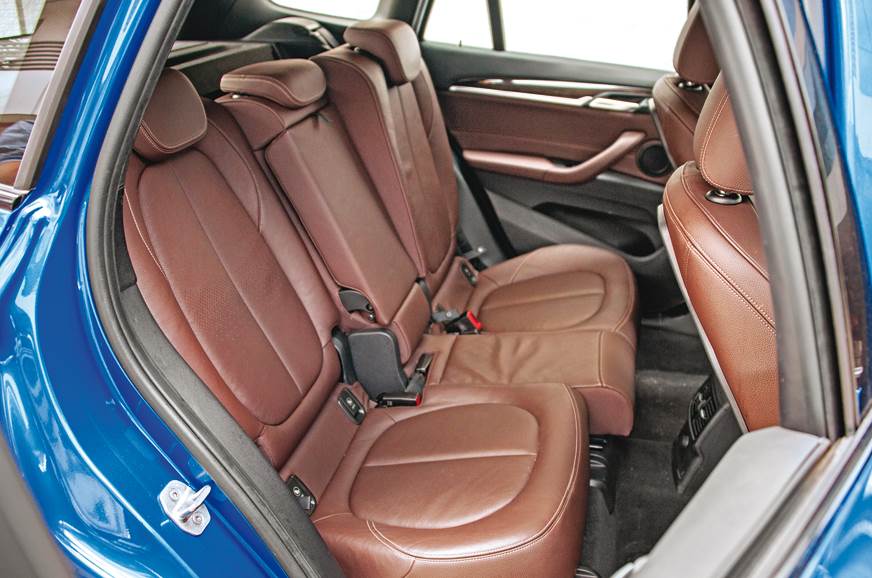 Seats split in a 40:20:40 ratio. Can be slid too.
But that's not the only reason why the Volvo XC40 wins this comparison. It is a stylish, youthful SUV that comes as a breath of fresh air in the segment. Looks aside, it has the more appealing, high-quality interior, it is smooth to drive and then there's its equipment list, which includes radar-based tech that really takes its value quotient up several notches. Rear-seat comfort could have been a bit better but that isn't really a deal breaker. What could be a let-down, however, is the brand's scanty support network. But if you have a Volvo touchpoint near you, then this is the car you should vote for.
Also see: