Toyota's Yaris takes on the segment-best Hyundai Verna in the battle of the mid-size petrol-automatics. Which one is better?
Toyota has made its long overdue entry in the hotly-contested, premium mid-size sedan segment, with the introduction of the Yaris. To take on the competition, Toyota has packed the Yaris to the brim with many features that are not just first in class, but also not seen on cars even from a segment above. This strategy has been successfully executed by companies like Hyundai over the years, and what Toyota has also focused on, uniquely, is safety. So, in many ways, it starts out with an advantage. But is that enough for it to win? Or will the Verna, the best petrol-automatic in this class, manage to stay ahead?
What are they like on the inside?
Step into the Yaris and there is a sense of familiarity here. The layout has a neat flow to it and the use of contrasting materials like silver accents, piano black inserts for the dashboard work well. The 7.0-inch touchscreen infotainment takes centre stage, and though it looks like an aftermarket addition, functionality is fair. Also practical are the big air con vents, with the buttons and knobs around it functioning with a slickness that's impressive. The glovebox is cooled, and there are quite a few cubbyholes and bottle holders around the cabin as well.
Space at the back of the Yaris is a bit tight in comparison.
The seats up front are nice and broad, and achieve a balance between soft and supportive. There is good legroom and headroom, thanks to seat height adjust. And the driver's seat can be adjusted electrically on the top two variants, a first in this segment. A tiny irritant, however, is the centre armrest that is quite oddly placed and is not convenient to use.
Get in the back, and the Yaris' sloping roofline, roof-mounted air con vents and the relatively high window line gives the cabin a cramped feel. The headroom is adequate as long as you're under 6ft, but legroom, surprisingly, is good, despite the Yaris having the shortest wheelbase in the segment. The backrest is perfectly reclined, the overall support for the shoulders is better than on the Verna, and underthigh support is another plus.
Verna's rear seats are set low which affects getting in and out.
The interior of the Verna is bit more reserved and modern-looking. Straightforward and simple, there is no clutter or oblique design cues here. Also, the all-black interiors look posh and the subtle use of silver accents in some places gives it a classy look. It feels more luxurious and more expensive. The buttons and knobs are built better than the Yaris', and the quality of materials on the whole is a step up from the Toyota; the Verna really does give off a bit of a luxury vibe. The front seats are broad and comfy. Cushioning, however, is a tad firm and the biggest issue is that the rear seats are placed low, and you are sat with your knees up. Headroom is at a premium too but legroom is better here. At 480 litres, the Verna's got the larger boot, but the high loading lip makes loading and unloading a bit cumbersome.
Dimensions
Toyota Yaris 1.5 VX AT
Hyundai Verna 1.6 SX(O) AT
Length
4425mm
4440mm
Width
1730mm
1729mm
Height
1495mm
1475mnm
Wheelbase
2550mm
2600mm
Boot space
480 litres
476 litres
Fuel tank
42 litres
45 litres
Tyre size
185/60 R15
195/55 R16
How do they compare on equipment and safety?
Toyota has equipped the Yaris lavishly when it comes to equipment. Important safety features are available even on base variants. For example, all models get seven airbags, ABS with EBD and brake assist, and three-point seat belts for all passengers as standard. Other kit includes a cooled glovebox and an audio system. The top trim gets the works – a 7.0-inch touchscreen with navigation, gesture control, keyless entry/go, electric driver's seat, roof-mounted air vents, rain-sensing wipers, cruise control, automatic headlamps, ESP and front parking sensors.
Electric adjustment for the Yaris' driver's seat; a segment first.
The Verna too, is loaded with kit like projector headlamps with LED DRLs, cooled front seats, a sunroof, cruise control, reverse camera with parking sensors, Isofix tethers and an equally impressive six airbags on the top SX trim. The 7.0-inch infotainment system here also features Apple CarPlay and Android Auto.
Ventilated seats for the driver and front passenger on the Verna are a boon.
Equipment and safety
Toyota Yaris 1.5 VX AT
Hyundai Verna 1.6 SX(O) AT
Auto headlamps
Yes
Yes
Cruise control
Yes
Yes
Ventilated seats
No
Yes
Reverse camera
Yes
Yes
Parking sensors
Front and rear
Rear only
Electric seat adjust
Driver only
No
Paddleshifters
Yes
No
Sunroof
No
Yes
Airbags
7
6
What are they like to drive?
The Yaris comes with a 1.5-litre petrol engine that makes 107hp, mated to a seven-step CVT automatic gearbox. Refinement levels impress as soon as you start off; there are no vibrations at the steering wheel, the cabin feels nicely insulated, and, even when you increase the pace a bit, there's no din inside. Initial power delivery is also good and the car moves effortlessly. Press down on the throttle and engine speed jumps up smartly to 3,000rpm and acceleration gets stronger; this makes it good for city driving.
Ask for more power, however, and the whine from the CVT increases, but there's no real increase in acceleration, and, as a result, performance in the mid-range feels flat. To gain more control and urgency, you could use the paddleshifters to downshift to a lower 'ratio' for more power. But this often is futile. Where you feel the relative lack of power is on the highway, where the Yaris takes its own time getting to higher speed.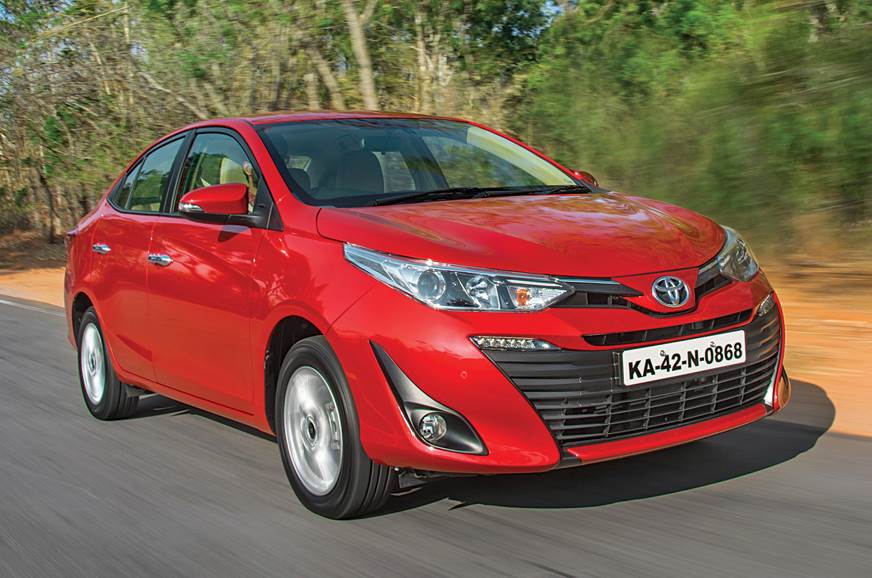 107hp petrol lacks punch and CVT is best used with a patient foot.
Powering the Hyundai Verna is a larger 1.6-litre petrol that makes a class-best 123hp. It's mated to a conventional six-speed torque converter automatic gearbox, but doesn't get paddleshifters. Engine refinement levels are fantastic, even better than the Yaris, and you barely notice it idling. Get a move on and the difference in power and acceleration, compared to the Yaris, just stands out. There is good pulling power even at low engine speeds, power flow in the mid-range is strong, and driving this car with your right foot down can be a satisfying experience. Performance, in fact, is so much stronger than the Yaris' that it is a full 2.0sec faster from 0-100kph. That said, should you mash in the accelerator pedal, the otherwise silent engine does get a bit boomy and you hear a lot more of it. However, it's the Yaris that's noisier, with it making a racket at high engine speeds.
You also get a manual mode on the Verna for better control but not paddleshifters, which could have added a bit more to the driver appeal.
The strong engine and gearbox offers better performance.
Powertrain and performance
Toyota Yaris 1.5 VX AT
Hyundai Verna 1.6 SX(O) AT
Engine
1496cc, 4 cyls
1591cc, 4 cyls
Power
107hp at 6000rpm
123hp at 6400rpm
Torque
140Nm at 4200rpm
151Nm at 4850rpm
Transmission
7-step CVT
6-speed automatic
0-100kph
12.77s
11.39s
Top speed
NA
188kph
50-80kph
NA
4.14s
20-80kph
9.9s
6.71s
40-100kph
10.4s
9.25s
Braking 80-0kph
NA
24.92m
Fuel efficiency
17.8kpl (ARAI)
10.4kpl (tested)
What about ride and handling?
At higher speeds, the Yaris' steering feels extremely vague and feedback to the driver is poor. So, as speeds build, confidence fades away. What also spoils the driving experience is that the steering is positioned too close to the dashboard, and being only tilt-adjustable, you have to reach for it. In corners too, while the Yaris is planted and has good grip levels, there's no driver enjoyment to be had.
Ride comfort is a big plus, though. While at city speeds, there is a hint of firmness, up the speed and the Yaris tackles broken roads and potholes with tremendous composure. The brakes too are another highlight of the Yaris. It gets discs in the front and the rear, which results in excellent braking, even in panic braking situations. It is only when you're in traffic that you feel the brake pedal is a bit too sensitive, and progress, as a result, gets slightly jerky.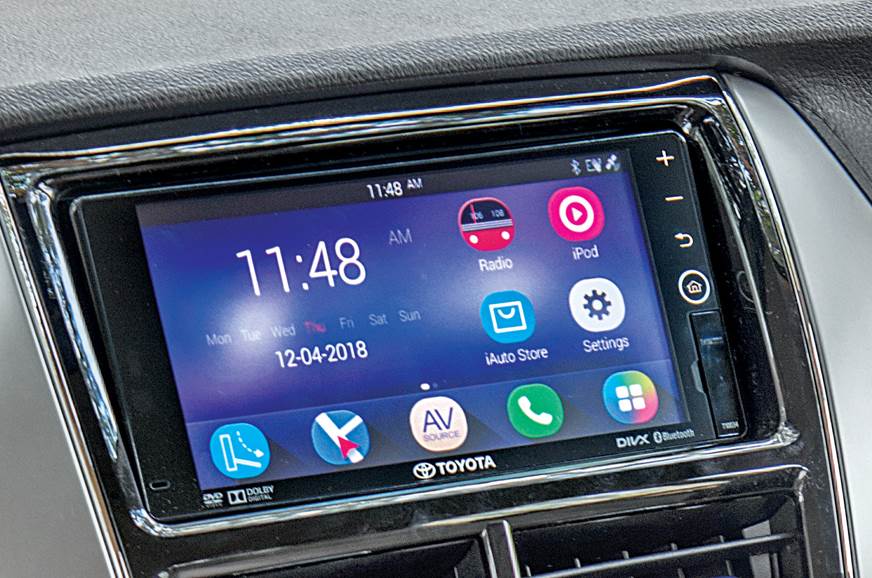 The Toyota's 7.0-inch touchscreen system gets gesture control, but no Apple/Android connectivity.
Braking, however, is where the Verna falls short. The pedal needs more effort than usual, and even when you push down hard in an emergency, the bite isn't as assuring as on a Yaris. Ride comfort at low speeds is decent, but as the speed rises, you feel more of the broken roads inside the cabin as the Verna thuds through potholes a bit more and tosses you around as well.
How much do they cost? And what warranties do they come with?
The Yaris is available with the CVT gearbox across the range. Its prices start at Rs 9.95 lakh for the J variant and go all the way up to Rs 14.07 lakh for the top spec VX. Toyota also offers a standard warranty of 3 years/1,00,000km that can be further extended up to 7 years/1,40,000km.
The Verna's petrol-auto powertrain, on the other hand, is only available on the mid-spec EX and the top-spec SX (O). Prices for the same are Rs 10.55 lakh and Rs 12.55 lakh (ex-showroom, Delhi), respectively. Hyundai offers a 3-year/60,000km warranty that can be extended up to 5 years/1,00,000km.
Verna's responsive and user-friendly 7.0-inch touchscreen gets Apple CarPlay and Android Auto.
Which one should I buy?
The Yaris might be a bit late to the party, but it has its strengths. Cabin space is generous, rear-seat comfort is better than the Verna's and there's a clear emphasis on safety which is something to appreciate. However, there are shortcomings. The Yaris doesn't excite in the way it looks or the way it drives, and it is quite pricey by class standards. It's hard to justify that Rs 1.5 lakh premium over the Verna automatic.
The Hyundai, on the other hand looks and feels like a bigger car, the quality of the interiors are a step up from the Toyota's, and while it may be down on a few features, the ones that are extra, like the ventilated seats, are of more value to our market. It's also much nicer to drive, and what makes it a well-rounded package, is that it is likely to be just as well-looked-after and serviced as the Toyota. In all, the Verna is the more rounded package, and remains the most complete petrol automatic mid-size sedan on sale in India today.