We analyse if your next petrol-automatic mid-size sedan should have a Hyundai or a Honda badge on it.
If you've been eyeing a petrol automatic mid-sizer, the Honda City is sure to have been part of your list. Fresh from a facelift earlier this year, the City is going strong and is presently the most popular auto in its class, high price (Rs 11.58-13.56 lakh, ex-showroom, Delhi) notwithstanding. New competition comes in the form of the latest Hyundai Verna that matches the City on specs and is considerably cheaper too (Rs 10.48-12.48 lakh, ex-showroom, Delhi). But is the Hyundai the petrol automatic you'd want to buy? Mumbai's perpetually choked roads have the answer.
SIX-SPEED VS SEVEN-STEP
The basic numbers first. Where the Verna's 1.6-litre petrol engine makes 123hp and 151Nm of torque, the City's 1.5 is good for 119hp and 145Nm. Both engines do have their own unique characteristics but, in the case of these very versions of the sedans, the differences in the driving experience are more a function of the gearboxes than the motors themselves. The Verna uses a six-speed torque converter, while the City features a seven-step CVT (continuously variable transmission).
Performance
Hyundai Verna 1.6 VTVT SX(O) AT
Honda City 1.5 i-VTEC ZX CVT
20kph
1.28s
1.49s
40kph
2.99s
3.54s
60kph
5.24s
5.68s
80kph
8.18s
8.31s
100kph
12.20s
11.51s
120kph
17.08s
15.75s
140kph
24.67s
21.84s
20-80kph (in kickdown)
6.71s
9.27s
40-100kph (in kickdown
9.25s
9.87s
Whether it's the Verna or the City, in bumper-to-bumper traffic, you'd just be happy these cars come with auto 'boxes with creep functionality. Both cars roll forward smoothly as you lift your foot off the brake, but when traffic starts picking up speed, you'll need to feather the City's throttle sooner; the Verna's low-end torque build up takes it forward without any throttle input. It's a small difference but convenient nonetheless.
As speeds build, drivers accustomed to or upgrading from a manual transmission car will immediately take to the Verna and its torque converter's mannerisms. Auto shifts at part-throttle are smooth and their timing feels very natural. It's just that the gearbox feels too eager as you weigh down just a little bit more on the throttle. Overtaking moves will be accompanied by a downshift or two, sometimes even when they're not entirely needed. This helps performance, but also has the otherwise quiet and refined engine visit the noisy part of its rev band. The option to take manual control via the shift lever is also there, should the gearbox's enthusiasm prove bothersome.
The City goes about things differently. Its CVT keeps the engine spinning at its efficient best at all times. While this is fine when you are cruising or driving at steady speeds in town, when you need to get by traffic and press down for instant power, you'll find engine revs rise much faster than a corresponding increase in road speed. This rubber band effect is a trait of CVTs and it's just something you'll have to live with. You'll also have to make your peace with the City engine's noise under load. The Honda does go one up on the Hyundai with its paddleshifters though. You can use them to shuffle through the gearbox's pre-set seven 'steps', and there's an 'S' mode too for the gearbox to liven proceedings further. Drive hard and you'll find it's the City with the more enthusiastic top-end (both cars' engines rev to 6,500rpm) and it's also the quicker car to 100kph from a standstill. However, in everyday city commutes, it's the Verna that is brisker and crucially calmer in its build of speed.
The Verna is also better at letting through fewer bumps of our roads into the cabin, and, in the process, lesser noise. And, surprise of surprises, it's the Verna that's also the more grounded car at higher speeds. The City in contrast always feels a bit skittish, as if its tyres are over their recommended pressures. Thanks to the higher decibel levels inside, the city feels a bit busier there. Both cars come with steerings that call for low effort in town, but when driving at higher speeds, the Verna's unit does tend to feel inconsistently weighted.
Technical specifications
Hyundai Verna 1.6 VTVT SX(O) AT
Honda City 1.5 i-VTEC ZX CVT
Length
4440mm
4440mm
Width
1729mm
1695mm
Height
1475mm
1495mm
Wheelbase
2600mm
2600mm
Engine
4 cyls, 1591cc, petrol
4 cyls, 1497cc, petrol
Power
123hp at 6400rpm
119hp at 6600rpm
Torque
151Nm at 4850rpm
145Nm at 4600rpm
Gearbox
6-speed automatic
7-step CVT
Type size
195/55 R16
185/55 R16
Kerb weight
1175kg
1107kg
BACK TO THE FRONT
You'll know which car works the best for you just by the way it looks, but the Verna and City are exactly the same length and have identical wheelbases too. However, the City has the more spacious cabin, which is most evident in the rear section where, compared to the Verna, there are a good few inches more of kneeroom and that vital bit more of headroom as well. The City's rear seat is also near-perfectly cushioned. Your passengers won't be uncomfortable in the Verna but the feeling that similar money could have got you a more spacious car could play on your mind when you are travelling five-up.
But, in a contest between two mid-size automatics, the seat of prime interest is the one behind the steering. It's the City's driver perch that gets our vote for the all-round support it offers. Honda has also jazzed up the cabin with a few soft-touch materials on the dash (okay, not too soft to the touch) and door pads, but it's got its blemishes. There are many hard and scratchy plastics in plain sight and there's a 'lightness' to some of the switches too. And while Honda's new infotainment system comes bundled with features, including a web browser, it misses out on modern-day essentials like Android Auto and Apple CarPlay. The touchscreen for the climate control system is also cumbersome to use on the go.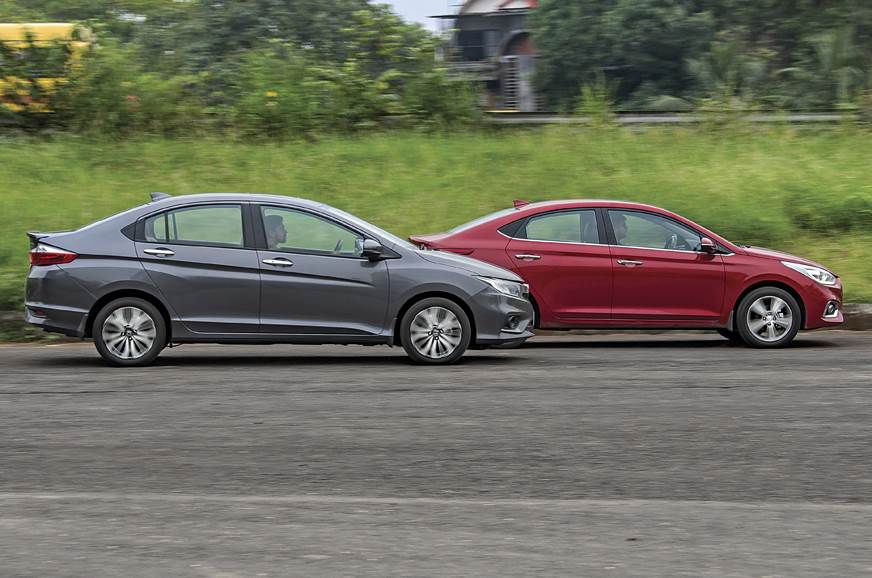 In contrast, the Verna's cabin feels really user-friendly right from the moment you step inside. Its low dash sill allows a nice view out, the easy-to-use, high-set centre touchscreen is in clear sight and free from much glare, and all controls are where you'd expect or like them to be. All touchpoints are also well-finished and you really won't find the Verna lacking in material quality. The rich 'thunk' on door shut just adds to the feel-good factor. Where the Verna could have been better is in front seat comfort, especially in terms of lower back support. Its class-first, front-seat ventilation function does help make amends to an extent and will help you keep your cool in hellish traffic.
Feature-wise, the top-spec variants of both cars come with six airbags, Isofix child seat mounts, leather seats, sunroofs, touchscreen infotainment systems, auto climate control, rear air-con vents, start-stop buttons, cruise control and automatic headlights. The City also offer LED headlamps, rain-sensing wipers and paddleshifters, while the Verna gets a rear sunblind, ventilated front seats and a hands-free boot release.
Equipment checklist
Hyundai Verna 1.6 VTVT SX(O) AT
Honda City 1.5 i-VTEC ZX CVT
LED headlights
NA
Yes
Ventilated front seats
Yes
NA
Keyless entry/go
Yes
Yes
Apple CarPlay/ Android Auto/ MirrorLink
Yes/Yes/Yes
NA/NA/Yes
Cruise control
Yes
Yes
Paddle shifters
NA
Yes
Sunroof
Yes
Yes
Steering adjust
Rake
Rake/reach
Rear air-con vents
Yes
Yes
Airbags
6
6
BUYER'S GUIDE
If you've been keeping score you'll realise the reasons to go for the City centre around its rear seat while the reasons to go for the Verna centre on its driving experience. And this, in essence, sums up the comparison. Buyers with regular use of the rear seat, or chauffeur-driven owners who will take the helm only occasionally, will be best served by the City. But for typical petrol-auto buyers who do most of the driving themselves, the Verna is the car to go for. Not only is the Hyundai that little bit nicer to drive but is also that little bit quieter and that little bit more premium on the inside, which all adds up to a lot for anyone spending long hours behind the wheel. Sure, there is the matter of efficiency. The Verna delivered 8.2kpl in town where you can expect around 10.5kpl from the City, but then it's also a whole lot more affordable than the Honda. All things considered, it's the Verna that does more of what you'd expect of an auto, and does it all rather well.
Verdict, rating and price
Hyundai Verna 1.6 VTVT SX(O) AT
Honda City 1.5 i-VTEC ZX CVT
Price (ex-showroom, Delhi)
Rs 12.48 lakh
Rs 13.56 lakh
Rating
8/10
8/10
Verdict
Down on rear-seat space but crucially offers drivers the more premium experience.
Has space and efficiency on its side but doesn't ride or drive as well. Pricey too.