When Bajaj Auto recently made known that Rahul Bajaj would be resigning as non-executive director and chairman with effect from April 30, memories came flooding back.
It may seem cliche now, but it truly seems like yesterday when I first spoke to him on the telephone sometime in 1994 to ask for more details on his proposed car venture. There was a lot of excitement during this period when reports began doing the rounds that Bajaj Auto was exploring a foray into cars.
This was the time when India had opened its doors to MNC car companies and almost every Indian company was exploring a joint venture with a big global brand. And here was India's largest two-wheeler company now planning to throw its hat into the car ring!
As a young reporter finding his way around Mumbai, I was quite nervous when the Bajaj Auto chief came on the line and quickly answered whatever I needed to ask. I remember him being frank, precise and yet extremely polite. It was a heady moment for me … imagine speaking to Rahul Bajaj, the chairman and managing director of Bajaj Auto and the monarch of India's two-wheeler arena.
It was some just years prior, sometime in 1989, when the famous Hamara Bajaj campaign had gripped the entire country with an overwhelming sense of pride. The Bajaj scooter was an integral part of everyone's lives and the commercial drove home that message ever so beautifully. And here I was basking in the moment of having spoken to the man heading the company.
Even while the car project did not take off, with the company shelving the idea, this was the beginning of a host of other meetings to follow over the years with the charismatic Rahul Bajaj. Ask any journalist what it was like in those years to cover a Bajaj Auto press conference in Mumbai. The hall in the hotel would be packed and the boss would make his presence felt in his trademark safari suit while answering questions with aplomb. There were no ducking issues or being evasive, the man called a spade a spade.
Candid as candid can be
This is where Rahul Bajaj was in a league of his own. He was (and continues to be) blunt and would tell you like it is without beating about the bush. I cannot think of any other CEO in that period who was as forthright and candid. This was precisely why the press loved the Bajaj Auto chief; he made for a fantastic copy and was never afraid to make his point known, be it in the field of automotive or any aspect relating to the economy.
The other remarkable part about Rahul Bajaj was that he was again the only CMD who would promptly return calls in case he was not available to take one. This was again a trait that marked him out from the rest in corporate India and, in the process, reminded a whole lot of us lesser mortals on the importance of telephone etiquette.
In the Indian auto industry, the Chetak's story is one of the very few that stand apart.
The other abiding memory for me was the time he invited me along with my editor in the newspaper I was working in and a colleague to his place in Akurdi near Pune. This was sometime in 1998-1999. He was the perfect host, ensuring that the three of us were comfortable. It was a remarkable evening with conversation over some delicious snacks followed by Rahul Bajaj then taking us around his elegant home.
By this time, motorcycles were beginning to take over from the traditional geared scooters, which had dominated the landscape for so long. Bajaj Auto was now beginning to yield ground to a new leader, Hero Honda, which was quickly making its presence felt in the market. Hamara Bajaj still resonated among the masses but this time the heart took second place to the mind as buyers queued up for motorcycles.
Even while this transition was happening, Rahul Bajaj had lost none of his vigour and enthusiasm and our conversations continued to be as engaging, whether they were at his corporate headquarters in Akurdi or over the phone. The best part about spending time with him was that he was a powerhouse of knowledge. Being a natural people's man, it was hardly surprising that he just seemed to know everyone who mattered in India and across the world.
Yet, he would not back away from giving his honest assessment about a situation, be it business or political. He could be blunt while making a point, but this only drove home the bigger message that there was nothing for him to be afraid of. In an environment where businessmen preferred to be diplomatic, Rahul Bajaj said it like it is and it is this honesty that was his most attractive trait.
Strong people connect
Senior executives who have worked with him also have fond memories of their interactions with their CMD. One of them is RL Ravichandran, who was vice-president (Business and Product Development) at Bajaj Auto, between 1998 and 2005, and remembers how Rahul Bajaj always made it a point to put the company's interests before anything else.
"Every meeting with him used to be very distinctive. He always thought about any decision from the viewpoint of Bajaj Auto, as the brand had an emotional connect with the country and its people," he says. This aspect was all-important to Rahul Bajaj and just could not be compromised on at any level.
"He was also a compassionate human being who has been a tremendous influence in my life," continues Ravichandran who had come on board Bajaj Auto from TVS Motor and would later take over as CEO of Royal Enfield. He still remembers the time Rahul Bajaj personally visited him at home to check how he was after a surgery.
"He was very caring and asked me to take good care of myself while giving useful health tips. I found this gesture extremely touching because to me he just was not the chairman but a larger-than-life figure who I respect enormously," says a visibly touched Ravichandran.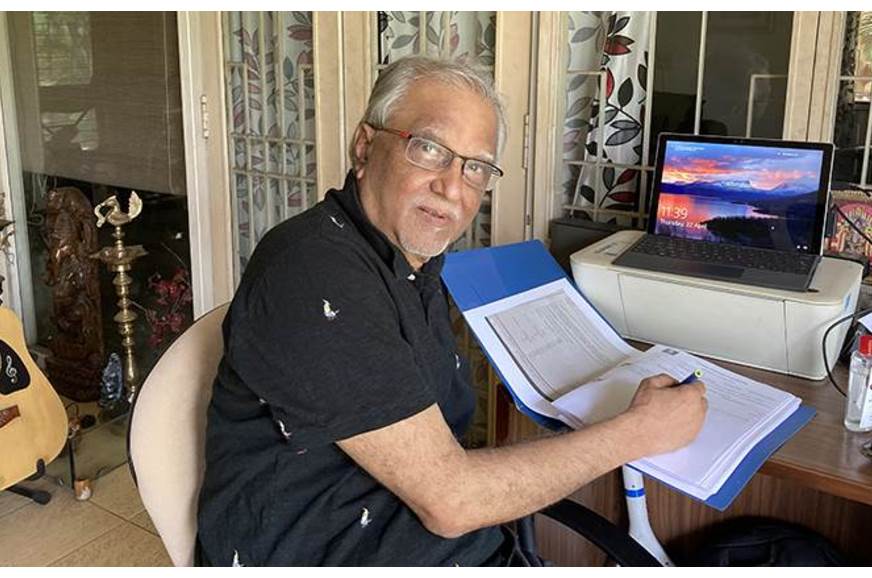 RL Ravichandran: "Mr Rahul Bajaj is a compassionate human being who has been a tremendous influence in my life."
Likewise, K Srinivas, a long-time Bajaj Auto executive who held leadership positions in HR and marketing, remembers the time how livid Rahul Bajaj became on an issue concerning Ruby Hall Clinic in Pune. The company had contributed to an important wing of the hospital and Srinivas wondered why employees could not avail themselves of a discount while seeking medicare at Ruby.
"The chairman gave me a good yelling on the phone for even suggesting something like this and made it known that business and charity could not be mixed," he recalls. It was yet another reminder of the principles Rahul Bajaj stood for and why his employees admired him so much. Sure, he could be temperamental at times but was quick to cool down too.
The exit of the geared scooter may have hurt him terribly, especially when he was its pioneer and had the country in its thrall for decades. Yet, it could not withstand the motorcycle onslaught and a tough decision had to be made to stop its production.
Fast forward to 2019 and you can see a whole lot of pictures of Rahul Bajaj welcoming the participants of the electric Chetak rally which had started in Delhi and ended after a 3,000km run at the corporate headquarters in Akurdi.
The revival of the Chetak, albeit in a new avatar, is the best tribute to a man who had made the scooter the best form of mobility for all Indians. Its emotional connect was the core of Hamara Bajaj and this is why the theme resonates with the electric Chetak too.
Rahul Bajaj may have stepped down as chairman but it was he who created the base for the company, which has since grown from strength to strength over the years. Today, it is the largest exporter of motorcycles, with strong global allies like KTM and Triumph to take the story forward.
"He is a colossal figure and as far as I am concerned, they do not make people like Rahul Bajaj anymore. He is one of a kind," says Ravichandran. Srinivas echoes these sentiments…"A lion is a lion whose roar affirms its supremacy. Rahul Bajaj may have stepped down as Chairman but will still be the lion."
Also see:
Bajaj CT110X launched at Rs 55,494
Bajaj Pulsar NS125: 5 things to know