Reports suggest that Kawasaki is working on a 250cc, in-line four-cylinder motorcycle and that a prototype is already undergoing tests at the Kawasaki factory in Indonesia. A poster also reveals that the motorcycle will be called the Ninja ZX-25R – but we're unsure of the authenticity of the image so this remains uncertain.
Kawasaki previously sold a similar specced motorcycle called the ZX250R between 1989 and 1997. The transverse four-cylinder engine on the ZX250R made 45hp and 24.5Nm of torque and was capable of revving up to a mind-boggling 19,000rpm. If this new rumoured in-line four-cylinder engine does see the light of day – and if it is capable of similar performance – it will be one of the most powerful 250cc engines currently on sale. The poster image also contains the image of a motorcycle that features bodywork styling inspired by the Ninja H2, while the front end is reminiscent of the Ninja 1000. To reiterate: we're unsure about the credibility of this image so we can't say for sure what the bike will look like.
This isn't the first time rumours about a new in-line-four quarter-litre Kawasaki have made rounds on the internet; and if the Ninja ZX-25R does come into existence in the near future, it will take on the likes of the KTM RC390, Yamaha YZF R3 and Ninja 400 in the Indian market.
Quick News Video, September 17, 2023
914 Views|8 days ago
2022 Kawasaki Ninja 400 video review
8968 Views|10 months ago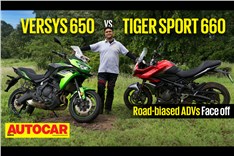 Kawasaki Versys 650 vs Triumph Tiger Sport 660 comparison...
9483 Views|11 months ago