The Indian government recently reduced the import duty on CBU motorcycles, while simultaneously increasing the duty for CKD ones. CBU rates were slashed from 75 percent to 50 percent, while CKD rates rose to 15 percent from the previous 10 percent. Since a large number of Harley-Davidson's best-selling models in India are brought in via the CKD route, the Milwaukee manufacturer was understandably upset with this decision and was forced to hike the prices of its CKD and made-in-India models.
This decision led US President Donald Trump to express his displeasure who then, erroneously, pointed out that Indian motorcycles "sold in the thousands" in the US while being subjected to "zero tax". He also went on to suggest that the US should impose "reciprocal taxes" on these Indian motorcycles sold in the US.
Now, it has emerged that India may cut import duties on Harley-Davidson bikes if the US renews its eligibility for the generalised system of preferences (GSP). Under this scheme, India exports around 3,500 products worth $5.6bn to the US each year at nil or low duties. In April, the Trump administration announced that it would be reviewing India's GSP eligibility.
The matter is likely to be tackled during trade minister Suresh Prabhu's two-day visit to the US, beginning today.
Also see:
2018 Harley-Davidson Low Rider review, test ride
Harley-Davidson to sell pre-owned motorcycles
2018 Harley-Davidson Softail Deluxe review, test ride
2018 Indian Roadmaster Elite launched at Rs 48 lakh
Harley-Davidson X440 vs Triumph Speed 400 vs RE Classic 3...
18908 Views|3 months ago
Quick News video: July 30, 2023
3374 Views|4 months ago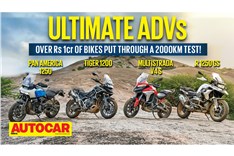 BMW vs Ducati vs Harley vs Triumph - 2000km ADV road trip...
7464 Views|1 year ago