The Harley-Davidson Softail family consists of a wide variety of popular bikes, including the Fat Bob, Fat Boy, Heritage Classic and more. The Softail family sits between the aged Sportster family and the premium/expensive Touring range of bikes. Since the rebirth of the Softail family in 2017, the most affordable model has been the Street Bob, but that role has now been taken over by the Softail Standard.
The differences between the Softail Standard and the Street Bob are quite minimal. If you were to examine images of both bikes back to back, you'll see that the main change is that the Softail Standard has a lot of chrome instead of the black treatment on the Street Bob. The specifications repeat the same story, and both bikes feature an identical frame and suspension setup, as well as the highly acclaimed 107 Milwaukee Eight engine that churns out 149Nm of torque at 3,000rpm. Kerb weight remains untouched as well, at 297kg.
While much remains the same in terms of design and performance, the Softail Standard carries a price tag that is lower by a whole $1000, or roughly Rs 70,000. Whether Harley-Davidson plans to bring this bike to our market is not clear at the moment, but we would be surprised if the brand didn't. The company currently only lists three Softails on its Indian website – the Low Rider, Low Rider S and the Fat Boy. Harley-Davidson India is currently focusing on clearing its existing stocks before the BS6 regulations kick in and only then will it plan to offer more models in the Softail line-up. When the timing is right, we expect the Softail Standard to launch in India, but it will be interesting to see how Harley prices it. For reference, the BS4 Street Bob was originally priced at Rs 11.99 lakh (ex-showroom) in 2017, but the last known price when it was on sale was just over Rs 12.5 lakh (ex-showroom).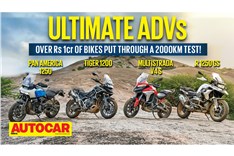 BMW vs Ducati vs Harley vs Triumph - 2000km ADV road trip...
4868 Views|5 months ago
Harley-Davidson Road Glide Special video review
5711 Views|9 months ago