BS6 Royal Enfield Interceptor, Continental 650 prices listed
Published On Mar 20, 2020 07:00:00 AM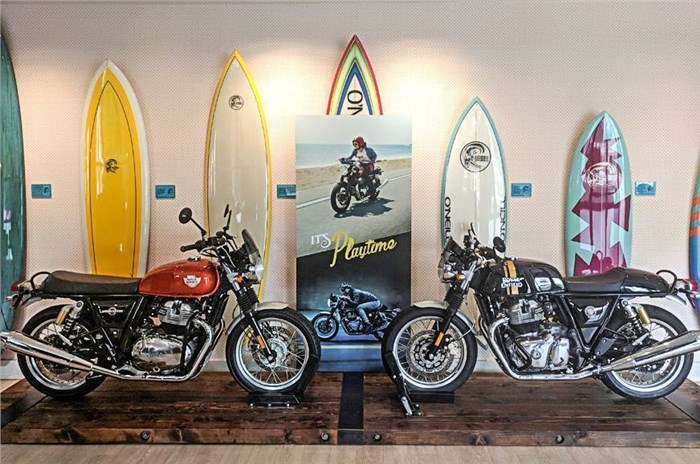 The ex-showroom prices for the bikes have increased by around Rs 9,000.
BS6-compliant versions of Royal Enfield's flagship models have finally begun reaching dealerships across the country. Since these bikes were already fuel injected, they haven't received as significant a price hike as the company's other models, but it's still substantial at around Rs 9,000.
The BS6-compliant Interceptor and Continental GT 650 look identical to the BS4-spec bikes as they don't have an additional catalytic convertor on the header pipe of the exhaust system. It appears as if Royal Enfield has integrated the additional catalytic converters into the twin exhaust pipe layout.
This is the second price hike the 650 twins have witnessed, with the first one being around Rs 6,000 back in September 2019.
Find the price list below:
Prices (ex-showroom, Mumbai)
Model
Old price
New price
Increase
Interceptor 650 (Orange Crush/Silver Spectre/Mark Three)
Rs 2,56,372
Rs 2,64,919
Rs 8,547
Interceptor 650 (Ravishing Red/Baker Express)
Rs 2,64,029
Rs 2,72,806
Rs 8,777
Interceptor 650 (Glitter and Dust)
Rs 2,76,791
Rs 2,85,951
Rs 9,160
Continental GT 650 (Black Magic/Ventura Blue)
Rs 2,71,573
Rs 2,80,677
Rs 9,104
Continental GT 650 (Mayhem/Ice Queen White)
Rs 2,79,329
Rs 2,88,564
Rs 9,235
Continental GT 650 (Mister Clean Chrome)
Rs 2,92,092
Rs 3,01,707
Rs 9,615
What do you think about this News