Sponsored Feature: Many Stories, One Nation
From Bahubali in Shravanabelagola, to Thiruvalluvar in Kanyakumari, we pay tribute to the men whose stories resonate across the ages, on the second leg of the Hyundai Great India Drive.
Published On Nov 30, 2019 05:30:00 PM
4,433 Views
Follow us on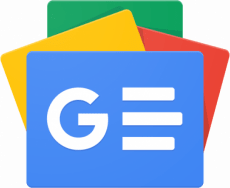 The Venue proved to be an excellent companion throughout our 900km journey.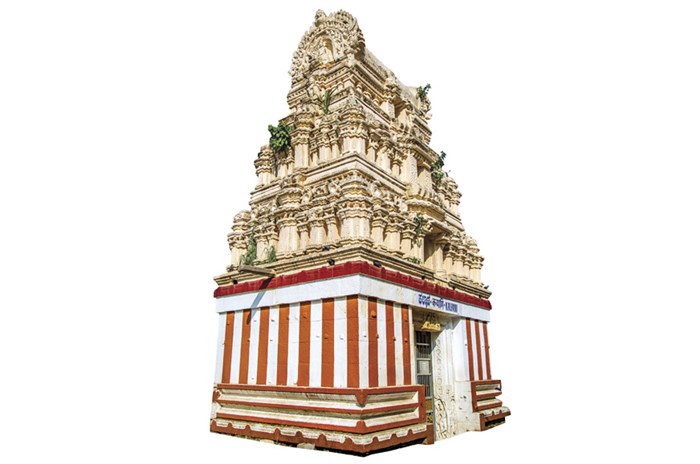 It's early in the morning and we are in the Hyundai Venue, which is effortlessly eating up the NH75 that leads from Bengaluru to Shravanabelagola. The talk in the SUV's well-appointed, technology-laden cabin is about the idea of India. What is it that unites a country with 22 major languages and over 700 dialects, and numerous ways of life and attitudes to it? No one has quite been able to figure that one out yet – about how we are united and yet so diverse.
Navigating through narrow village streets was a breeze in the Hyundai Venue.
If we were allowed to wager a guess, we'd say that, among several other things, it is the stories we have heard that unite us. And these are stories that have been passed on from generation to generation from time immemorial. One such story is that of Bahubali, the son of the first Jain tirthankara Rishabhanatha who we paid homage to in the hills around Mangi-Tungi on the first leg of the Hyundai Great India Drive. It is fitting, then, that we are headed to Shravanabelagola, about 150km from Bengaluru, on the 900km-long second leg to know more about his son.
Stories and sages
Shravanabelagola is not unlike other temple towns in India: it hums with devotees and the air is filled with anticipation. Each of these men and women are here, like us, to gaze in awe at the 57-foot tall statue of Bahubali, which is carved atop the Vindhyagiri Hill and dominates the arid landscape around it. We have to embark on a 20min trek – climb over 500 steps, actually – to get closer to the statue, but the reward is well worth it. As you gaze upon the 10th-century sculpture of Bahubali, commissioned by a minister in the Ganga dynasty, you also remember his story.
Every 12 years, Jains travel to Shravanabelagola for the head anointment ceremony of Bahubali.
According to Jain mythology, Rishabhanatha was a great king who ultimately left his massive kingdom to his hundred sons and renounced the world. His eldest son Bharata was next in line to the throne, and that meant all his brothers had to accept his suzerainty. All of them did so and became monks, except for Bahubali. A duel was arranged between the two brothers, and Bahubali emerged triumphant. But just as he moved in for the kill, he held himself back, and in a moment of acute self-awareness, wondered why he was doing what he was doing. How could he kill his own brother? At that moment, Bahubali decided to renounce the world. But he did not want to join a monastery; that would mean bowing to his brothers. So, he stepped back and entered into deep meditation. According to legend, he is said to have mediated standing motionless for a year, despite plants growing around his feet and vines encircling him. As people heard of him, they came to worship him – this included his brother Bharata. His meditation helped him overcome human passion and Jain scriptures say that it led him to become the first human to attain liberation. If you were to go by the Jain concept of time, aeons have passed since Bahubali attained moksha. But his story – and the message it carries, of the transience of life and happiness – still resonates across several parts of India, and is among the things that makes us one. Every 12 years, Jains from across the world travel to Shravanabelagola for Bahubali's Mahamastakabhisheka (head anointment ceremony). The most recent, 88th Mahamastakabhisheka, was in February last year.
The Hyundai Venue was unfazed by bad roads.
Southern comfort
South India, especially Tamil Nadu, is a nice place to be in, towards the end of the year. It might be a touch warm, but the evenings are cool and the food is amazing. Our next destination was Kanyakumari, and the road that led to land's end, as we know it, led us through forests such as the one in Talamalai, in Karnataka, the colourful and raucous temple town of Madurai, and Muppandal, where the highway cuts through a long line of windmills that dot the landscape. The journey saw us drive on a variety of surfaces. We drove on butter-smooth four-lane highways, bumpy roads, winding hill sections, and through several tiny towns and villages. The way the Hyundai Venue handled the different driving environments impressed us to no end. Its turbocharged petrol engine is absolutely bulletproof, it's got a surprising amount of space for a sub-four-metre car, and its suspension provides the right balance between road comfort and sporty handling.
The Hyundai Venue took to the winding, hilly roads between Mysuru and Madurai with ease.
We also love the way the Hyundai Venue uses technology to offer peace of mind. And how does it do that? Well, here's one example for those of you who don't get on our highways as often as we do, and are worried about unforeseen events putting a spoke in the journey. Well, the Hyundai Venue's SOS feature takes care of this. At just the press of a button on the inside mirror, emergency assistance is dispatched to your exact location. And in a country as unpredictable as ours, that will come in very handy.
Lessons from the three oceans
No matter how many times you have been to Kanyakumari, the sight of the three grand bodies of water meeting each other always calms the mind. We reached there early afternoon, after driving the Hyundai Venue to explore the crowded town. This is a brilliantly manoeuvrable car in small cities and congested locales, thanks to its light steering and well-modulated throttle response. After soaking in the sounds and flavours, we set off to keep our date with two men as great as Bahubali. The statue of Thiruvalluvar and the rock memorial, dedicated to Swami Vivekananda, are both located in close proximity to each other off the Coromandel Coast, where the Bay of Bengal, Arabian Sea and the Indian Ocean converge.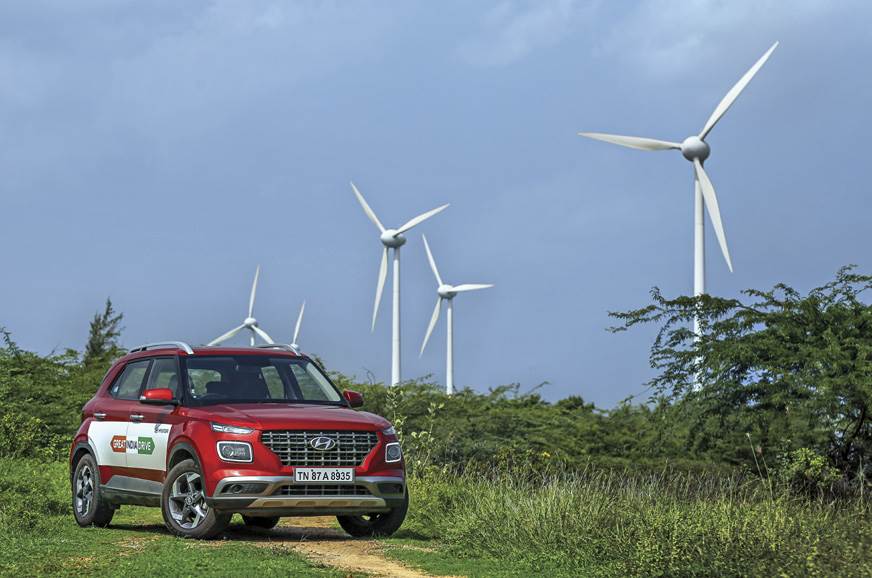 Clusters of windmills near Kanyakumari draw energy from Arabian Sea winds.
The saint-poet Thiruvalluvar was the author of the Tirukkural ('Sacred Couplets'). It is regarded as one of the most significant works in Tamil literature and has been compared to the works of Plato and Milton. Thiruvalluvar lived thousands of years ago, but his messages were highly radical. He was especially dismissive of the caste system, and wrote, "one is not great because of one's birth in a noble family; one is not low because of one's low birth." He has for long been a cultural icon for the Tamil populace, and his 133ft-tall statue has a 38ft-long pedestal. The pedestal is indicative of the 38 chapters of virtue in the Tirukkural, while its height represents the classic's 133 chapters.
Vivekananda Rock Memorial in Kanyakumari was built in 1970.
We pay our respects to the statue of the great Tamil poet and philosopher, then make our way across to the neighbouring island to keep our date with another titan, Swami Vivekananda, who is as revered as Thiruvalluvar himself. Built in 1970, the rock memorial honours the philosopher who introduced yoga and Vedanta to the west, and was as stern a critic of the caste system as Thiruvalluvar. Vivekananda, who advocated self-reliance and stressed on education that fuelled self-development, is both a moral and spiritual icon for many Indians. It was the island on which were we at that he famously meditated in 1892. All around us are hundreds of tourists. Each of them is either familiar with, or being introduced to, the life and stories of both Thiruvalluvar and Vivekananda. Whichever way you look at it, both these men had messages and stories that are similar, which still resonate long after both of them have departed this life. To hear them, you only have to listen.
PHOTOGRAPHY: GAURAV THOMBRE
Copyright (c) Autocar India. All rights reserved.