Volkswagen Motorsport India announced that it will be developing and building customer cars for its customers to compete in FMSCI India National Rally Championship (INRC). It will be preparing cars to compete in all three categories of the championship – INRC, INRC2 & INRC3.
To showcase the performance of their cars, the German brand will officially compete in the INRC and INRC2 categories in the first race of the season in Chennai, this weekend. The INRC car will be driven by former FMSCI President and national champion, Vicky Chandhok, while Phalguna Urs will pilot the INRC2 car. Chandhok will compete for only one race but Phalguna will continue driving the Volkswagen Polo INRC2 car throughout the 2018 season.
Chandhok, who will be returning to motorsports after 18 years, will be driving the Volkswagen Polo R2 rally car; his co-driver for the race is Chandramouli, from Benglauru. According to the 61-year old veteran, he will take the decision of racing in the following rounds of INRC depending on his performance in the first race. His son, Karun Chandhok, is the second Indian driver after Narain Karthikeyan to compete in F1 and had also raced at the iconic 24 Hours of Le Mans, last year.
Commenting on the announcement, Sirish Vissa, head of Volkswagen Motorsport India said, "After our global success in the FIA World Rally Championship (WRC) for four years on the trot, Volkswagen Motorsport changed its focus to developing customer cars globally and we followed suit here in India, too. We have developed cars for potential customers across all three categories, for individuals who wish participate in competitive rallying."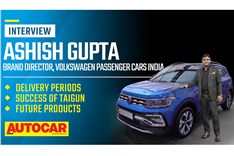 VW's Ashish Gupta on success of the Taigun, brand's futur...
3986 Views|3 months ago
VW Taigun, Skoda Kushaq crash test video
8283 Views|3 months ago