Volkswagen Motorsport India has announced that the 11th edition of its one-make series will run as the Polo Cup, marking the end of the road for the Ameo Cup after three seasons. The move sees the company go back to its roots, since it is the Polo Cup that kicked-off its one-make series in India all the way back in 2010, with a Polo powered by a 1.6-litre diesel engine.
The new race-spec Polo for the series will be unveiled at the upcoming Auto Expo 2020 next month. Volkswagen had unveiled the Polo RX last year in the form of a rear-wheel-driven track car with a rear-mounted 205hp, 1.8-litre turbo-petrol engine (the same unit as the one on the Ameo Cup car). At the time, the car was billed as a 'Winter Project' and didn't adhere to any racing regulations; but Volkswagen was keen to build one to track-spec. So it remains to be seen if the new Polo Cup car will follow the RX's engine-drive setup.
Registrations for the 2020 Polo Cup are currently underway. A two-day selection round will be held on January 25-26 at the Ajmera IndiKarting Track in Mumbai. Participants will be judged based on their fitness and overall driving skills, with the selection criteria focusing on consistency in performance, their understanding of racing lines, lap times, driving attitude and ability to learn. Like in the previous years, 20 individuals will then be selected to be part of the final grid. The last date to register is January 20 and those interested in applying can fill the online form here.
Last year, the Ameo Class received National Championship status from the Federation of Motorsport Clubs of India (FMSCI). As a result the series ran as the 'Ameo Class' as part of the 2019 season of the MRF MMSC FMSCI Indian National Championship. A spokesperson has confirmed to Autocar India that the 2020 Polo Cup will follow suit and run as part of the same championship this year.
The last time the Polo Cup was held was in 2014. In 2015, the baton was passed on to the Vento Cup before the Ameo Cup was introduced in 2017.
Also see: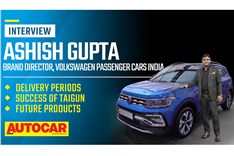 VW's Ashish Gupta on success of the Taigun, brand's futur...
4054 Views|3 months ago
VW Taigun, Skoda Kushaq crash test video
8485 Views|3 months ago