Ferrari has taken the covers off its latest Formula 1 car, four days before the start of pre-season testing at Barcelona.
The new racer features Ferrari's traditional red livery, with the colour white mostly absent from this car in contrast to its immediate predecessors. The SF71H is the first Ferrari F1 challenger since the 2009 machine not to feature Santander branding, following the Spanish financial giant's decision to end its F1 sponsorship deals.
Ferrari heads into the season with an unchanged line-up of Kimi Raikkonen and Sebastian Vettel, paired for a fourth-straight season. Both were present at the launch, alongside the team's new development driver Daniil Kvyat and Ferrari-backed Sauber reserve Antonio Giovinazzi.
The 2018 car's predecessor, the SF70H, was Ferrari's most competitive F1 offering in years, helping Vettel to five race wins. It sustained a credible title challenge against the hybrid era's dominant team, Mercedes, for most of the season before late-campaign accidents and engine reliability woes allowed the Silver Arrows to break away.
The 2017 Mercedes and Ferrari were notably different design concepts, but Ferrari made clear at its launch that this year it has moved towards the longer-wheelbase philosophy favoured by its key rival.
On the engine side, Ferrari will start the season with an evolution of last year's design. It is thought to have focused on reliability in particular, given last year's problems and with F1 moving to a limit of three engines per season.
Also see:
2018 Renault F1 contender breaks cover
Sauber reveals 2018 F1 car with new look
2018 Red Bull F1 car unveiled with temporary livery
Williams takes wraps off 2018 F1 car
Ferrari Cars
Ferrari 296 GTB
₹ 6.23 crore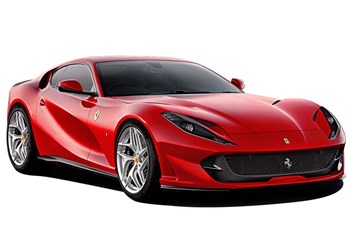 Ferrari 812 Superfast
₹ 6.93 crore
Ferrari Portofino
₹ 4.66 crore
Ferrari 296 GTB India video review
12591 Views|4 months ago
Ferrari Purosangue SUV first look video
4402 Views|4 months ago
Ferrari Portofino M video review
5852 Views|1 year ago